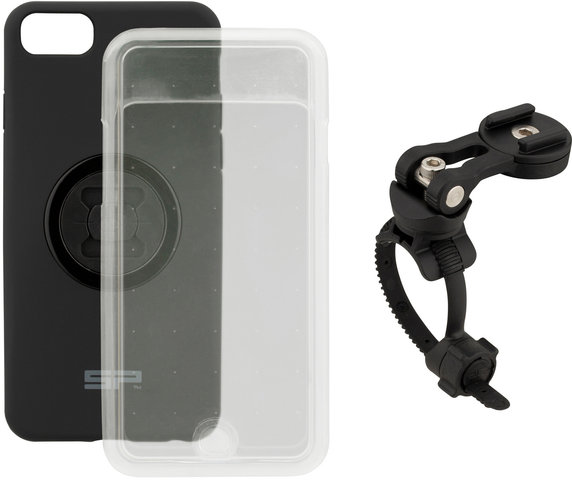 The SP Connect Bike Bundle II keeps your smartphone in view
The SP Connect Bike Bundle II contains all parts you need for a secure, weatherproof attachment of your smartphone to your bike. You get a Phone Case and a Weather Cover for your smartphone (choose your model in the dropdown menu) as well as a Universal Bike Mount that you can install on your handlebar or stem. The Phone Case also protects your smartphone from impact damage in everyday life. With a simple twist, you can securely attach the protective case directly to the mount on your bike, allowing you to navigate or track your workout with your phone. As soon as it starts to rain, the Weather Cover is right there where you need it. Once put over the device, it is now protected against rain and splashing mud. In addition, you still have access to your touchscreen.
Did you leave your smartphone at home? Check out the Bike Bundle II Universal for Smartphones .
Manufacturer's note: induction charging with the Apple MagSafe charger is not possible when using the Phone Case. Heavy screen protectors or gloves may limit the usability of your touchscreen in combination with the Weather Cover. The Weather Cover restricts the home button functionality of iPhone SE (2020), 8, 8 Plus, 7 & 7 Plus. This can be bypassed by enabling the Assistive Touch feature.
Compatibility:
Universal Bike Mount:
handlebars or stems with 22 - 32 mm diameter
Features:
Universal Bike Mount:
two mounting options with or without arm
arm is used for angle adjustment
portrait or landscape format also possible when mounted without arm
secure locking by 90° rotation
tool-free mounting on handlebar or stem
Phone Case:
sleek design
connections and buttons remain accessible
three-layer construction for high protection
Qi charging is not affected
Weather Cover:
protects from rain, sweat, mud and dust
touchscreen remains operable
additional impact resistance
Stand Tool:
serves as a stand
unlocks holding mechanism in the event of accidental locking
Manufacturer Numbers:
Apple iPhone 11 PRO MAX:

54423

Apple iPhone 11 PRO/X/XS:

54422

Apple iPhone 11/XR:

54424

Apple iPhone 12 mini:

54432

Apple iPhone 12/12 PRO:

54433

Apple iPhone 12 PRO MAX:

54434

Apple iPhone 13:

55444

Apple iPhone 13 mini:

54443

Apple iPhone 13 PRO:

54445

Apple iPhone 13 PRO MAX:

54446

Apple iPhone 8/7/6S/6/SE 2020:

54400

Apple iPhone 8+/7+/6S+/6+:

54401

Huawei Mate20 Pro:

54416

Huawei P20 Pro:

54415

Samsung Galaxy Note 10:

54427

Samsung Galaxy Note 10+:

53428

Samsung Galaxy Note 9:

54417

Samsung Galaxy S10:

54418

Samsung Galaxy S10+:

54419

Samsung Galaxy S10e:

54420

Samsung Galaxy S20:

54431

Samsung Galaxy S20 ULTRA:

54430

Samsung Galaxy S20+:

54429

Samsung Galaxy S21:

54438

Samsung Galaxy S21 ULTRA:

54440

Samsung Galaxy S21+:

54439

Samsung Galaxy S8/S9:

54411

Samsung Galaxy S8+/S9+:

54412
iPhone and MagSafe are registered trademarks of Apple Inc., registered in the U.S. and other countries.
Contents:
1 x SP Connect Phone Case
1 x SP Connect Weather Cover
1 x SP Connect Universal Bike Mount, 2 parts
1 x SP Connect StandTool stand
2 x SP Connect adapters
1 x hex key
100 day return period

Online since 1998

Trusted Shop

4.89

/ 5.00