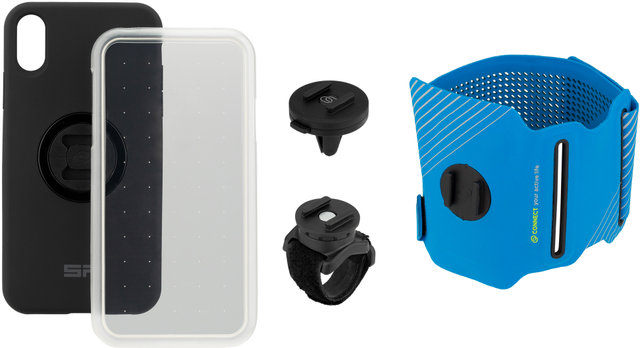 SP Connect Multi Activity Bundle SPC
The SP Connect Multi Activity Bundle SPC for quick access to your smartphone - anytime, anywhere
The SP Connect Multi Activity Bundle SPC helps you to protect your smartphone from everyday use, is weatherproof when needed, and is right where you need it for any activity. It includes a protective case and cover specifically designed for your smartphone, as well as various mounts with SPC locking system. The Phone Case is slim, protects your smartphone from impact damage and can be attached to all SPC mounts. Via a hook-and-loop fastener, you can attach the Universal Mount SPC to any tube with a diameter of 20 - 35 mm, such as handlebars or a golf caddy. The Vent Mount Snap SPC secures your smartphone to the air vents in your car, and the Running Band SPC sports armband lets you wear it on your upper arm during a workout. The Weather Cover keeps rain, sweat and dirt out while leaving touchscreen operation unaffected. Whether you're cycling, jogging, golfing, driving or motorcycling, you'll have your smartphone safely at your fingertips in all weather, ready to listen to music, read the news or navigate.
Compatibility:
accessories with SPC locking system
Universal Mount SPC: rods or tubes with a diameter of 20 - 35 mm
Features:
Phone Case SPC:
sleek design
connections and buttons remain accessible
three-layer construction for high protection
SPC locking system
Qi charging is not affected
Weather Cover:
protects from rain, sweat, mud and dust
touchscreen remains operable
additional impact resistance
Universal Mount SPC:
tool-free assembly with hook & loop fastener
SPC mounting head with secure locking through 90° rotation
smartphone mount elements adjustable by 360° in 45° steps
Running Band SPC:
soft, elastic neoprene
with reflective print
with hidden pocket for keys or money
hook & loop strap for cable support
SPC mounting head with secure locking through 90° rotation
lightweight
adjustable between 22 - 36 cm
Vent Mount Snap SPC:
easy assembly and disassembly on the ventilation grilles in the car
SPC mounting head with secure locking through 90° rotation
quick click in of the Phone Case
MicroRail Adhesive SPC:
can be glued on flat surfaces
SPC mounting head with secure locking through 90° rotation
Stand Tool SPC:
serves as a stand
unlocks holding mechanism in the event of accidental locking
Note from the manufacturer:
Induction charging with the Apple MagSafe charger is not possible when using the Phone Case. Heavy screen protectors or gloves may limit the usability of your touchscreen in combination with the Weather Cover. The Weather Cover restricts the home button functionality of iPhone SE (2020), 8, 8 Plus, 7 & 7 Plus. This can be bypassed by enabling the Assistive Touch feature.
Manufacturer Numbers:
Apple iPhone 5/5S/SE:

53804

Apple iPhone X/XS:

53810

Apple iPhone XR:

53814

Samsung Galaxy S7:

53805

Samsung Galaxy S7 Edge:

53807

Samsung Galaxy S8/S9:

53811

Samsung Galaxy S8+/S9+:

53812
iPhone and MagSafe are registered trademarks of Apple Inc., registered in the U.S. and other countries.
Contents:
1 x SP Connect Phone Case SPC
1 x SP Connect Weather Cover smartphone cover
1 x SP Connect Vent Mount Snap SPC for ventilation grille
1 x SP Connect Running Band SPC
1 x SP Connect Universal Mount SPC
1 x SP Connect Stand Tool SPC
1 x SP Connect MicroRail SPC adapter
1 x SP Connect MicroRail Adhesive SPC
1 x SP Connect alcohol wipe
100 day return period

Online since 1998

Trusted Shop

4.89

/ 5.00