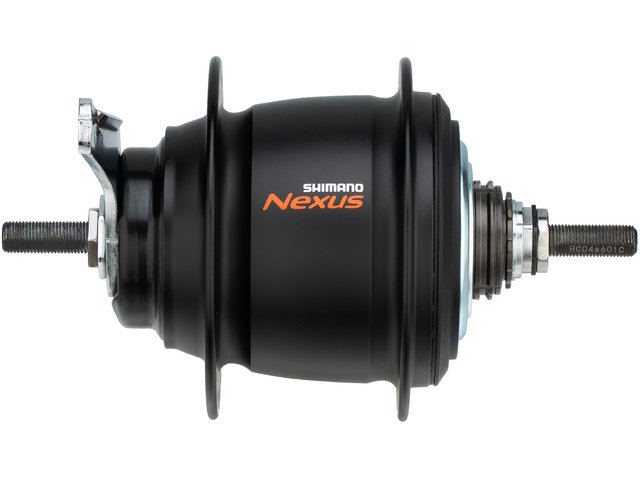 Shimano Nexus SG-C6001-8C Internally Geared Hub
Nexus internally geared hub SG-C6001-8C by Shimano - for bikes with coaster brakes
The Shimano Nexus internally geared hub SG-C6001-8C is suitable for bikes with coaster brakes. This makes it possible to shift eight gears in a highly efficient and low-noise manner. The total gear ratio of the Nexus hub gears is more than 300 percent (Inter-8), with the gradation so narrow that a uniform cadence can be maintained. The built-in shift servo and the power modulator help with the use.
Guidelines for Replacing E-bike Components:
Before you replace components on your e-bike, please read through the
guidelines
for component replacement for CE-marked e-bikes/pedelecs with pedal assistance.
Specifications:
Series:

Nexus C6000

Application:

City & Touring

Gears:

8-speed

Brake Type:

coaster brake

Axle Type:

10 mm bolt-on axle

Over Locknut Dimension:

132.3 mm

Spoke Hole Count:

36 hole
Technical Information:
Range:

307 %

Material:

Aluminium

Technology:

Inter-8

Axle Length:

184 mm

Spoke Size:

13 gauge (2.3 mm), 14 gauge (2.0 mm)

Pitch Circle Diameter:

92.6 mm

Flange Diameter:

105.2 mm

Flange Width:

3.2 mm left, 3.2 mm right

Flange Distance:

58.3 mm

Offset:

2.55 mm
Compatibility:
Small Parts Set:

SM-8S31

Shifting Unit:

CJ-8S20 / CJ-8S40

Resistance Unit:

coaster brake

Dropouts:

horizontal without derailleur hanger, standard type without derailleur hanger, adjustable (vertical not recommended)

Sprocket:

SM-GEAR

Crank:

FC-C6000, FC-S501 with single chain guard

Chain:

CN-NX10 (1/2 x 1/8" ), HG 8-speed (1/2 x 3/32" )

E-Bike:

STEPS E6100, E5000
Features:
optimised overall riding comfort and efficiency
higher shifting capacity even with the high chain tension typical for e-bike motors
optimisation: suitable for both e-bikes and conventional bicycles
low normal alignment
shift servo
shift power modulator
standard efficiency
silent freehub
painted
Technology:
Inter-8
Shimano 8-speed gear hubs with Inter-8 technology have a total gear ratio of over 300 percent. Due to the close gradation of the gears, they enable a smooth, efficient cadence and thus greater comfort while riding.
Gear Change Support
Gear Change Support is a shift servo technology on Shimano gear hubs. It ensures that you can downshift quickly, precisely and without using a lot of force, as it uses part of the pedal force for this process. The pedal force acts against the shift cylinder to overcome its counterpressure and execute the gear change. The shifting force is thus reduced by 40 %.
Manufacturer Numbers:
black:

K-SGC60018CAL

silver:

K-SGC60018CAS
Contents:
1 x Shimano Nexus SG-C6001-8C internally geared hub
100 day return period

Online since 1998

Trusted Shop

4.89

/ 5.00