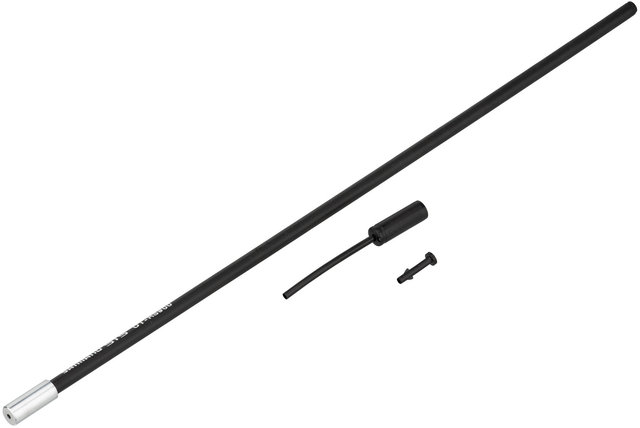 Shimano OT-RS900 Shifter Cable Housing - 1 Pack
The OT-RS900 shift cable housing by Shimano - For current 11-speed road rear derailleurs
The Shimano OT-RS900 shift cable housing is required for Dura-Ace RD-R9100, Ultegra RD-R8000, 105 RD-R7000 and other current 11-speed road or gravel rear derailleurs. The reason for this is the smaller radius that results when routing the cable from the frame to the rear derailleur, which cannot be created with the stiff standard OT-SP41 cable housing. The OT-RS900 is 240 mm long and has a diameter of 4 mm.
Specifications:
Application:

Road

Diameter:

4 mm

Length:

240 mm

Recommended Cable Diameter:

1.2 mm
Technical Information:
Liner:

polyethylene
Compatibility:
RD-R9100
RD-R8000
RD-R7100
RD-R7000
RD-RX820
RD-RX822
RD-RX810
RD-RX812
RD-RX400
Features:
pre-lubricated with special silicone grease to ensure smooth shifting
Note from the manufacturer:
The length of the OT-RS900 should be adjusted accordingly depending on the bicycle frame size. This is necessary for optimal performance. The OT-RS900 should be cut from the correct side when adjusting the length. One of the two ends is flare-processed. This flare-processed end is inserted into the barrel adjuster of the rear derailleur and should therefore remain there.
Technology:
OT-RS900
For Dura-Ace, Ultegra, 105, GRX and other 11-speed or 12-speed road and gravel rear derailleurs, Shimano has developed the special OT-RS900 cable housing. It is less stiff than the conventional OT-SP41 housing and is therefore better suited to the tight curve where the cable is routed from the frame to the rear derailleur. Thanks to OT-RS900, problems with the barrel adjuster can be prevented and the rear wheel can be removed more easily. OT-RS900 is not intended for use on the shift/brake lever side.
Manufacturer Numbers:
black:

Y-0BM98011

white:

Y-0BM98021

hi-tech grey:

Y-0BM98041

red:

Y-0BM98031
Contents:
1 x Shimano OT-RS900 shifter cable housing
1 x end caps, sealed, for rear derailleur
1 x Shimano long pointed end caps
100 day return period

Online since 1998

Trusted Shop

4.89

/ 5.00