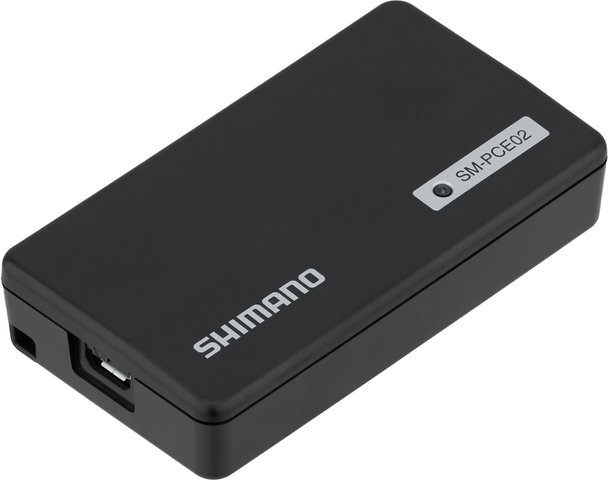 Shimano SM-PCE02 PC Interface - Maintenance and setting hardware for Di2 and STEPS
The Shimano PC interface SM-PCE02 is a connection and diagnostic device for professional and detailed maintenance of Di2 shifters as well as STEPS E-bike systems. It works with E-Tube Project Professional software for Microsoft Windows - the E-Tube Cyclist app is not supported. The unit is connected directly to a PC using the included micro USB to USB cable. On the other side, you connect it to any free e-tube connection on your bike via one of the two system cables, which are also included. It is also possible to connect individual components to SM-PCE02 without them being mounted on the bike. One of the system cables supplied is compatible with connectors of the (older) type EW-SD50, the other with connectors of the (newer) type EW-SD300.
In contrast to the app, the Professional software with cable-supported connection offers you a large maintenance area. Here you can check the status of the drive unit and battery or the usage ratio for each gear setting for the front derailleur. You can also make direct adjustments to the gearing. You can also view the error log of the e-bike and select which Di2 or STEPS units you want to run error diagnostics. The result and much more information are part of the service report, which you can view as a PDF.
Just as with the app, you can of course also use the SM-PCE02 hardware to update firmware for Di2 or STEPS parts, pair devices or adjust settings. In the case of electronic shifters and derailleurs, these are, for example, the button assignment on the STI, the shift mode or the multi-shift mode. For e-bikes, the riding characteristics, support patterns and support profiles can be configured or the display can be adjusted.
Information regarding the return of batteries and electrical equipment:
Information on the return and disposal of batteries and electrical equipment can be found
here
.
Specifications:
PC Connection:

Micro USB to USB

System Connection:

EW-SD50, EW-SD300

LED:

1 x green
Compatibility:
Software:
E-Tube Project Professional (free download at https://bike.shimano.com/en-EU/e-tube/project/forwindows.html
Shimano Di2 System:
Di2 with BT-DN300 battery
Di2 with BM-DN100 / BT-DN110 battery holder / rechargeable battery
Di2 with SM-BMR1 / SM-BMR2 / SM-BTR2 battery holder / battery
Shimano E-Bike System (STEPS):
EP801 / EP6
E6000
E8000 / E8080
E7000
EP800 / E6100 / E6180 / E5000 / E5080
Operating System:
Window 8.1 (32/64 bit)
Windows 10 (32/64 bit)
Windows 11 (32/64 bit)
Features:
for connecting STEPS and Di2 systems/components to a PC
wide range of diagnostic and maintenance options
diverse setting options
firmware update
Manufacturer Number:
ISMPCE02B3
Contents:
1 x Shimano SM-PCE02 PC interface
1 x Shimano Y79M00800 Micro USB/USB cable
1 x Shimano Y7EA03100 connection cable (SD50 type)
1 x Shimano Y79M9801T connection cable (SD300 type)
100 day return period

Online since 1998

Trusted Shop

4.89

/ 5.00