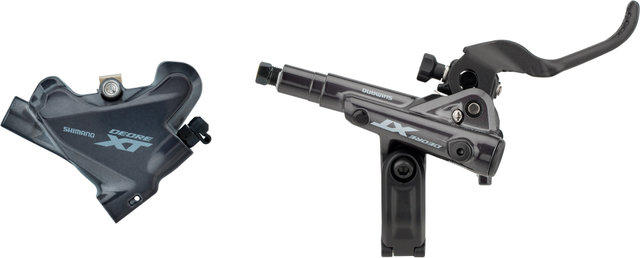 Shimano XT BR-M8110 Disc Brake J-Kit
The BR-M8110 XT Disc Brake by Shimano - Lightweight and strong flat-mount model
The BR-M8110 is a disc brake from the Shimano XT series, whose rear brake caliper is attached to the frame via flat mount. Front wheel use is not possible. As a 2-piston model, it is intended for cross-country use and is distinguished from the SLX version by its lower weight. The flat mount standard is proven technology known from the road bike sector, and has the advantage of a compact design that blends in pleasantly with the bike's appearance. The braking power is in no way inferior to that of the BR-M8100 post mount brake, especially as brake rotors up to 180 mm are compatible. The brake caliper is made of painted aluminium and has a straight line inlet; the pistons are made of heat-resistant ceramic.
The disc brake also includes the XT BL-M8100 brake lever, which is mounted at an angle to provide an additional contact point. This increases stiffness and provides more direct feedback. In addition, Shimano Servo Wave increases braking power: more performance is available with shorter empty travel. The grip width can be adjusted without tools via an adjuster; the pressure point can also be adjusted via a Phillips screwdriver. The brake lever is compatible with I-Spec EV shifters, so you can customise your cockpit and keep it tidy. Both lever and master cylinder are made of lightweight aluminium.
Resin pads without cooling fins are included. You can also combine the brake with Ice-Tech pads for even better heat dissipation. One-Way Bleed technology and bleeding via funnel facilitate maintenance. " J-Kit" means that the brake line is filled with oil but not yet connected to the brake lever. This simplifies installation, especially for indoor installation.
Specifications:
Series:

Deore XT M8100

Application:

Cross Country

Type:

hydraulic, 2 pistons

Actuation:

mineral oil

Hose:

SM-BH90-SS

Rear Hose Length:

1700 mm
Technical Information - Caliper:
Caliper Mount:

flat mount

Pads:

resin

Design:

2-piece

Calliper Material:

Aluminium

Piston Material:

Ceramic

Hose Connection:

straight
Technical Information - Lever:
Lever Length:

2-finger

Adjustment Options:

reach adjust (no tools required), contact point

Mount:

clamp (split), I-Spec EV

Design:

right (side specific)

Brake Lever Material:

Aluminium

Brake Lever Housing Material:

Aluminium

Hose Connection:

straight
Compatibility:
Mounting Position:
Brake Caliper: rear wheel only
Brake Lever: right
Brake Rotor:

140 mm, 160 mm, 180 mm (recommended: RT-MT800)

Pads:

organic and sintered; with narrow pad shape; standard and Ice-Tech
Features:
Brake Caliper:
compact flat mount design
reliable braking performance under all conditions with low weight
same braking power as XT 2-piston model for Post Mount mounting
same frame requirements as flat mount for road bike
2 ceramic pistons
painted
steel bolts (4 mm)
Brake Lever:
improved position of the lever axle with additional support and optimised ease of use
intuitive braking helps to concentrate on the track
greater flexibility and action-optimised cockpit layout thanks to I-Spec EV
faster brake response with shorter idle travel
" Rider-Tuned" adjustment: grip width adjustment without tools, empty travel adjustable
funnel venting with M5 funnel
anodised lever, painted body
stainless steel clamp bolts
Technology:
One Way Bleeding
One Way Bleeding is a technique used on Shimano calipers that facilitates brake bleeding. The hose routing has been optimised so that no air bubbles remain in the brake calliper. In combination with the funnel, the brake can be bled cleanly and easily.
Servo Wave
Shimano Servo Wave technology optimises the travel of your brake levers. During the braking process, the brake pads are guided quickly to the brake rotor with very short lever travel. The greater part of the lever travel is reserved for the actual braking force. In this way, you can apply your braking power in a more targeted manner and use it more effectively.
I-Spec EV
I-Spec EV describes a variant of the connection between brake lever and shift lever on Shimano MTB derailleurs. This type of mounting allows the shifter to be adjusted both horizontally and vertically in relation to the brake lever, and ensures a tidy cockpit by reducing the number of clamps required. Compared to I-Spec and I-Spec II, I-Spec EV offers a much wider adjustment range. 14 mm adjustment range the longitudinal direction and up to 60° rotation allow an optimal ergonomic adjustment to your riding style, your sitting position and your anatomy.
J-Kit
J-Kit is a simple line connection system for hydraulic brakes from Shimano, so that you can install your brakes quickly and easily. The brake hose does not come connected to the brake to facilitate routing of the hose in the frame. The brake hose is already filled with oil in the J-Kit and sealed with a thin membrane. There is a small pin in the J-Kit brake lever that pierces this diaphragm during assembly to allow oil to flow.
Manufacturer Number:
I-M81101JRRDRA170
Contents:
1 x Shimano XT BR-M8110 + BL-M8100 disc brake, rear
1 x Shimano SM-BH90-SS brake hose, 1700 mm
1 x pair Shimano brake pads with spring
2 x caliper bolts for 25 mm frame diameters
1 x pad retaining bolts
1 x olives (assembled)
1 x inserts
ready for installation, filled, bleeding is recommended after installation
Order Together:
FM-to-FM brake adapter SM-MA-R160 D/D for 160 mm brake rotor on 140 mm FM frame
FM-to-FM brake adapter SM-MA-R160 D/D for 180 mm brake rotor on 160 mm FM frame
Optional Accessories:
K04S Metal Pads
L03A Resin Pads with Cooling Fins
L04C Metal Pads with Cooling Fins
100 day return period

Online since 1998

Trusted Shop

4.89

/ 5.00