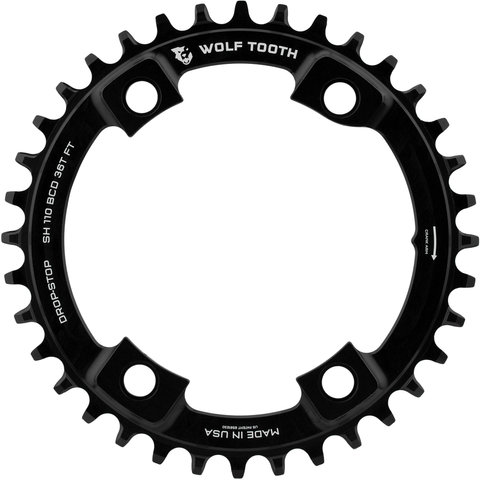 Ideal for Cyclocross: the 110 BCD Asymmetric 4-Bolt Shimano chainrings by Wolf Tooth Components
Wolf Tooth was one of the first manufacturers to release Cyclocross-specific 1x chainrings, because they saw this as a perfect application for the Wolf Tooth Drop-Stop® technology. These beautifully crafted 4-arm chainrings for a 110 mm asymmetric bolt circle diameter have been optimised for Shimano 1-speed CX, road and gravel drivetrains, whether you ride Dura-Ace 9000, Ultegra 6800, 105 5800 or Tiagra 4700. They also have an offset to create the ideal 1-speed chainline.
Specifications:
Application:

Cyclocross, Gravel, Road

Mount:

110 mm pitch circle, 4-arm asymmetrical

Teeth:

36 T, 38 T, 40 T, 42 T, 44 T, 46 T, 48 T, 50 T

Gearing:

1x9-speed, 1x10-speed, 1x11-speed, 1x12-speed
Technical Information:
Chainline:

47.5 mm

Material:

aluminium (7075-T6)
Compatibility:
Crank:
Shimano Dura-Ace 9000
Shimano Dura-Ace R9100
Shimano Ultegra 6800
Shimano Ultegra R8000
Shimano 105 5800
Shimano 105 R7000
Shimano Tiagra 4700/4703
Chain:
all 10-speed, 11-speed, 12-speed chains except Shimano 12-speed
10-speed chain recommended for 9-speed drivetrains
Chainring Bolts:
6 mm long chainring bolts required
original bolts do not work
Features:
Wolf Tooth Wide-Narrow design
outer mounting position , with offset to the inside for the perfect chainline
Made in the USA
Note from the manufacturer:

Use of a damped rear derailleur recommended. For very muddy conditions a chain guide in combination with clutch rear derailleur is recommended.
Technology:
Drop-Stop®
Wolf Tooth has invested countless hours in the design, prototyping and testing of their Wide-Narrow chainrings and has developed a highly innovative tooth profile. Test riders around the world have confirmed that this design brings unparalleled performance.
The right side of the chainring tooth has a different shape than the left side. The right side transmits the power to the chain and the left side opens a free space for cleaning mud and dirt. Since the two sides have completely different functions, it makes sense to design them differently, true to the motto: extra reinforcement where you need it, less material where you don't.
The right side of the Drop-Stop tooth is as wide as possible to distribute the load over a larger area, which also minimises wear. The left side of the Drop-Stop tooth helps to guide the chain, but it does not transmit any load. Therefore the left side is narrower than the chain roller. Wear is not an issue on this side, so Wolf Tooth was able to save material and create a better mud clearance channel. More free space means less friction and less change of the chain being dropped due to mud.
Manufacturer Numbers:
36 tooth:

SH11036

38 tooth:

SH11038

40 tooth:

SH11040

42 tooth:

SH11042

44 tooth:

SH11044

46 tooth:

SH11046

48 tooth:

SH11048

50 tooth:

SH11050
Contents:
1 x Wolf Tooth Components 110 BCD Asymmetric 4-Bolt Shimano chainring
Weight:
black/38 tooth: 66 g
black/40 tooth: 74 g
black/42 tooth: 81 g
black/44 tooth: 90 g
100 day return period

Online since 1998

Trusted Shop

4.89

/ 5.00