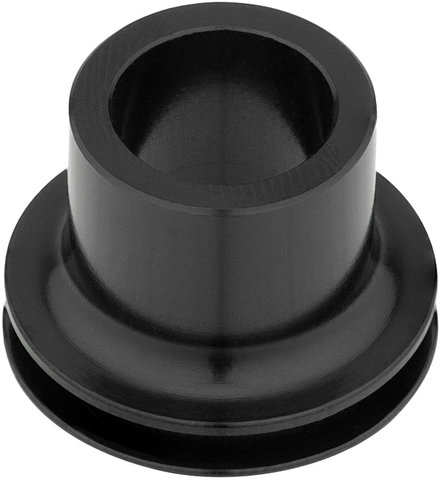 The Boostinator hub adapter by Wolf Tooth Components - Boost for everyone
Wolf Tooth Components has developed the Boostinator hub adapter for anyone who would like to benefit from the advantages of Boost 15 x 110 mm front and 12 x 148 mm rear axle standards: more tyre clearance for wide tyres and rims and stiffer, stronger wheels. Until now you needed not only a new frame and fork, but also new wheels. But now there is the Boostinator. When combined with compatible 15 x 100 mm or 12 x 142 mm hubs, you can fit your existing wheels into Boost frames and forks. The position of the disc brake and drivetrain remain unchanged and only a small re-truing of the spokes is necessary.
A Boostinator Kit consists of a special end cap and - if it is an rear kit - a precision-made rotor spacer with 6 high-strength bolts. In accordance with the Boost specifications, the brake rotor and cassette are moved further outwards so that the brake and shifter continue to function as usual.
Technical Information:
Material:

aluminium (6061)
Compatibility:
front kits are compatible with 6-bolt and some center lock models
rear kits are only compatible with 6-bolt (center-lock brake rotors cannot be adjusted accordingly)
rear kits not approved for brake rotors larger than 183 mm
Boostinator not recommended for non-symmetric lacing (e.g. 2:1)
front and rear re-truing required
Features:
converts 100 mm front and 142 mm rear hubs into 110 mm and 148 mm hubs respectively
front kits contain a single end cap (no rotor spacer required), rear kits additionally contain a rotor spacer and 10.9 stainless steel bolts (40% stronger than conventional 8.8 hardware)
CNC-machined, anodised
Made in the USA
Models:
Type 1:
Model Designation:

DF2

Base Model:

front 15 x 100 mm

Convertible to:

front 15 x 110 mm Boost

Compatibility:

DT Swiss 240s front hubs from 2011, DT Swiss XR 1501 Spline front wheels up to 2016, DT Swiss XM 1501 Spline One front wheels up to 2016, DT Swiss EX 1501 Spline One front wheels up to 2016, not for DT 1500 as of 2017 (generally applies: outer diameter left must be approx. 29.7 mm, 28 mm not compatible)

Manufacturer Number:

BSTDF2
Type 2:
Model Designation:

DF20

Base Model:

front 15 x 100 mm

Convertible to:

front 15 x 110 mm Boost

Compatibility:

DT Swiss 240s Oversize front hubs (convertible to 20 mm)

Manufacturer Number:

BSTDF20
Type 3:
Model Designation:

DF3

Base Model:

front 15 x 100 mm

Convertible to:

front 15 x 110 mm Boost

Compatibility:

DT Swiss 350 and 370 front hubs, DT Swiss X 1900 Spline front wheels, DT Swiss X 1700 Spline Two front wheels, DT Swiss M 1900 Spline front wheels, DT Swiss M 1700 Spline Two front wheels, DT Swiss E 1900 Spline front wheels, DT Swiss E 1700 Spline Two front wheels

Manufacturer Number:

BSTDF3
Type 4:
Model Designation:

HF

Base Model:

front 15 x 100 mm

Convertible to:

front 15 x 110 mm Boost

Compatibility:

Hope Pro 2 EVO and Pro 4 front hubs, not for Pro 2 Non-EVO

Manufacturer Number:

BSTHF
Type 5:
Model Designation:

DR

Base Model:

rear 12 x 142 mm

Convertible to:

rear 12 x 148 mm Boost

Compatibility:

DT Swiss Star Ratchet (240 and 350) rear hubs, not for 180 and 190 hubs (Center Lock), DT Swiss XR 1501 Spline One rear wheels, DT Swiss XM 1501 Spline One rear wheels, DT Swiss X 1700 Spline Two rear wheels, DT Swiss M 1700 Spline Two rear wheels, DT Swiss FR 1950 Classic rear wheels, DT Swiss EX 1501 Spline One rear wheels up to 2016, DT Swiss E 1700 Spline Two rear wheels, other wheels with DT Star Ratchet like Roval (Specialized), Giant, Syncros (Scott)

Manufacturer Number:

BSTDR
Type 6:
sold-out
Model Designation:

rear wheel

Base Model:

rear 12 x 142 mm

Convertible to:

rear 12 x 148 mm Boost

Compatibility:

Hope Pro 2 EVO and Pro 4 rear hubs, not for Pro 2 Non-EVO

Manufacturer Number:

BSTHR
Type 7:
Model Designation:

9TF

Base Model:

front 15 x 100 mm

Convertible to:

front 15 x 110 mm Boost

Compatibility:

Industry Nine Torch front hubs

Manufacturer Number:

BST9TF
Type 8:
Model Designation:

9TR

Base Model:

rear 12 x 142 mm

Convertible to:

rear 12 x 148 mm Boost

Compatibility:

Industry Nine Torch rear hubs

Manufacturer Number:

BST9TR
Type 9:
sold-out
Model Designation:

WXR

Base Model:

rear 12 x 142 mm

Convertible to:

rear 12 x 148 mm Boost

Compatibility:

White Industries XMR Rear Hub

Manufacturer Number:

BSTWXR
Contents:
1 x Wolf Tooth Components Boostinator end cap (front or rear)
1 x Wolf Tooth Components Boostinator brake rotor spacer (only for type 5, type 6, type 8, type 9)
6 x stainless steel bolt, 10.9 (only for type 5, type 6, type 8, type 9)
Weight:
black/type 1: 6 g
black/type 2: 5 g
black/type 3: 5 g
black/type 5: 18 g
100 day return period

Online since 1998

Trusted Shop

4.89

/ 5.00