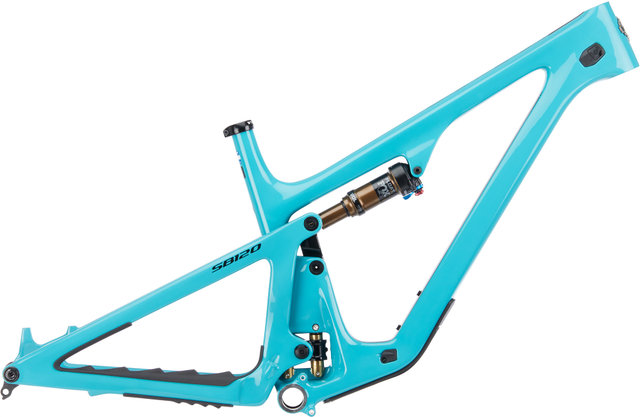 The Yeti Cycles SB120 29" frameset in TURQ carbon with Fox DPS Factory shock for a cross-country bike
The Yeti Cycles SB120 frameset made from high-quality TURQ carbon comes with Fox Float DPS Factory rear shock and with 120 mm travel offers an excellent base for a 29-inch cross-country mountain bike. The proven Switch Infinity linkage design has been revised in details that improve function and durability and simplify service. Compared to the SB115, the ground clearance at the downtube of the SB120 is significantly increased and the seat tube is shorter to allow for seatposts with a longer stroke. The geometry is, by the way, just like the carbon layup, adapted to every frame size and ensures agile handling. A bolted bottom bracket, cartridge bearings in standard sizes and the use of the SRAM UDH universal derailleur hanger underline the ease of maintenance.
Specifications:
Application:

Cross Country

Wheel Size:

29"

Travel:

120 mm

Size:

S, M, L, XL

Front Triangle Material:

Carbon (TURQ Series)

Rear Triangle Material:

Carbon (TURQ Series)

Linkage Design:

Switch Infinity Link V2

Rear Shock:

Fox Racing Shox Float DPS Factory
Technical Information:
Wheel Standard:

12 x 148 mm (Boost)

Axle Type:

12 mm thru-axle

Seatpost (Ø):

31.6 mm

Seatpost Clamp(Ø):

36.4 mm

Headset:

IS41 - IS52 (top to bottom)

Steerer tube rec.:

1 1/8" - 1.5" tapered

Recommended Fork Axle to Crown:

544 mm

Recommended Fork Travel:

130 mm

Bottom Bracket Standard:

BSA

Shell Width:

73 mm

Chainstay Guide:

ISCG 05

Brake Mount:

disc PM7 (direct mount 180 mm)

Front Derailleur Mount:

not possible

Rear Shock Eye-to-Eye Measurement:

190 mm

Rear Shock Stroke:

45 mm

Bottle Cage Mounts:

1
Approved For:
Rotor Size (max.):

203 mm

Tyre Size (max.):

29 x 2.6"

Chainrings:

1x

Chainring Size (max.):

for SRAM/Shimano Boost cranks with 55 mm chainline: 1-speed 34 teeth (round), 1-speed 32 teeth (oval)

Fork Axle to Crown Size (max.):

544 mm
Features:
frame for cross-country full suspension made of particularly high-quality carbon with Fox Factory DPS shock
revised Switch Infinity Link V2 design with floating axle for increased stiffness and longer durability
high-quality, extremely light and durable TURQ carbon with a balanced ratio of stiffness and compliance
completely internal cable routing without rattling and chafing with secure cable exits
for BSA bottom bracket and 55 mm chainline
SRAM UDH universal derailleur hanger for easy replacement
compact one-piece Wishbone Shock Extender allows easy handling of the shock and positions it further forward
patented Switch Infinity Link technology
sealed Enduro Max pivot bearings in standard sizes
rather linear progression curve for predictable behaviour
size-specific geometry and carbon composition
25 mm more ground clearance on the downtube than on the SB115
rather short seat tube for high freedom of movement, allows long-stroke seatposts
neutral seat position
agile handling
with chainstay and downtube protection
space for a bottle in the frame triangle
Technology:
Switch Infinity Link V2
The patented Switch Infinity design is characterised by the eye-catching link element at the main pivot point, which enables both radial and axial movement. At the beginning of the suspension travel, the pivot point moves upwards so that the rear triangle can avoid even the roughest obstacles on the trail. This position counteracts the effects of the drivetrain and lets your bike literally fly up the slope. However, when the bike is further down the suspension travel, the Switch Infinity Link lowers again and gives you a feeling of endless travel that makes you want to conquer every trail. The revised V2 variant scores with increased durability and easier maintenance. A floating axle secures the oxide-coated, particularly corrosion-resistant bearings on the Switch Infinity Link precisely and without play. Machine-made aluminium bearing caps keep dirt away from the bearings. The slide bushings, which provide the axial up and down movement, are provided with a wear-resistant and extremely low-friction coating and can be easily lubricated by grease nipples.
Geometry:
(based on a fork axle to crown length of 544 mm)
S:
Recommended Height:

165 - 180 cm

Stack:

610 mm

Reach:

425 mm

Seat Tube Length:

365 mm

Effective Top Tube Length:

571 mm

Head Tube Length:

98 mm

Chainstay Length:

435 mm

Wheelbase:

1157 mm

Bottom Bracket Height:

335 mm

Seat Angle (real):

71.5°

Seat Tube Angle (effective):

76.5°

Head Tube Angle:

66.5°

Standover Height:

709 mm
M:
Recommended Height:

165 - 180 cm

Stack:

615 mm

Reach:

455 mm

Seat Tube Length:

400 mm

Effective Top Tube Length:

603 mm

Head Tube Length:

104 mm

Chainstay Length:

437 mm

Wheelbase:

1191 mm

Bottom Bracket Height:

335 mm

Seat Angle (real):

71.9°

Seat Tube Angle (effective):

76.5°

Head Tube Angle:

66.5°

Standover Height:

714 mm
L:
Recommended Height:

178 - 191 cm

Stack:

625 mm

Reach:

475 mm

Seat Tube Length:

440 mm

Effective Top Tube Length:

625 mm

Head Tube Length:

115 mm

Chainstay Length:

439 mm

Wheelbase:

1217 mm

Bottom Bracket Height:

335 mm

Seat Angle (real):

72.3°

Seat Tube Angle (effective):

76.5°

Head Tube Angle:

66.5°

Standover Height:

718 mm
XL:
Recommended Height:

185 - 201 cm

Stack:

635 mm

Reach:

500 mm

Seat Tube Length:

470 mm

Effective Top Tube Length:

652 mm

Head Tube Length:

126 mm

Chainstay Length:

441 mm

Wheelbase:

1249 mm

Bottom Bracket Height:

335 mm

Seat Angle (real):

72.7°

Seat Tube Angle (effective):

76.5°

Head Tube Angle:

66.5°

Standover Height:

720 mm
Manufacturer Numbers:
turquoise / S:

YCF23120TSMPTUFA0000000

turquoise / M:

YCF23120TMDPTUFA0000000

turquoise / L:

YCF23120TLGPTUFA0000000

turquoise / XL:

YCF23120TXLPTUFA0000000
Contents:
1 x Yeti Cycles SB120 TURQ Carbon 29" frameset
1 x Fox Racing Shox Float DPS Factory rear shock
100 day return period

Online since 1998

Trusted Shop

4.89

/ 5.00