100 day return period

Online since 1998

Trusted Shop

4.89

/ 5.00
The Refuel Set by bc basic - Two drink bottles and two bottle cages
This set of bc basic 600 ml drink bottles and 3min19sec carbon bottle cages serves as your personal refuelling station for bike tours. The set comes with two bottles and two bottle cages to make sure you stay adequately hydrated on longer rides, or even to install a bottle cage on two bikes.
The drink bottle from bc basic impresses with its particularly elastic material that is easy to squeeze. Thanks to its large opening, you can fill and clean it in no time at all. The mouthpiece with BT valve is easy to drink from and stays tight so that no liquid can escape while you're riding. The water bottle is 180 mm long and is dishwasher safe.
The bottle cage by 3min19ec is made with an innovative carbon injection process. This reduces the weight to a minimum and optimises stability. The two stiff side panels hold your water bottle securely during the ride, but they are still flexible enough that you can easily insert and remove the bottle. Apart from that, the bottle cage impresses not only with its mechanical properties, but also with its appealing design.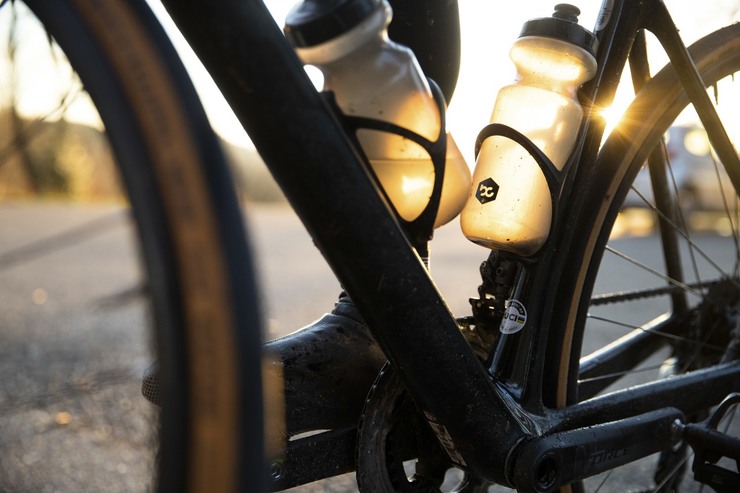 Specifications:
Drink Bottle:
Material:
composite (polyethylene)
Closure Type:
BT valve
Volume:
600 ml
Diameter:
74 mm
Depth:
180 mm
Bottle Cage:
Material:
carbon composite
Features:
Drink Bottle:
- made of low density PE
- easy cleaning because dishwasher safe
- large opening for easy filling and cleaning
- no leaks when riding
- easy to press due to the special material
- BPA-free
Bottle Cage:
- manufactured using the carbon injection process
- low weight (32 g) and optimal stability
- easy to insert bottle, provides secure hold
- attractive design
- 2-bolt mount
Contents:
bc basic Refuel Set, consisting of:
- 2 x bc basic 600 ml bottles
- 2 x 3min19sec carbon bottle cages
- 4 x bolts
- 4 x washers