Summer is just around the corner and it's time to spice up your bike with the right parts. Are you still missing the right bike? No problem, you can find the one you need in our store. To make it easier for you to get started, we'll show you various highlights as well as tips, tricks and guides for cycling. Start now and make this summer your summer on two wheels!
Bicycles
Do you want your bike to get you reliably from A to B in everyday life and also enable fun cycling tours in your free time? Not an easy task, because even with bicycles there is no such thing as the "jack of all trades". We have therefore selected some useful options for you, which can be used in everyday life as well as in your leisure time, depending on your preferences. From fun MTBs to versatile gravel bikes and fully-equipped e-bikes, here are our recommendations for this summer.

Accessories
When it comes to bike accessories, the options are almost endless. Some things, however, are particularly important in our eyes, such as a sensible bicycle lock, a water bottle when you go on tours or a good bell. Here you'll find our recommendations for useful accessories that you should have on your bike.
Bike Locks
BIKE Rating: Very Good (Test Winner 1/2023)
Security (60%): 9 out of 10 points
Handling (20%): 9 out of 10 points
Weight (10%): 10 out of 10 points
Equipment (10%): 8 out of 10 points
(only available in German)
Bottles & Bottle Cages
GPS & Bike Computers
Bicycle Bells
Cleaning & Care
True to the motto "Only a clean bike is a happy bike", here you will find our highlights and tips for cleaning and caring for your bike. By carefully cleaning and caring for your bike, you not only ensure that it will always look good, but also increase the longevity of the parts. And let's be honest, who doesn't like to start a ride on a freshly cleaned bike?
Bicycle parts
Could your bike feel a bit more comfortable in way or another? In our view, new parts make a noticeable difference, especially for the saddle, handlebars and pedals, and offer great potential to better adapt your bike to your needs in terms of comfort and ergonomics. In this section you will find our recommendations for the three important contact points between you and your bike.
Saddle
Pedals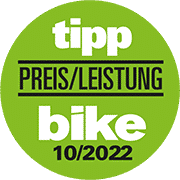 Handlebar Grips
Apparel
When it comes to cycling, choosing an outfit is as personal as your favourite flavour of ice cream. However, in our opinion, a helmet is an absolute must. Below you will find our recommendations for other useful garments that function as alternatives to conventional sportswear.