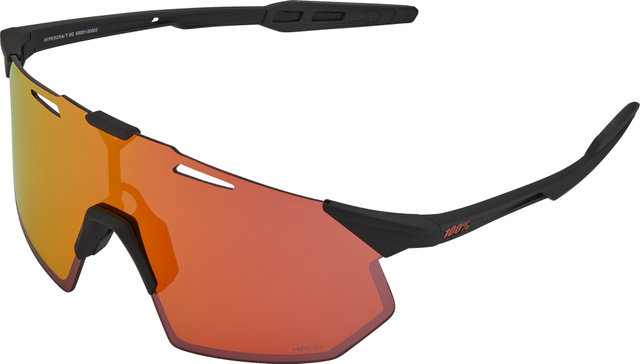 100% Hypercraft SQ Hiper Glasses
The Hypercraft SQ Hiper sports glasses by 100% - Shorter version of the Hypercraft
The 100% Hypercraft SQ Hiper goggles for sporty cycling and other activities have a shorter and squarer lens than the Hypercraft, which improves the fit even more. It covers a large area and offers excellent protection. Like the standard model, the Hypercraft SQ has temples made of UltraCarbon™, is frameless and super light. The mirrored lens filters out the overlap between the three primary colours, enhancing contrast, colour and depth perception.
Technical Information:
Type:

frameless
Features:
ultra-light sports glasses with Hiper technology for particularly clear, contrast- and colour-intensive vision
shorter, more square profile compared to the Hypercraft standard model
superior visibility thanks to impact-resistant and chemical-resistant Ultra HD lens
cylindrical lens with 5.5 base curve for extended peripheral vision and protection
streamlined, laser-cut, rimless lens with excellent ventilation, positioned at an aerodynamic angle
scratch-resistant lens coating of the highest quality
hydrophobic and oleophobic treatment repels water, dirt and oil
durable, strong and lightweight temples made of specific UltraCarbon material
100% UV protection (UV400)
rubberised ultra-grip temples and nose bridge for best hold
temple arm scoops for moisture control
ultimate performance with only 23 grams of weight
designed in California
Technology:
Frame:
UltraCarbon Frame
A featherweight frame made by weaving carbon fibres into the nylon. This saves weight without sacrificing stiffness and strength.
Ultra Grip
The specially developed Ultra-Grip rubber compound ensures stable grip even in wet conditions.
Lens:
Ultra HD
The Ultra HD disc is the result of decades of passion, design, craftsmanship and research at 100%. To ensure that the world's best professional cyclists also have the best view, a shatterproof and impact-resistant polycarbonate material is integrated into the lens, which has been specially shaped without optical distortion. This provides maximum protection with the clearest and most accurate view on tracks.
Hiper
It's simple, really -- humans can see three primary colours: red, green and blue. Where these three colours overlap, human vision begins to distort. 100% Hiper lenses filter out these overlaps, increasing contrast and making colours more vivid. You will experience better depth perception so that no track detail of the track will escape notice as you rush past it.
Hydrophobic+Oleophobic
The Hydrophobic+Oleophobic treatment ensures that water, oil and dirt roll off the lens. This treatment also has wipe-resistant properties, provides additional protection for mirror coatings and guarantees trouble-free lens care.
Models:
soft tact black / hiper red multilayer mirror:
Frame Colour:

black

Lens:

orange-red mirrored

Filter Category:

CAT 2

Transparency:

23%

Properties:

HD, Hiper

Manufacturer Number:

60001-00003
soft tact white / hiper blue multilayer mirror:
Frame Colour:

white

Lens:

blue mirrored

Filter Category:

CAT 3

Transparency:

11%

Properties:

HD, Hiper

Manufacturer Number:

60001-00004
Safety Information:
Not intended for direct viewing of the sun.
Cleaning and Care:
Never use chemicals or harsh agents to clean the lenses, use only water and a microfibre cloth. Make sure the lenses are dry when you reinsert them.
Contents:
1 x 100% Hypercraft SQ Hiper sports glasses
1 x spare lens, clear and unreflective (filter category 0, transparency: 93%)
1 x glasses case
1 x nose pad with alternative fit
1 x microfibre pouch
Weight:
soft tact black/hiper red multilayer mirror: 23 g
100 day return period

Online since 1998

Trusted Shop

4.89

/ 5.00