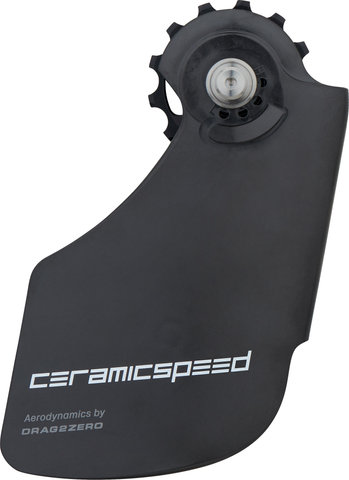 CeramicSpeed OSPW Aero Coated System for Shimano R9250 and R8150 rear derailleurs
CeramicSpeed uses a layer completely made of polyamide-reinforced carbon for the OSPW Aero Coated derailleur pulley system for 12-speed rear derailleurs in the Shimano Dura-Ace R9200 and Ultegra R8100 groupsets. This provides a considerable aerodynamic advantage over the standard models because there is less wind turbulence. As usual, the derailleur pulleys are oversized - 13 teeth at the top, 19 at the bottom - and run on extremely low-friction ceramic bearings. Their barrel rings were additionally metal-coated to be even more durable. CeramicSpeed developed the OSWP Aero Systems in collaboration with the aerodynamics specialists at Drag2Zero.
For hazard warnings, safety and application information, please see
CeramicSpeed Oil for Derailleur Pulleys
.
Specifications:
Application:

Road, Triathlon & Time Trial

Gearing:

12-speed

Cassette Teeth (max.):

34-tooth

Compatibility:

Shimano Dura-Ace Di2 RD-R9250, Ultegra Di2 RD-R8150
Technical Information:
Derailleur Pulleys:

13 tooth (upper derailleur pulley), 19 tooth (lower derailleur pulley)

Material:

aluminium

Other Materials:

polyamide, carbon

Bearings:

Ceramic
Features:
oversize derailleur pulley system with ceramic bearings, offering unique durability and performance
complete cover made of polyamide-reinforced carbon for more aerodynamics
reduced friction and increased energy savings for a highly efficient drivetrain
high-performance bearings with very hard, above-average supple and resilient ceramic balls made of grade-3 silicon nitride (best achievable grade for ceramic bearings)
ball bearing races additionally metal-coated for more performance and durability
four spring tension options
handmade in Denmark
developed in collaboration with Simon Smart and Drag2Zero
Technology:
Ceramic Bearings by CeramicSpeed
CeramicSpeed ceramic balls are rounder, harder, smoother, lighter and more resilient than steel balls and ceramic balls from other manufacturers. CeramicSpeed ceramic bearings therefore last 3 to 5 times longer than other commercially available bearings. All CeramicSpeed bearings are manufactured by hand in Denmark under clean room conditions and are subject to a strict four-stage control procedure. Among other things, the size of the ceramic balls is checked down to the thousandth of a millimetre. Tests are then carried out in the laboratory or preferably by professionals in training and competition. CeramicSpeed bottom brackets guarantee you the lowest possible friction, optimised power transfer and maximum durability and also help you save watts and reach the finish line faster. It's not about seconds, it's about minutes!
OSPW
The Oversized Pulley Wheel System (OSPW system) is a breakthrough innovation from CeramicSpeed, developed in collaboration with world-class triathletes. This unique system is known for 40 - 60% less friction compared to standard derailleur pulleys and allows power savings of at least 1.6 and up to 2.4 watts. The OSPW system features the unique CeramicSpeed bearing, aluminium derailleur pulleys and a polyamide-carbon cage, making it 3 to 5 times more durable than standard systems on the market.
Coated
CeramicSpeed coated products offer the ultimate in performance and durability. This is achieved by a unique coating that increases the hardness of the races, so that in combination with the smoothness of CeramicSpeed ball bearings, there is virtually no bearing wear. The coating is a metal layer that is 75% harder than hardened steel. It is applied very thinly (0.003 mm) and evenly over the entire surface of the race and is used both internally and externally for optimum results.
Manufacturer Number:
110909
Contents:
1 x CeramicSpeed OSPW Aero Coated derailleur pulley system for Shimano R9250 / R8150
1 x CeramicSpeed oil, 15 ml dropper bottle