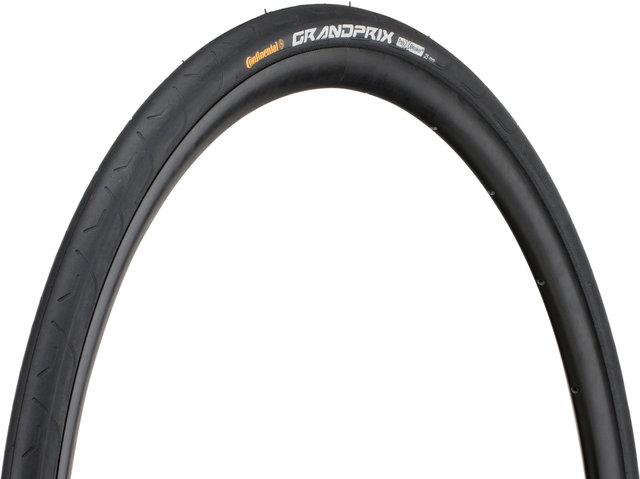 Continental Grand Prix 28" Folding Tyre
Comfortable all-rounder that has made cycling history: the Grand Prix Tyre by Continental
The Grand Prix is not just any bike tyre, it is THE road bike tyre par excellence, and has stood for quality and performance for years. The standards that Continental has set with this tyre to this day are the basis for many developments in the road tyre segment. The new generation of the Grand Prix also wants to set standards. Continental's perennial favourite, for example, is leading the trend toward wide tyres. Wide tyres roll easier, get more mileage, provide more comfort and grip. The GP comes in 25 mm as the main size and is thus wide enough to combine all the constructive characteristics of a wide tyre with the slimness and lightness of a narrow racer.
Specifications:
Application:

Road, Triathlon

Product Line:

Premium

Type:

folding tyre

Tubeless System:

none
Technical Information:
Rubber Compound:

BlackChili

Carcass:

180 tpi, 3 layers

Puncture Protection:

PolyX Breaker
Models:
23-622
Dimensions:

700 x 23c

ETRTO:

23-622

Air Pressure:

7.5 - 8.5 bar

Tube Recommendation:

Race 28

Manufacturer Number:

0100506
25-622
Dimensions:

700 x 25c

ETRTO:

25-622

Air Pressure:

7.5 - 8.5 bar

Tube Recommendation:

Race 28

Manufacturer Number:

0100637
28-622
Dimensions:

700 x 28c

ETRTO:

28-622

Air Pressure:

6.5 - 8.0 bar

Tube Recommendation:

Race 28 Wide

Manufacturer Number:

0101109
Features:
an all-rounder with solid construction, made for sporty rides in demanding terrain
offers high puncture protection, comfort and decent grip
with particularly high mileage
Technology:
Premium
The Continental Premium tyres have been designed to deliver top performance. They are equipped with the latest technologies, which have been developed together with the most successful athletes in the world. They are handmade by the experienced specialists in Korbach (Germany). Added to this are selected materials for the highest quality and outstanding properties.
BlackChili Compound
The rolling characteristics of the rubber compound of a tyre are determined by three interacting factors: Static friction (grip), rolling resistance and mileage. The dilemma: If one of these factors is improved, at least one other factor deteriorates in return. BlackChili Compound is the name of Continental's revolutionary tread compound based on the latest findings in polymer and raw material research. For BlackChili, Continental refines newly developed synthetic rubbers with proven natural rubber into particularly high-performance tread compounds. Conti adds nanoscale carbon black particles to these rubbers, which are optimised in shape and surface properties in order to match the compound to the respective application of the tyre. Tyres with BlackChili Compound achieve an unprecedented level of performance. Compared to activated silica tyres, BlackChili tyres have 26 % lower rolling resistance, 30 % higher static friction value (grip) and 5 % higher mileage. Whether on a Road bike or MTB - the speed and grip advantage is clearly noticeable! The complex compound technology is so sensitive that tyres with BlackChili Compound are produced exclusively at Continental in Korbach, Germany.
PolyX Breaker®
Tried and tested. The PolyX Breaker™ brings automotive know-how to the bicycle tyre segment. Polyester has been used successfully in car tyres for years and has proven its worth there many times over. The extremely resistant polyester fibre is tightly woven crosswise. This results in very high fabric density, which makes the breaker not only resistant to foreign bodies, but also particularly resistant to punctures. Rolling resistance is completely conquered by this breaker.
TWI-Wear Indicators
Treadless tyres in particular usually do not offer any usable indication for timely replacement, like tyres with a raised tread do. For this reason, Continental started to introduce wear indicators on treadless Road bike tyres for the first time in 2004 with the Grand Prix 4000. The TWIs (Tread Wear Indicators) can now be found on almost every Continental Road bike tyre. If the two small circular depressions in the middle of the tread are no longer visible, it is time for a replacement. This is an important aspect for your safety.
In the road bike segment: two circular depressions in the middle of the tread. If these are no longer visible, it is time to change your tyres.
Contents:
1 x Continental Grand Prix 28" folding tyre
Weight:
black/23-622: 225 g
black/25-622: 230 g
black/28-622: 270 g
100 day return period

Online since 1998

Trusted Shop

4.89

/ 5.00