100 day return period

Online since 1998

Trusted Shop

4.9

/ 5.00
The Belter 20" Kids Bike by EARLY RIDER - looks good, feels great
The Belter 20" kids bike by EARLY RIDER combines functionality with style, making trips to school an activity to look forward to. Belt drive and an internally geared hub ensure low-maintenance handling and a susceptible rear derailleur no longer threatens to put the whole bike out of action when carelessly thrown around. The Sturmey hub runs very easily and with four gears in the bombproof shell the bike really rolls as well as it looks. No chain, no dirty sprockets - just clean lines and a solid ride. This child's bike is light, has a pleasant geometry and the efficient belt drive facilitates the ride to school even with a loaded backpack. Ritchey components provide confidence thanks to perfect control.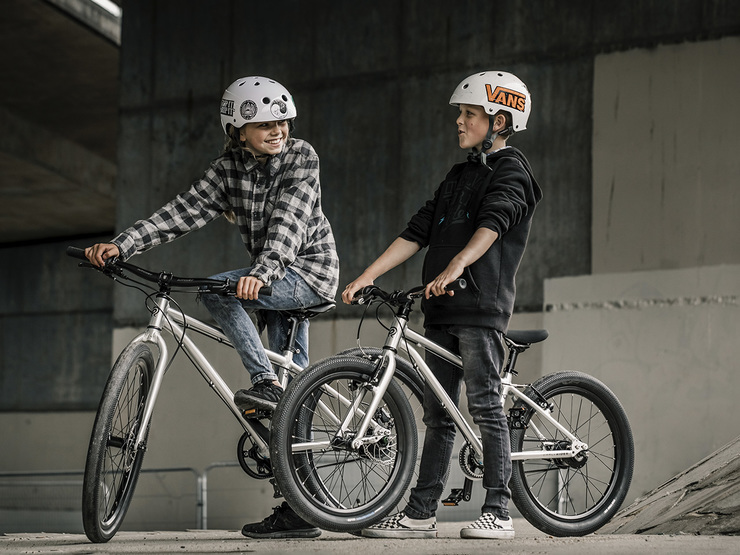 Specifications:
Application:
Kids
Wheel Size:
20"
Frame Material:
aluminium
Fork Material:
aluminium
Components:
Frame:
EARLY RIDER Belter 20
Fork:
EARLY RIDER Belter 20
Stem:
Ritchey OS, Reach 35 mm, Clamping 31.8 mm
Handlebars:
Ritchey OS, width 560 mm, rise 18 mm
Grips:
EARLY RIDER Wing, 120 mm (left), 70 mm (right)
Headset:
EARLY RIDER 1 1/8" , cartridge
Seatpost:
Ritchey 25.4 x 250 mm
Saddle:
EARLY RIDER Wing
Cranks:
EARLY RIDER 120 mm
Pedals:
EARLY RIDER aluminium cage pedals
Brakes/Brake Levers:
Tektro 837AL, 102 mm brake arms, Tektro JL510TS brake lever
Shift Lever:
Sturmey
Drive:
Gates 976-8M with pulley front 46 T, rear 32 T
Rims:
Double Wall 24 hole (front), Double Wall 28 hole (rear)
Tyres:
Vee Speedster 20 x 2.0"
Approved For:
Weight Limit:
40 kg
Features:
- recommended for children between 5.5 and 8 years old
- from an inner leg length of 52 cm
- seat height adjustable from 57.5 - 69 cm
- 4-speed hub gears
Geometry:
- seat tube length: 280 mm
- effective top tube length: 448 mm
- head tube length: 92 mm
- chainstay length: 331.5 mm
- wheelbase: 838 mm
- seat tube angle: 73°
- head tube angle: 69.5°
- overhang height: 515 mm
- Handlebar Width: 560 mm
- crank length: 120 mm
Manufacturer Number:
BR20
Shipping Notice:
The shipment is sent pre-assembled by a forwarding agent.
The delivery time is extended by 2-5 days, depending on the overall volume of orders.
For individual consultation, please contact our customer service team.
Contents:
- 1 x EARLY RIDER Belter 20" kids bicycle
- 1 x bell
- 1 x reflector, white
- 1 x reflector, red
- 2 x reflector holders
- 4 x cat's eye reflectors
Order Together:
- central kickstand for 20" children's bike
Gewicht:
brushed aluminium/universal: 8,0 kg