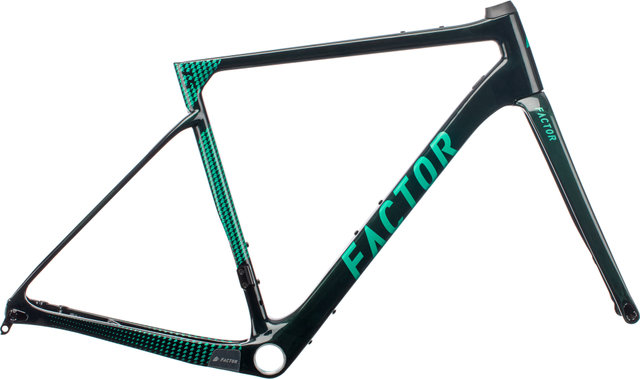 Factor LS Disc Carbon Gravel Frameset
The Factor LS Gravel Frameset - For high-performance on gravel
The LS frameset by Factor is designed for gravel riders who like to take part in long, demanding competitions or want to tackle routes with a lot of cumulative elevation. It is not designed for cycling tours with luggage, but rather for competitive use in small and larger groups.
The design of the carbon frame, which weighs only 950 g, is characterised by optimum stiffness values and an aggressive geometry. Balanced handling and a steeper steering angle ensure that you react in seconds to the special challenges of natural roads, such as potholes and stones. The very low-set T47a bottom bracket compensates for the large outer diameter of wide 700C gravel tyres. The wheelbase was kept as small as possible so as not to impair manoeuvrability on gravel. In addition, the adjusted seat angle and the linearity of the stack/reach ratio allows a perfect fitting for riders of all heights.
Like the frames of the Factor OS series, the LS bridges the gap between a World Tour-tested geometry and the requirements of amateur racers. However, despite the integrated design, regular seatposts, stems and handlebars can be used here, allowing you to easily adapt the bike to your requirements.
By the way, the frameset was named after Larry Shahboz, who introduced Rob Gitelis (owner of Factor Bikes) and many others to the cycling community and supported aspiring athletes. He inspired the ethos that the Gravel community was founded upon--an ethos which is embodied by the functional design of the LS. Reduced to the essentials, this framework is focused on a single thing: to make you the strongest contender possible in Gravel racing.
Specifications:
Application:

Gravel

Wheel Size:

28"

Size:

49 cm, 52 cm, 54 cm, 56 cm, 58 cm

Frame Material:

carbon (UD)

Fork Material:

carbon (UD)
Technical Information - Frame:
Wheel Standard:

12 x 142 mm (standard)

Axle Type:

12 mm thru-axle

Seatpost (Ø):

27.2 mm

Seatpost Clamp(Ø):

integrated

Headset:

IS41/28.6 - IS49/37 (top to bottom)

Bottom Bracket Standard:

T47a

Shell Width:

77 mm

Brake Mount:

flat mount

Front Derailleur Mount:

braze-on

Cable Routing:

internal, mechanical / electrical

Bottle Cage Mounts:

3
Technical Information - Fork:
Steerer Tube:

1 1/8" - 1 3/8" tapered

Wheel Standard:

12 x 100 mm (standard)

Axle Type:

12 mm thru-axle

Brake Mount:

flat mount

Offset:

50 mm

Axle to Crown:

395 mm

Over Locknut Dimension:

100 mm

Steerer Tube Material:

carbon (UD)

Blade Material:

carbon (UD)
Approved For:
Weight Limit:

100 kg (rider weight)

Rotor Size (max.):

160 mm

Tyre Size (max.):

40-622 (700x40c)

Chainrings:

1x, 2x

Chainring Size (max.):

1x 44 teeth, 2x 50 teeth
Features:
performance-oriented frame for Gravel mass start races
low weight as an advantage on hilly routes
rigid design and aggressive geometry
responsive handling on natural roads
low bottom bracket, optimal wheelbase
eyelets for bottle cage
suitable for racing even in winter and for training
asymmetrical bottom bracket connection for maximum stiffness
seatstays with kink and curved seat tube for increased comfort
removable front derailleur mount and cover plate
chainstay protection
painted UD carbon
Geometry:
49 cm:
Stack:

530 mm

Reach:

372 mm

Seat Tube Length:

455 mm

Effective Top Tube Length:

519 mm

Head Tube Length:

104 mm

Chainstay Length:

420 mm

Wheelbase:

990 mm

BB Drop:

76 mm

Seat Tube Angle:

74.5°

Head Tube Angle:

71.5°

Standover Height:

748 mm
52 cm:
Stack:

547 mm

Reach:

378 mm

Seat Tube Length:

481 mm

Effective Top Tube Length:

535 mm

Head Tube Length:

120 mm

Chainstay Length:

420 mm

Wheelbase:

998 mm

BB Drop:

76 mm

Seat Tube Angle:

74°

Head Tube Angle:

71.9°

Standover Height:

772 mm
54 cm:
Stack:

566 mm

Reach:

383 mm

Seat Tube Length:

507 mm

Effective Top Tube Length:

550 mm

Head Tube Length:

137.5 mm

Chainstay Length:

420 mm

Wheelbase:

1005 mm

BB Drop:

76 mm

Seat Tube Angle:

73.5°

Head Tube Angle:

72.3°

Standover Height:

789 mm
56 cm:
Stack:

585 mm

Reach:

392 mm

Seat Tube Length:

527 mm

Effective Top Tube Length:

566 mm

Head Tube Length:

158.5 mm

Chainstay Length:

420 mm

Wheelbase:

1020 mm

BB Drop:

76 mm

Seat Tube Angle:

73.5°

Head Tube Angle:

72.3°

Standover Height:

809 mm
58 cm:
Stack:

605 mm

Reach:

401 mm

Seat Tube Length:

552 mm

Effective Top Tube Length:

580 mm

Head Tube Length:

179.5 mm

Chainstay Length:

420 mm

Wheelbase:

1035 mm

BB Drop:

76 mm

Seat Tube Angle:

73.5°

Head Tube Angle:

72.3°

Standover Height:

831 mm
Manufacturer Numbers:
49 cm:

FFH-R49

52 cm:

FFH-R52

54 cm:

FFH-R54

56 cm:

FFH-R56

58 cm:

FFH-R58
Contents:
1 x Factor LS Disc Carbon Gravel frameset
Weight:
british green/49 cm: 820 g (Rahmen)
british green/52 cm: 835 g (Rahmen)
british green/54 cm: 850 g (Rahmen)
british green/56 cm: 880 g (Rahmen)
british green/58 cm: 910 g (Rahmen)
100 day return period

Online since 1998

Trusted Shop

4.89

/ 5.00