100 day return period

Online since 1998

Trusted Shop

4.91

/ 5.00
The Team AM 35 Stem by LEVELNINE - An oversize stem in a stealth look
The Team AM stem from LEVELNINE gives your MTB's cockpit an added layer of coolness with its " stealth" design. The oversize stem with 35 mm handlebar clamp is particularly robust, allowing it to withstand all demands. No matter if you're on an all-mountain, enduro or downhill bike, you can rely on the stem with 1 1/8" steerer clamp. The clamping plate is fixed with four screws which distribute pressure evenly across the handlebars. Look forward to your next ride with confidence.
The Team AM MTB Stealth 35 stem has been tested and approved according to the Zedler Institute standard Advanced incl. ISO 4210.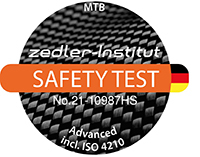 Specifications:
Application:
All Mountain, Enduro, Downhill
Design:
Ahead
Steerer Clamp:
1 1/8"
Stack Height (steerer tube):
38 mm
Handlebar Clamp:
35 mm
Lengths:
35 mm, 45 mm, 55 mm, 65 mm
Angle:
6°
Technical Information:
Material:
aluminium (6061)
Bolt Material:
steel
Contents:
- 1 x LEVELNINE Team AM Stealth stem
- 4 x bolts
Gewicht:
black stealth/35 mm 6°: 135 g
black stealth/45 mm 6°: 146 g
black stealth/55 mm 6°: 151 g
black stealth/65 mm 6°: 162 g