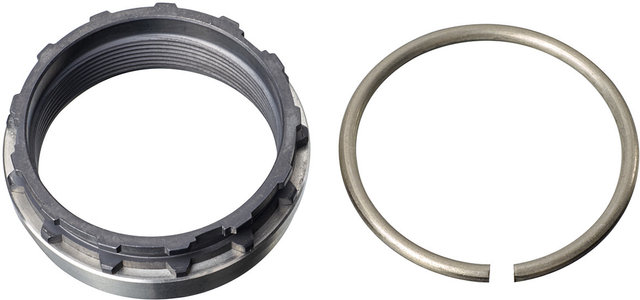 Conversion to splined system: the Splined Carrier by Rohloff
Since 2016, Rohloff has equipped all hubs in the current series with a splined sprocket system. Turning or replacing a sprocket is then very easy without a chain whip or cassette puller. Due to the same component basis (screw connection), existing hubs can be retrofitted or converted with this splined system. Rohloff offers the Splined Carrier Adapter for this purpose. This is to be used for plug-in sprockets with 13t - 21t.
A
sprocket puller
is only necessary for fitting the splined carrier. The
splined sprockets
themselves can be changed without a sprocket puller. The reversible sprocket is first fitted onto the Splined Carrier and secured with the help of the snap ring. Then screw the complete unit onto the hub driver as usual with a threaded sprocket.
Rohloff offers a
template
to check for collisions between the frame strut and the sprocket.
When using the splined carrier, the chain tensioner requires the
long frame bolt
.
The use of a closed chain guard (Hebie etc.) must be checked individually for compatibility.
Chainline:
With Splined Carrier, the previous chainline (screw-in sprocket 54 mm) shifts as follows:
135 / 142 mm frame w/ splined sprocket:

13-21 tooth = 57 mm chainline

148 mm frame w/ splined sprocket:

13-21 tooth = 54 mm chainline

170 / 177 / 190 / 197 mm frame w/ splined sprocket:

13-21 tooth = 75 mm chainline
Manufacturer's Notice:
Due to the extended number of teeth, many chainring / sprocket combinations are possible. The permissible or desired transmission ratio can be determined with the
Gears-Meters Table
. In practice, a gear ratio (chainring: sprocket) of 2.5 - 2.8 has been proven to be suitable for touring/everyday use. However, if you are travelling off-road and in the mountains, you can choose your own individual gear ratio down to a minimum factor of 1.9.
Manufacturer Number:
8540
Contents:
1 x Rohloff Splined Carrier
1 x Rohloff circlip
100 day return period

Online since 1998

Trusted Shop

4.89

/ 5.00