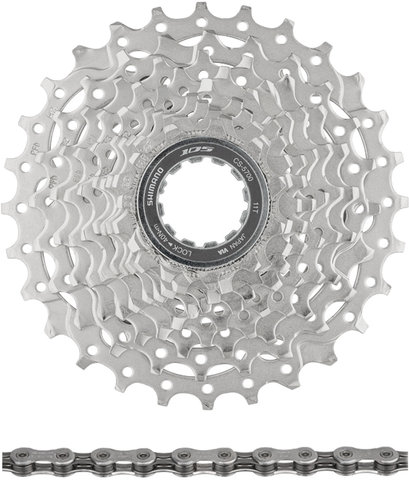 Shimano 105 CS-5700 Cassette + CN-6701 10-speed Chain Wear & Tear Set
The Shimano 105 CS-5700 + CN-6701 Wear & Tear Set - For constant and precise shifting
This Shimano 105 wear set includes the CS-5700 10-speed cassette and the CN-6701 10-speed chain. It ensures smooth, fast gear changes so that higher performance can be achieved.
The 105 cassette CS-5700 from Shimano (10-speed) offers even more constant and precise shifting with its optimised design and is 245 grams light (11-25) thanks to the aluminium spider. Computer-designed Hyperglide (HG) sprockets with a special tooth profile ensure fast gear changes. You can use the CS-5700 cassette on 8-/9-/10-speed Road/MTB freehubs with the included spacer or also on 11-speed Road freehubs with an additional 1.85 mm spacer.
The Shimano CN-6701 chain is designed for 2x10-speed drivetrains. Thanks to optimised outer lugs, it delivers improved performance for road bikes while maintaining the same durability and weight (compared to the CN-6700). HG technology ensures optimised contact with the chainring and cassette teeth and therefore smooth shifting. Caution, CN-6701 is directional, which must be taken into account during assembly.
Specifications:
Application:

Road

Gearing:

10-speed

Freehub Compatibility:

Shimano MTB

Note:

compatible with Shimano Road 11-/12-speed using a 1.85 mm spacer
Technical Information - Cassette:
Series:

105 5700

Sprocket Material:

steel

Spider:

1 (aluminium)
Technical Information - Chain:
Number of Links:

114

Closure Type:

chain pin with double ring (ampoule type)

Pin Type:

chromium-plated, solid

Directional:

yes

Material:

steel
Compatibility:
Shift/Brake Lever:

ST-6700, ST-5700, ST-4600, ST-R460

Shifter:

SL-R780, SL-4600, SL-R460
Rear Derailleur:
11-25: RD-6700-A-SS, RD-5701-SS, RD-4601-SS
11-28: RD-6700-A-SS, RD-5701-SS, RD-5701-GS, RD-4601-SS, RD-4601-GS
Features:
Cassette:
HG cassette with nickel-plated steel sprockets
stable and better shifting
optimised shifting feel
weight-saving light alloy sprocket spider
nickel-plated lockring
Chain:
super slim HG 10-speed chain for all Shimano 2x10-speed Road bike drivetrains
optimised outer plates (zinc-aluminium-coated) for smooth shifting and less chain jamming in front
optimised inner plates (grey) for smoother rear shifting
perforated, ultralight plates
less stress when shifting under load
smooth shifting even under high load
improved press-fit construction for stable shifting
performance indicator: Advanced (level 2 out of 3)
Models:
11-25:
Gradation:

11-12-13-14-15-17-19-21-23-25 t

Manufacturer Number:

I-CS570010125 (cassette) + I-CN6701114 (chain)
11-28:
Gradation:

11-12-13-14-15-17-19-21-24-28 t

Manufacturer Number:

I-CS570010128 (cassette) + I-CN6701114 (chain)
12-25:
sold-out
Gradation:

12-13-14-15-16-17-19-21-23-25 t

Manufacturer Number:

I-CS570010225 (cassette) + I-CN6701114 (chain)
12-27:
sold-out
Gradation:

12-13-14-15-16-17-19-21-24-27 t

Manufacturer Number:

I-CS570010227 (cassette) + I-CN6701114 (chain)
Contents:
1 x Shimano 105 CS-5700 cassette
1 x Shimano Ultegra CN-6701 chain
1 x Shimano 1 mm cassette spacer (to mount to 8-/9-/10-speed freehub bodies)
1 x Shimano steel lockring
1 x chain pin
Weight:
silver/11-25: 512 g (Kette+Kassette)
100 day return period

Online since 1998

Trusted Shop

4.89

/ 5.00