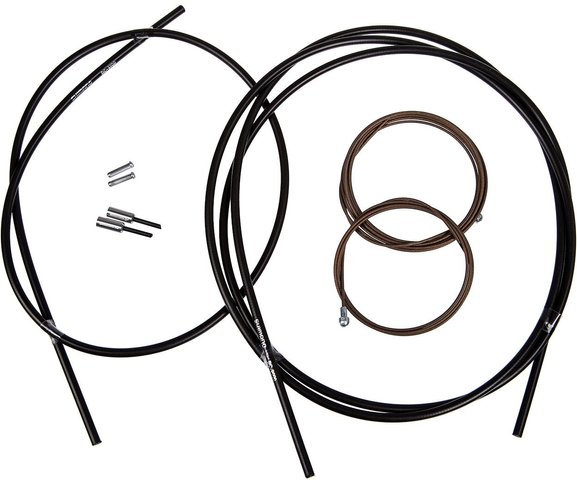 The Dura-Ace BC-9000 polymer road bike brake cable set by Shimano - more braking power
The Shimano Dura-Ace brake cable set BC-9000 for road bikes contains polymer-coated brake cables. The coating, which looks like tubing wrapped around the cable under the microscope, reduces the surface rubbing against the lining and extends grease retention. The result is a higher braking force and more ease of movement of the brake. Also included is a pre-greased outer cover with soft liner (SLR-EV).
Specifications:
Application:

Road

Cable Diameter:

1.6 mm

Cable Length:

1000 mm, 2000 mm

Cable Housing Diameter:

5 mm

Cable Housing Length:

800 mm, 1800 mm
Technical Information:
Shifter Cable Material:

stainless steel

Cable Coating:

polymer
Compatibility:
BR-R9200
BR-R9210
BR-R9100
BR-R9110
BR-9000
BR-9010
BR-R8100
BR-R8110
BR-RS811-R
BR-R8000
BR-R8010
BR-6800
BR-6810
BR-R7000
BR-R7010
BR-5800
BR-5810
BR-5710
BR-4700
BR-R3000
BR-R2000
BR-RS500
Note from the manufacturer:
BC-9000 (polymer coated brake cables) may only be used in combination with the brakes mentioned above. With other combinations, the clamping of the brake cable is not tight enough. As a result, the brake cable may come loose and control of the brake may be lost, resulting in serious injury.
Features:
SLR-EV system and polymer-coated cables reduce friction and ensure smooth and fast operation
pre-greased cable housing with soft liner for smooth braking
corrosion resistant (SUS)
performance indicator: ultimate (level 3 out of 3)
Manufacturer Numbers:
black:

Y-8YZ98010

white:

Y-8YZ98020

red:

Y-8YZ98030

hi-tech grey:

Y-8YZ98040

orange:

Y-8YZ98080

yellow:

Y-8YZ98092

green:

Y-8YZ98090

blue:

Y-8YZ98091
Contents:
1 x Shimano 800 mm brake cable housing
1 x Shimano brake cable housing 1800 mm
1 x Shimano BC-9000 2000 mm brake cable
1 x Shimano BC-9000 1000 mm brake cable
2 x Shimano pointed end caps for BC-9000
2 x cable ferrules
100 day return period

Online since 1998

Trusted Shop

4.89

/ 5.00