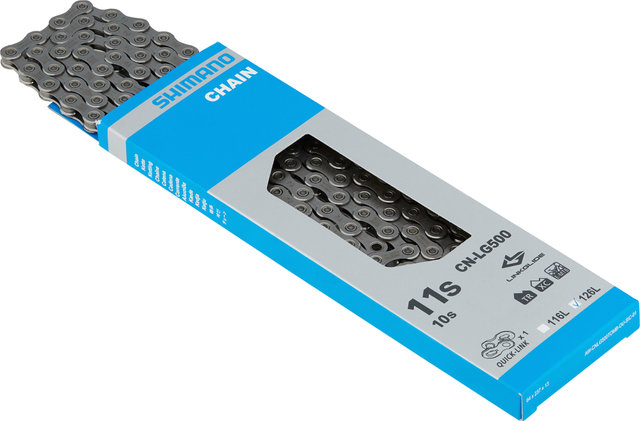 Shimano E-bike Quick-Link Chain CN-LG500 Linkglide 9-/10-/11-speed
The E-Bike Quick-Link Chain CN-LG500 by Shimano - Not just for Linkglide drivetrains
The CN-LG500 is the first choice when it comes to the right chain for Shimano 9-speed, 10-speed and 11-speed Linkglide drivetrains. It has been designed to offer smooth and defined gear changes in combination with these components, which have been specially developed for e-bikes and punishing applications in the trekking and MTB sector. However, it can also be combined with Hyperglide drives and thus also scores points with road or gravel bikers with its reliable, long-lasting function. The CN-LG500 chain is held together with a chain lock, which simplifies assembly.
Guidelines for Replacing E-bike Components:
Before you replace components on your e-bike, please read through the
guidelines
for component replacement for CE-marked e-bikes/pedelecs with pedal assistance.
Specifications:
Application:

Touring & Trekking, City, All Mountain, Cross Country, Road, Gravel

Gearing:

9-speed, 10-speed, 11-speed
Technical Information:
Number of Links:

116, 126, 138

Closure Type:

master link (Quick-Link)

Pin Type:

chromium-plated, solid

Directional:

yes

Recommended Groupset:

Deore M5100 (Linkglide), XT M8100 (Linkglide)

Material:

steel
Compatibility:
Linkglide + Linkglide Automatic 1x/2x10-/11-speed:
Shifter:

SL-M5130-R10, SL-M8130, SW-M8150, SL-U8000, SL-U6000, SL-U4000-L, SW-EN600-R

Crank:

FC-U8000, FC-U6000, FC-U6010, FC-U4000, FC-U4010

Front Derailleur:

FD-U8010, FD-U6010, FD-U6000, FD-U4000

Rear Derailleur:

RD-M5130-GS, RD-U6050, RD-M8130-SGS, RD-M8150-11, RD-U6070, RD-U8000, RD-U8020, RD-U6000, RD-U6020-11/10

Cassette:

CS-LG600-10, CS-LG400-10, CS-LG300-10, CS-LG700-11, CS-LG600-11, CS-LG400-11
Linkglide 1x/2x9-speed
:
Shifter:

SL-U4000-9R, SL-U4010-9R, SL-U8000-L, SL-U6000-L, SL-U4000-L

Crank:

FC-U8000, FC-U6000, FC-U4000, FC-U4010

Front Derailleur:

FD-U4010, FD-U4000

Rear Derailleur:

RD-U4000, RD-U4020, RD-U3020

Cassette:

CS-LG400-9, CS-LG300-9
MTB 1x/2x/3x11-speed:
Shifter:

SL-M9000, SL-M8000, SL-M7000, SW-M9050, SW-M8050, SL-M5100

Front Derailleur:

FD-M9000, FD-M8000, FD-M9050, FD-M9020, FD-M9025, FD-M8020, FD-M8025, FD-M7020-11, FD-M7025-11, FD-M5100, FD-M9070, FD-M8070

Crank:

FC-M9000, FC-M9020, FC-M8000, FC-M7000, FC-M5100, FC-MT700, FC-MT600
Road / Gravel / Urban series:
2x11-speed:

Dura-Ace R9100 / 9000, Ultegra R8000 / 6800, 105 R7000 / 5800, Metrea U5000, GRX RX810 / RX600

1x11-speed:

Metrea U5000, GRX RX810 / RX600
E-bike Drivetrains:
EP8 EP801:

11-speed with electronic or mechanical rear derailleur, 10-/11-speed Automatic Shift

EP8 EP800:

10-/11-speed with mechanical rear derailleur

EP6:

11-speed with electronic or mechanical rear derailleur, 10-/11-speed Automatic Shift
Features:
Linkglide chain (LG) for smooth, defined gear changes
for Linkglide 10-/11-speed and Hyperglide 11-speed drivetrains
reliable function
outer plate: grey, inner plate: grey
with master link for easy installation
Manufacturer Numbers:
11 speed / 116 links:

I-CNLG500116Q

11 speed / 126 links:

I-CNLG500126Q

11 speed / 138 links:

I-CNLG500138Q
Contents:
1 x Shimano CN-LG500 chain
1 x Shimano Quick-Link master link
Weight:
silver/11-speed / 116 links: 257 g (bezogen auf 114 Glieder)
100 day return period

Online since 1998

Trusted Shop

4.89

/ 5.00