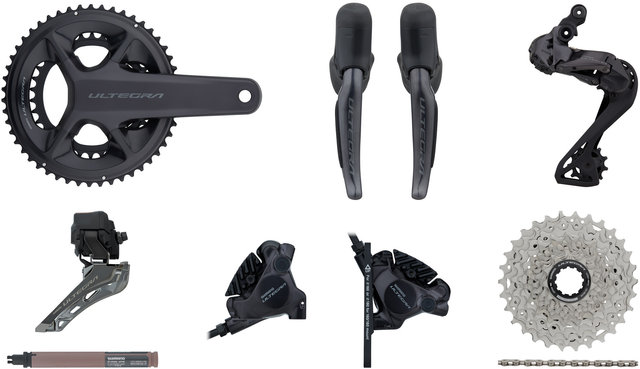 The Shimano Ultegra Di2 R8150 2x12-speed Groupset with 34-50 Crank and Disc Brake - Leave Time Behind
The Ultegra Di2 R8150 Road groupset by Shimano consists of a 2x12-speed crank with 34-50 tooth gradation, a flat-mount disc brake set and an electronic rear derailleur and front derailleur for semi-wireless shifting. Of course, a rechargeable battery, a Quick-Link chain and a cassette with 11-30 or 11-34 teeth are also included.
Shimano has designed the Ultegra R8150 for speed and performance, but at the same time also had the timeless nature and community experience on the road bike in mind when developing it. User-friendliness, efficiency and safety also played a major role in development. That's why the groupset works without cables at the crucial point, namely the interaction between STIs and rear derailleur. Cables are only used between the battery and the rear derailleur or front derailleur. The wireless protocol is extremely fast and reliable, which raises the shifting speed to a new level - with consistently high precision. A twelfth sprocket on the cassette in combination with a very clever gradation means that you have a wider gear selection at your disposal, and are optimally prepared for any terrain. In addition, Hyperglide+ technology familiar in MTB sport ensures smooth gliding of the chain even under loads. Conveniently, the Ultegra 12-speed cassettes are also compatible with older Shimano road freehubs. Last but not least, the disc brakes have been thoroughly revised and equipped with servo-wave technology. This way, the full braking power is not only available more quickly, but can also be modulated better. A simplified bleeding process and more free space for the brake pads are further advantages.
Information regarding the return of batteries and electrical equipment:
Information on the return and disposal of batteries and electrical equipment can be found
here
.
Specifications:
Series:

Ultegra Di2 R8150

Application:

Road

Shifters & Derailleurs:

2-speed, 12-speed (electronic, semi-wireless)

Brakes:

disc, hydraulic (flat mount)
Components:
Crank:

170.0 mm, 172.5 mm, 175.0 mm (gradation 34-50)

Cassette:

11-30, 11-34

Front Derailleur:

braze-on

Rear Derailleur:

long cage
Features:
battery mounting internally in the seatpost, running time approx. 1000 km
CR1632 battery in STI for wireless shifting
front derailleur with more compact design than previous model, connected to battery via cable
rear derailleur with wireless chip, LED display, charging socket and function button, connected to battery via cable
10 % more clearance for the brake pads
Additional Components Needed:
The following components are still required for the Ultegra Di2 R8150/70 groupset's semi-wireless start-up:
Bottom Bracket: Shimano recommends SM-BBR60 or SM-BB72-41B Pressfit Hollowtech II.
2 x RT-MT800 brake rotors (140, 160 or 180 mm)
2 x EW-SD300-I power cables: 1 x from battery to front derailleur (max. 1500 mm) and 1 x from battery to rear derailleur (max. 1700 mm)*
recommended: rubber grommets for internal cable routing
if necessary, FM-to-FM brake adapter SM-MA-R160 D/D for 160 mm brake rotor with 140 mm FM frame or SM-MA-R160 D/D for 180 mm brake rotor with 160 mm FM frame
*
To determine the correct cable lengths, the bike must be measured as follows:
Distance between battery and front derailleur
Distance between battery and rear derailleur = distance between battery and bottom bracket + distance between bottom bracket and rear derailleur
Completely wired installation via the
EW-JC304
junction box is also possible. You can find more information in the
Shimano manual
or contact our service staff.
Contents:
Shimano Ultegra R8150 Di2 2x12 34-50 Groupset, consisting of:
1 x Shimano Ultegra crankset (FC-R8100)
1 x Shimano Ultegra Di2 rear derailleur (RD-R8150)
1 x Shimano Ultegra Di2 front derailleur (FD-R8150)
1 x Shimano Di2 battery (BT-DN300)
1 x Shimano Di2 charging cables (EW-EC300)
1 x Shimano Ultegra cassette (CS-R8100)
1 x Shimano XT Quick-Link chain (CN-M8100)
1 x pair Shimano Ultegra disc brakes (BR-R8170 + Di2 ST-R8170), front and rear
1 x Shimano SM-BH90-JK-SSR brake hose, 1000 mm (front)
1 x Shimano SM-BH90-JK-SSR brake hose, 1700 mm (rear)
2 x pairs Shimano brake pads
1 x disc brake adapter for front 140/160 + 160/180 mm
2 x hose connection set with olive (mounted) and insert pin
2 x type A brake caliper fixing bolts, front
2 x brake caliper fixing bolts for 25 mm frame diameter, rear
1 x Shimano aluminium cassette lockring
1 x Shimano master link
1 x Shimano TL-EW300 cable tool
1 x Shimano crank bolt
2 x CR1632 for STIs battery
brake set ready for assembly, filled, bleeding is recommended after assembly