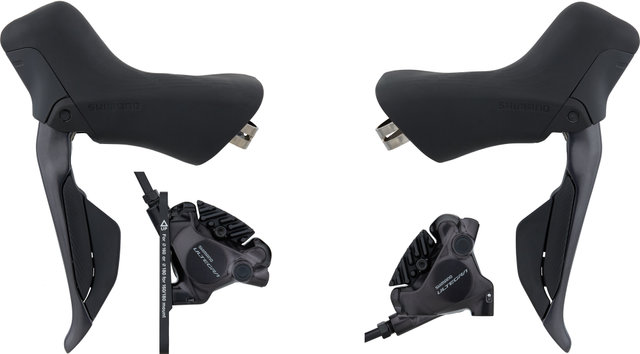 Shimano Ultegra Front+Rear Set Disc Brake BR-R8170 + Di2 ST-R8170
The Shimano Ultegra Disc Brake Set with BR-R8170 Calipers and ST-R8170 Di2 Shift/Brake Levers
The disc brake for the Ultegra road bike groupset from Shimano consists of two BR-R8170 and two ST-R8170. These are flat-mount brake calipers for front and rear and electronic shift/brake levers that enable wireless 2-speed or 12-speed shifting and hydraulic braking.
With the Ultegra brake calipers BR-R8170, the brake pads have more free space than with the predecessor model, which prevents grinding of the brake rotor and reduces noise. The braking power of the two plastic pistons is tuned for competition use, but is just as suitable for leisure and training rides. In addition, the BR-R8170 earns points with a simple bleed process thanks to One Way Bleeding technology. The two-piece brake calipers are made of lightweight aluminium.
The Ultegra ST-R8170 shift/brake levers are powered by a CR1632 button cell, which lasts at least 1.5 years and which you can replace yourself. They communicate via a wireless protocol with the rear derailleur, which in turn is wired to the battery and indirectly to the front derailleur. Not only do you benefit from lightning-fast gear shifting and a tidy cockpit, but installation is also much easier without cables. Alternatively, you can also use the Dual Control levers fully wired. The ergonomics have been further optimised compared to previous models, and allow for a very comfortable grip. It is also possible to communicate with the third-party device via special buttons, mediated via the rear derailleur as a wireless unit. In terms of braking performance, these Ultegra STIs go one step further than before: thanks to Servo Wave technology, full braking power is available to you more quickly, but it can also be better dosed at the same time. In addition to the grip width, you can also adjust the empty travel, both using a 2 mm hex tool. With the help of the completely revised funnel (not included), even the bleed process is no problem. The brake levers of the ST-R8170 are made of lightweight aluminium and the lever bodies are made of carbon, which saves additional weight.
The Ultegra disc brake set comes with brake hoses and Ice-Tech resin pads, which ensure particularly good heat dissipation thanks to their cooling fins. However, you can also ride with it using conventional pads.
Information regarding the return of batteries and electrical equipment:
Information on the return and disposal of batteries and electrical equipment can be found
here
.
Specifications:
Series:

Ultegra R8100

Application:

Road

Gearing:

2-speed, 12-speed

Shifting System:

electronic, semi-wireless

Type:

hydraulic, 2 pistons

Actuation:

mineral oil

Hose:

SM-BH90-JK-SSR

Hose Length (Front/Rear):

1000 mm / 1700 mm
Technical Information - Shift/Brake Lever:
Brake Lever Material:

aluminium

Lever Body Material:

carbon (CFRP)

Mount:

clamp (closed)

Reach Adjust:

bolt

Adjustment Options:

reach adjust, contact point
Technical Information - Caliper:
Mount:

flat mount

Pads:

resin with cooling fins

Design:

2-piece

Calliper Material:

aluminium

Piston Material:

resin

Hose Connection:

straight
Compatibility:
Shift/Brake Lever:
Mounting Position:

left for front brake caliper, right for rear brake caliper

Clamp Diameter:

23.8 - 24.2 mm

Power Cable:

EW-SD300-I (1 x connection)

Rear Derailleur:

RD-R8150, RD-R9250, RD-R7150

Front Derailleur:

FD-R8150, FD-R9250, FD-R7150

Crank:

FC-R8100, FC-R8100-P, FC-R9200, FC-R9200-P, FC-R7100, FC-RS520

Cassette:

CS-R8100-12, CS-R8101-12, CS-R9200-12, CS-R7100-12, CS-R7101-12, CS-HG710-12

Chain:

CN-M8100, CN-M9100, CN-M7100, CN-M6100

Additional Brake Lever:

BL-RX812

Satellite Shifter:

SW-RS801-S, SW-RS801-T, SW-RS801-E (1 x connection via EW-SD300)
Brake Caliper:
Brake Rotor:

140 mm, 160 mm, 180 mm (recommended: RT-MT800)

Pads:

organic and sintered; with narrow pad shape; standard and Ice Tech brake pads
Features:
Shift/Brake Lever:
tidy cockpit, aesthetic look thanks to wireless connection
wireless shifting, precise and fast (rear derailleur / front derailleur with cabling)
battery CR1632 easy to replace with flat head screwdriver, 1.5 to 2 years runtime
unique ergonomics thanks to feedback from professional riders
softer handle cover
Servo Wave technology for optimal brake control
16.4 mm reach adjust
wired mounting also possible
funnel venting with M7 funnel
firmware updates via E-Tube Project
connection with Shimano Connected partner devices from Garmin or Wahoo possible via E-Tube
lacquered brake lever and buttons
Brake Caliper:
10% larger brake pad spacing minimises grinding of the brake rotor, less noise development
braking performance optimally tuned for racing and training use
coherent appearance and easy tool access thanks to flat mount
optimised heat dissipation with Ice-Tech
simple bleeding process
2 pistons made of synthetic resin
painted
steel bolts (4 mm)
Technology:
STI Dual Control
Shimano Total Integration (STI) means the combination of braking and shifting functions in one lever, which increases safety when riding. By refining the technology, it became possible to make shifting so smooth at the front and rear that they can be triggered with just one finger. Shimano calls such levers Dual Control Levers (DCL).
Digital Integrated Intelligence (Di2)
Di2 systems are the electronic shifting systems from Shimano. They are based on the SEIS, the Shimano Electronic Intelligent System, which takes over the index shifting function from the mechanical components, only via power cables or radio signals and not via a Bowden cable. Shifting is done by simply pressing a button. This has the advantage that no great effort is required, your concentration on the ride is not disturbed and operation is easy even with cold hands. In addition, the electronic gear changes are very fast and highly precise. There is also no risk of a defective circuit due to dirty cables or other problems. You can adjust individual settings via the E-Tube Project, such as adjusting the shifting speed, the number of shifting operations per button press or the Synchro or Semi-Synchro shifting function. Shimano offers an app for this purpose. Gear maintenance and firmware updates are also done via E-Tube, with the bike connected to a PC running the appropriate E-Tube software for more extensive workshop work.
Semi-wireless
The Shimano Di2 12-speed road groupsets in the disc brake version work semi-wirelessly: at the crucial point, namely the interaction between STIs and rear derailleur, the cable is dispensed with, which makes for a tidy cockpit and considerably simplifies assembly. The wireless protocol is extremely fast and reliable, so that the shifting speed reaches a new level - with consistently high precision. Attention was also paid to keeping power consumption as low as possible. Cables are only used between the battery and the rear derailleur and between the battery and the front derailleur. These are thinner than the previous models and easier to lay. Shimano relies on a central battery located in the seatpost. This increases safety and ensures an uncomplicated charging process via the rear derailleur. Once fully charged, the circuit can be ridden for approx. 1000 km. The components are paired together via the E-Tube platform.
Servo Wave
Shimano Servo Wave technology optimises the travel of your brake levers. During the braking process, the brake pads are guided quickly to the brake rotor with very short lever travel. The greater part of the lever travel is reserved for the actual braking force. In this way, you can apply your braking power in a more targeted manner and use it more effectively.
One Way Bleeding
One Way Bleeding is a technique used on Shimano calipers that facilitates brake bleeding. The hose routing has been optimised so that no air bubbles remain in the brake calliper. In combination with the funnel, the brake can be bled cleanly and easily.
Manufacturer Numbers:
I-R8170DLF6SC100A (front) + I-R8170DRRDSC170A (rear)
Contents:
1 x pair Shimano Ultegra BR-R8170 + Ultegra Di2 ST-R8170 disc brakes, front and rear
1 x Shimano SM-BH90-JK-SSR brake hose, 1000 mm (front)
1 x Shimano SM-BH90-JK-SSR brake hose, 1700 mm (rear)
2 x pairs Shimano brake pads
1 x disc brake adapter for front 140/160 + 160/180 mm
2 x hose connection set with olive (mounted) and insert pin
2 x type A caliper bolts for front wheel
2 x caliper bolts for 25 mm frame diameters, rear wheel
ready for installation, filled, bleeding is recommended after installation
Order Together:
FM to FM SM-MA-R160 D/D brake adapter for 160 mm brake rotors on 140 mm FM frames for rear wheel
FM to FM SM-MA-R160 D/D brake adapter for 180 mm brake rotors on 160 mm FM frames for rear wheel
Optional accessories:
organic brake pads K03S without cooling fins
sintered brake pads L04C with cooling fins
Weight:
anthracite/set (front+rear): 637 g (Paar)
100 day return period

Online since 1998

Trusted Shop

4.89

/ 5.00