Specialized Butcher Grid Trail T9 29+ folding tyre - superior grip with reinforced carcass
The Specialized Butcher Grid Trail T9 tyre - shown here in the 29" Plus version - is suited for aggressive trail riding on gruelling surfaces by offering maximum traction and very good puncture protection. This is thanks to the innovative GRIPTON® T9 compound, which delivers total damping and thus perfect traction. Broad shoulder knobs with inwardly-angled edges and offset centre knobs form the tread pattern of the tyre, providing optimum support in corners and smooth directional changes. In addition, the tyre is outfitted with a durable, stable carcass with enhanced bead-to-bead protection, providing high resistance to damage. 2Bliss Ready casing ensure that the Butcher Grid Trail can also be ridden tubeless.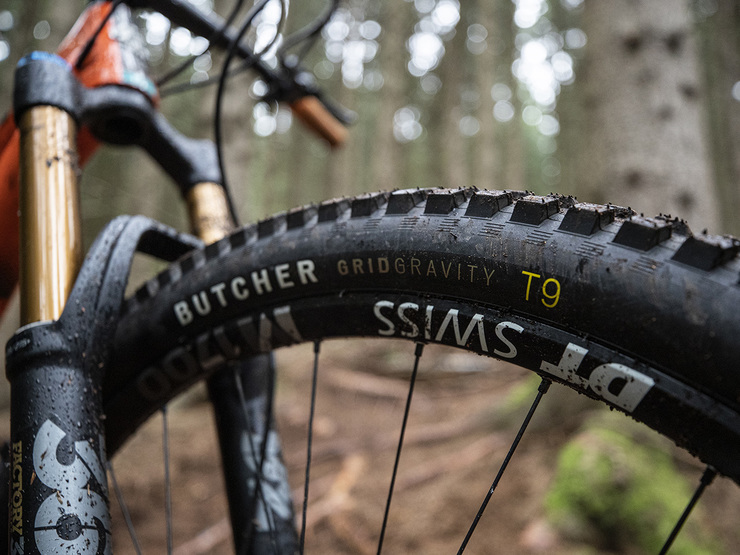 Specifications:
Application:
Enduro, Downhill
Ground Conditions:
mixed to loose
Type:
folding tyre
Tubeless System:
2Bliss Ready
Technical Information:
Rubber Compound:
GRIPTON T9 (Shore A48)
Carcass:
60 tpi, Grid Trail
Sidewall:
Black Skin
Models:
29x2.6:
Dimensions:
29 x 2.6"
ETRTO:
66-622
Air Pressure:
1.4 - 2.8 bar
Manufacturer Part Number:
00121-0037
Features:
- rubber compound provides optimum shock absorption for total traction and control on the ground
- broader shoulder knobs for better load support during hard cornering
- edges of the shoulder cleat angled inwards
- centre cleat staggered for smooth transitions when changing curves
- carcass: light yet strong with enhanced bead-to-bead protection for exceptional durability, sidewall rigidity and stability
- with butyl coated bead core = 2Bliss Ready (tubeless compatible)
Technology:
GRIPTON® T9
GRIPTON T9 is a variant of the tried-and-tested GRIPTON rubber compound from Specialized,
which is based on synthetic rubber and an activated silica compound. It is a super gripping gravity compound that morphs slowly back into its starting position when deformed or impacted. The goal is to absorb every kind of vibration, so that the tyre essentially sticks to the ground. The " T" stands for " Tread Compound," and the number 9, on a scale from 1 to 10 (the extremes values 1 and 10 do not exist), indicates the degree of damping and road grip, which in this case offers the highest possible value.
Contents:
- 1 x Specialized Butcher Grid Trail T9 29+ folding tyre