100 day return period

Online since 1998

Trusted Shop

4.89

/ 5.00
TONIQ Bike Wash Bicycle Cleaner Concentrate - For a " new bike" feeling every day
TONIQ Bike Wash is an environmentally-friendly bike cleaning concentrate for mixing with water in a ratio of 1:10. It helps you to clean your bike quickly and effectively. Simply spray the wet bike with the ready-made mixture and wash it off again after 5 minutes. Your bike will look as good as new. Whether you've got a road, mountain or e-bike, or whether it's aluminium, carbon or steel - this cleaner is suitable for everything and is gentle on seals, plastics and other critical areas. TONIQ Bike Wash concentrate is made from renewable plant-based raw materials and is completely safe to use. It comes as a bag-in-box, so you can fill any quantity from the bag in the box using the integrated tap.
Specifications:
Designation:

Bike Wash

Application:

cleaning agent
Features:
concentrate for mixing with water in a ratio of 1:10
suitable for all types of bicycles, including e-bikes
suitable for all parts, surfaces and materials, including carbon
can also be used for anodised metal and matt lacquers
sustainably produced in the EU
100 % plant-based
biodegradable
packaging made of recycled polyethylene (PET): bag-in-box with integrated tap
also available as ready-to-use cleaner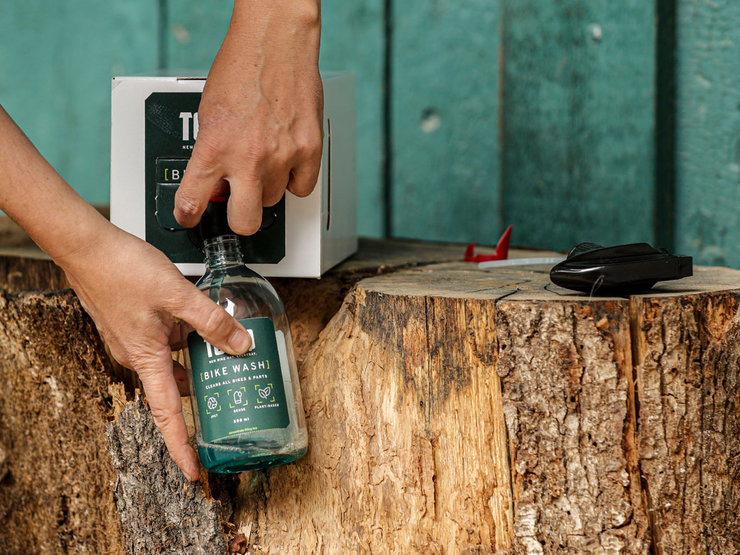 Application:
1. Mix TONIQ Bike Wash concentrate with warm water in a ratio of 1:10, i.e. use 100 ml of concentrate with 1 litre of water to get 1.1 litres of cleaner.
2. Rinse coarse dirt off the bike with clean water.
3. Spray the ready-mixed TONIQ Bike Wash on the entire bike.
4. Allow the cleaner to sit and take effect for approx. 5 minutes
5. Remove stubborn dirt with a brush or sponge if necessary
6. Finally, rinse the bike thoroughly with clean water.
Hazardous Substance:
No marking required.
Technology:
TONIQ Bike Care
TONIQ bike care products give you back the feeling of having a new bike to ride every day. They were developed by bikers for bikers with a special focus on sustainability. TONIQ Bike Care products are made from 100% renewable, plant-based raw materials, are environmentally friendly and non-toxic. TONIQ's supply chains are also intentionally short, and all packaging is made from recycled materials.
Manufacturer:
TONIQ is a brand of bc GmbH
Carlo-Schmid-Straße 12
52146 Würselen
Germany
Tel.: +49 (0) 2405-4500312
E-mail: info@toniqcare.com
www.toniqcare.com
Models:
Bag-in-Box, 2 litres:
Nominal Amount:

2 l

Packaging Type:

Bag-in-Box

Manufacturer Number:

88565-6-14845
Contents:
1 x TONIQ Bike Wash Concentrate