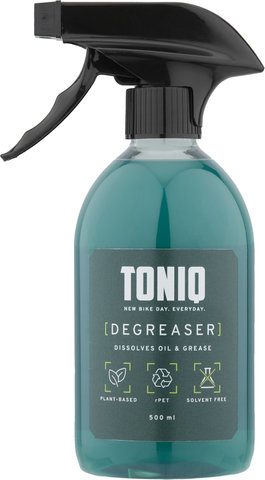 TONIQ Degreaser - eco-friendly cleaner for your drivetrain
With the environmentally friendly Degreaser from TONIQ you can remove oil, grease and dirt from the chain, cassette, rear derailleur and other components of your bike's drivetrain. Simply spray on the degreaser, let it work and then rinse it off with water. TONIQ Degreaser makes your drivetrain feel almost like new. It consists of renewable, plant-based raw materials and is solvent-free.
Specifications:
Designation:

Super Degreaser

Application:

degreaser
Features:
functional degreaser for all drivetrain components of the bicycle, such as chain, cassette or rear derailleur
suitable for all types of bicycles, including e-bikes
dissolves oil, grease and dirt
safe and simple use
solvent-free
pH value 10 - 10.5
sustainably produced in the EU
100% plant-based
biodegradable
packaging made from recycled polyethylene terephthalate (rPET)
Application:
1. Rinse off coarse dirt with clean water.
2. Spray TONIQ Degreaser onto the drivetrain.
3. Leave it on for about 5 minutes.
4. Remove stubborn dirt with a brush or sponge.
5. Rinse the drivetrain thoroughly with clean water
6. If necessary, dry the concerned parts with a clean cloth.
Manufacturer's Warning:
Do not use on rubber or seals. Do not use in direct sunlight or on hot surfaces.
Contains linalool: May cause an allergic reaction.
Hazardous Substance:
No marking required.
Technology:
TONIQ Bike Care
TONIQ bike care products give you back the feeling of having a new bike to ride every day. They were developed with a special focus on sustainability. TONIQ Bike Care products are made from 100% renewable, plant-based raw materials, are environmentally friendly and non-toxic. TONIQ's supply chains are also intentionally short, and all packaging is made from recycled materials.
Manufacturer:
TONIQ is a brand of bc GmbH
Carlo-Schmid-Straße 12
52146 Würselen
Germany
Tel.: +49 (0) 2405-4500312
E-mail: info@toniqcare.com
www.toniqcare.com
Models:
Spray Bottle, 500 ml:
Nominal Amount:

500 ml

Packaging Type:

spray bottle

Manufacturer Number:

91715-6-14302
Contents:
100 day return period

Online since 1998

Trusted Shop

4.89

/ 5.00