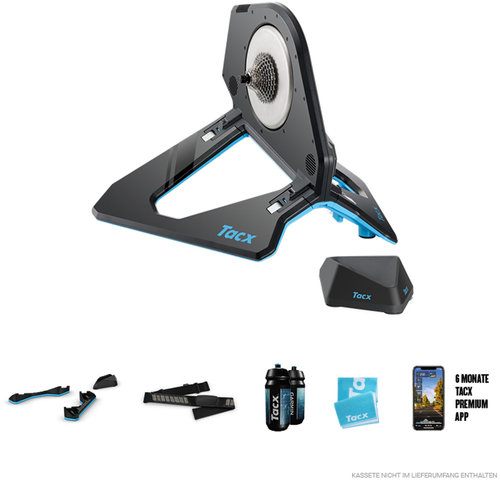 Tacx Neo 2T Smart T2875 Indoor Trainer Bundle
The Tacx Neo 2T Smart T2875 indoor trainer bundle with motion plates, chest strap, water bottles and premium subscription - get more out of your indoor training
The powerful Tacx Neo 2T Smart T2875 indoor trainer is now also available as part of a bundle with an attractive accessory box. This includes a pair of motion plates for a particularly realistic riding experience, a Garmin HRM Dual chest strap for heart rate measurement, two Tacx Shiva Bio bottles with a capacity of 500 ml each and an absorbent towel with the Tacx logo. On top of that, you get a Tacx Premium subscription, which gives you access to a large collection of training films for 6 months.
The Neo 2T Smart T2875 indoor trainer offers you realistic simulation features such as road feel, dynamic inertia and improved pedal stroke analysis. You are completely free when it comes to choosing your training app and very flexible when it comes to choosing your " hardware" , as the Neo 2T can be used with almost all rear axles. As far as noise is concerned, Tacx has made enormous improvements on this front. Both air exchange and vibration noise have been reduced to the point where you can train in near-silence. This makes it perfectly suited for use in apartments, as you won't have to worry about excess noise disturbing the neighbours. The motor has been equipped with significantly more power than previous models, so you can train with higher resistances and simulate special situations such as sprints in a realistic manner. No calibration is necessary before training. Just set up the trainer, clamp on your bike, and start pedalling.
Information regarding the return of batteries and electrical equipment:
Information on the return and disposal of used batteries and electrical equipment can be found
here
.
Specifications:
Neo 2T Smart T2875 Indoor Trainer:
Type:

fixed trainer with direct drive

Resistance Adjustment:

interactive

Brake Power (max.):

2200 W

Simulated Slope:

25%

Power Meter:

Yes, accuracy < 1%

Data Transfer:

Bluetooth, ANT+

Protocol:

FE-C (Fitness-Equipment-Control)
Technical Information:
Neo 2T Smart T2875 Indoor Trainer:
Resistance Unit:

motor brake

Resistance Levels:

continuous

Fly Wheel:

Dynamic Inertia

Power Source:

220 V, limited use without power
HRM Dual heart rate chest strap:
Module Dimensions (W x H x D):

62 x 34 x 11 mm

Strap Length:

63.5 to 132 cm

Water Resistance:

1 ATM

Battery:

exchangeable, CR2032 (3 volt)

Battery Life:

ca. 3.5 years (when used 1 hour a day on average)

Operating Temperature:

-5 °C to 50 °C

Protocols:

wireless ANT protocol with 2.4 GHz; wireless Bluetooth 5.0 technology

Reach:

3 m

System Compatibility:

ANT+, Bluetooth
Compatibility:
Neo 2T Smart T2875 Indoor Trainer:
Wheel Size:

20" , 24" , 26" , 27.5" , 28" , 29"

Axle Type:

quick release, 12 mm thru-axle, adapters for 10 x 135 mm and 12 x 135 mm available

Over Locknut Dimension:

Race 130 mm, MTB 135 mm, 142 mm, 148 mm

Freehub Compatibility:

8-/ 9-/10-/11-/12-speed Shimano Road; SRAM XD-R and Campagnolo freehub bodies sold separately
Motion Plates:
Tyre Width (max.):

28 mm (front wheel)
HRM Dual heart rate chest strap:
You can find a detailed compatibility list at
Premium HRM Dual heart rate chest strap
Features:
Neo 2T Smart T2875 Indoor Trainer + accessory box
pedal cadence analysis
simulated descent
road feel
quiet
extremely quiet
folding frame, facilitates transport and storage
no calibration required
motion plates for an authentic riding experience through movement in all directions
Garmin chest strap for heart rate measurement during training
two 500 ml bottles
absorbent towel made of 100% cotton (115 cm x 24 cm)
Tacx Premium subscription for 6 months
Technology:
Dynamic Inertia
Dynamic Inertia was developed to make the feeling of inertia as realistic as possible. In contrast to the mass inertia of a flywheel, Dynamic Inertia compensates for outside variables such as weight, speed and tilt angle. Altogether, this creates a highly-realistic riding experience.
Road Feel
Want to experience the sensation of cobblestones beneath your tyres? " Road Feel" mode simulates various vibrations from a wide range of roads and surfaces.
Manufacturer Number:
T2875.61 (indoor trainer) + 020-00337-00 (accessory box)
Contents:
1 x Tacx Neo 2T Smart Trainer
1 x pair Tacx Neo Motion Plates feet
1 x Garmin Premium HRM Dual ANT+ Bluetooth heart rate chest strap, incl. sensor
2 x Tacx Shiva Bio 500 ml bottle
1 x Tacx towel
1 x Tacx Neo 2T front wheel support
1 x Tacx Shimano Road freehub body
1 x Tacx Neo Motion front wheel support
1 x power supply
1 x quick release axle
1 x end cap set
1 x Promo Box with 6-month Tacx Premium subscription
Order Together:
Optional accessories:
Weight:
black/universal: 24,8 kg (Trainer)
100 day return period

Online since 1998

Trusted Shop

4.89

/ 5.00