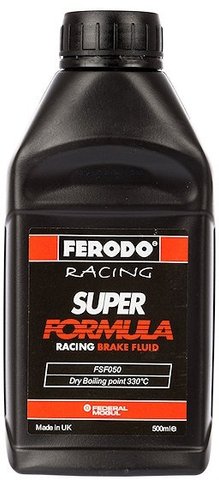 Trickstuff Superformula High-End Brake Fluid
Virtually never boils: the Superformula Brake Fluid by Trickstuff
Braking like Formula One - hard, safe, reliable. This requires a stiff caliper and excellent brake pads, but also a suitable medium for loss-free power transmission from the lever to the caliper.
Trickstuff has been exclusively commissioned by FERODO, the world's leading manufacturer of brake components for racing cars and racing motorcycles, to distribute the unique " Superformula" brake fluid and to provide technical advice.
Although this brake fluid was originally developed for motor racing, it is particularly suitable for use in bicycles - hardly any other brake system places higher demands on the brake fluid, because bike brake calipers and bike brake rotors are extremely light and therefore have a relatively low heat capacity. This increases the risk of steam bubble formation and spontaneous failure.
Not only marathon riders struggle with the problem of overheated brakes during hard braking manoeuvres on long descents, but above all Alpine crossers with luggage and less experienced riders during the notorious continuous braking manoeuvres. Every bike athlete can benefit from the sensational values of the Trickstuff Superformula:
Superformula is the brake fluid with the highest dry boiling point of all brake fluids: 330 degrees Celsius. No other fluid even comes close to this value (for comparison: mineral oil: 180°C, DOT 4: 230°C, DOT 5.1: 260°C).
Superformula is extremely thin and compression stable (better values than all other fluids). This noticeably reduces the manual force required to reach a certain brake pressure and improves the dosing capability of the brake system (slimmer hysteresis).
Specifications:
Designation:

FERODO Brake Fluid

Application:

brake fluid
Features:
Boiling point at 330 degrees Celsius
maximum compressive strength
extremely thin
fully compatible with DOT 4 and DOT 5.1
Note: Superformula is compatible with DOT 4 and DOT 5.1 and therefore for all hydraulic brakes that are not operated with mineral oil or with DOT 5. Mineral oil brakes are typically Magura, Shimano, Tektro. Small amounts of residue from previously used brake fluid do not affect the excellent properties of Superformula.
Hazardous Substance:
No marking required.
Manufacturer:
Federal Mogul Corporation (BE)
Central Distribution Centre
Prins Boudewijnlaan 7
B-2550 Kontich, Belgium
Models:
0.5 litre:
Nominal Amount:

500 ml

Packaging Type:

bottle

Manufacturer Number:

BSQX005EN0000S
Contents:
1 x Trickstuff Superformula brake fluid
100 day return period

Online since 1998

Trusted Shop

4.89

/ 5.00