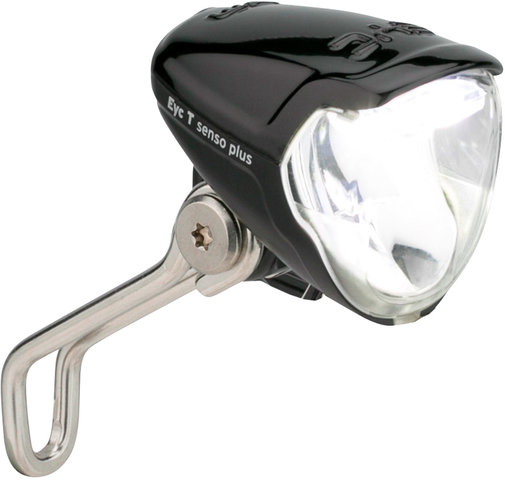 busch+müller Lumotec IQ2 Eyc T Senso Plus LED Front Light - StVZO Approved
Information regarding the return of batteries and electrical equipment:
Information on the return and disposal of used batteries and electrical equipment can be found
here
.
Specifications:
Type:

front light (white)

Mount:

stainless steel light mount

Light Source:

1 x LED

Brightness:

50 lux

Power Source:

dynamo hub, bottle dynamo
Technical Information:
Illumination Modes:

day and night mode

Material:

composite

Standing Light:

yes (cannot be switched off)

Switch:

On / Off / Automatic (sensor)
Approved For:
Street Use in Germany:

yes, for bicycles (according to §67 StVZO)

Check Number:

K~~987
Features:
the latest IQ2 Technology
integrated overvoltage protection
with an attachable reflector
with a practical standing light function using capacitor technology
comfort through an intelligent sensor technology
integrated light/dark sensor ensures that the lighting system automatically illuminates at dusk and in the dark
with a daytime running light from prominent signal LED for better perception during the day
with a switch for a hub dynamo
StVZO approved
Technology:
IQ2 Technology
The next generation IQ Technology of: illuminant positioning, reflectors and the radical optimisation of LEDs and cooling. With the help of a prism, light yield and efficiency are significantly increased. Additional LEDs, combined with electronic control units, enable " dynamic light" which adapts to the driving situation. A front light powered by the dynamo generates a light field many times larger and more homogeneous than ever before.
Standing Light
This innovation by busch+müller from the nineties has become the safety standard. The additional " plus" indicates that standing lights are integrated into the equipment. Neither batteries nor rechargeable batteries are required for the standing light. This is how it works: As soon as the bike is stationary, an LED standing light is supplied with power by a maintenance-free capacitor. The capacitor charged itself during the journey.
Automatic Sensor
If a Lumotec front light has the addition of " sensor" in its name, it can switch on automatically at dusk or in the dark, and switches off automatically when driving in the light. For this to happen, a permanent power supply by a hub dynamo is required. To prevent the sensor from reacting " incorrectly" to short-term light signals like a car headlight, it is equipped with a delay. In the case of front lights with daytime running light function, the light sensor takes over the task of automatically switching between day and night modes.
Licht24
If you a cycling with daytime running lights you will be seen more easily by other road users. This is a great advantage, especially for cyclists who are less conspicuous in road traffic. Licht24 - the daytime running light from busch+müller offers this safety around the clock. Additional signalling LEDs shine upwards without deflection and thus take over the daytime running light function.
There are two modes: day mode and night mode. They provide the optimum performance for the respective lighting situation. A sensor automatically switches between day and night mode according to the lighting conditions.
Near Field Illumination
For a safe ride it is very important to have a good view of the area immediately ahead of the front wheel. Bumps, obstacles, potholes in this " near field" are easily perceived in the light and are avoided by short, intuitive steering movements. In the dark, this is only possible if the area right in front of the bike is brightly and evenly illuminated. Subjectively, the need for a bright near-field increases the slower your speed is, because your balance will be increasingly threatened by possible obstacles.
Manufacturer Number:
160RTSNDI
Contents:
1 x busch+müller Lumotec IQ2 Eyc T Senso Plus front light
1 x busch+müller light mount
incl. cable
100 day return period

Online since 1998

Trusted Shop

4.89

/ 5.00