Your child's own bike is an introduction to their individual mobility. It gives them a companion for daily life and free time, with which they can independently explore their surroundings. However, not all children's bicycles are the same. We have important tips on how your child can also enjoy cycling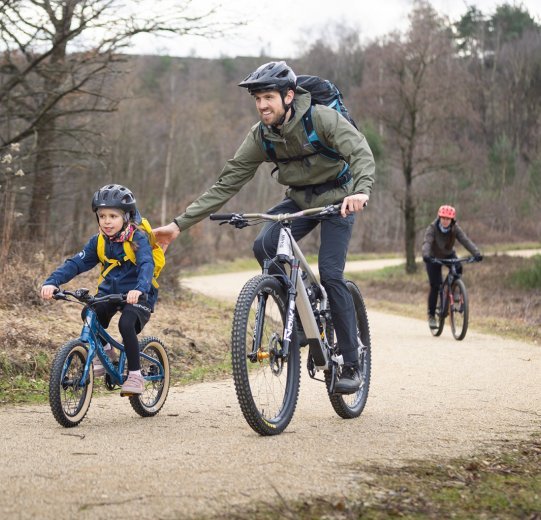 Ride quality like an MTB for grown-ups. This is possible thanks to geometry tailored to kids as well as high-quality components.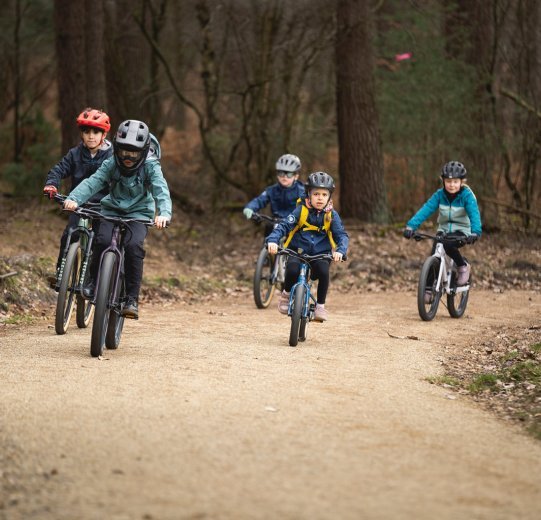 This makes exploring the surroundings with your friends twice as much fun! More challenging & longer tours are possible.
Kids bikes have evolved
Maybe you remember it from your childhood: to get around on your first bike, you had to put a lot of effort into it. Just lifting the bike made you feel like He-Man or Superwoman. Children's bicycles in the 1980s and early 1990s were one thing above all: heavy as lead! While the adults counted every gram when buying bikes for themselves, a child with a body weight of 20 kilograms had to ride a bike weighing 14 kilograms. That cannot and should not be the case - fortunately, those times are over. Bicycle manufacturers have recognised the discrepancy and have invested more in the development of kids bikes in recent years. In addition, parents are willing to invest more money in their offspring's mobility. Children's mountain bikes such as those from Early Rider or SUPURB promise a riding experience similar to a full-size mountain bike, but are designed with kids in mind and are therefore an important factor in enabling your child's independent mobility.
A lightweight kids bike provides motivation
The advantages of a lightweight children's bike are obvious: Your child needs less power, especially when starting off or going uphill. The joints and muscles are less strained, fatigue sets in later, coordination becomes easier. This allows you to ride more demanding tours and across longer distances, and your child has more fun cycling and takes on new challenges. The motivation to exercise regularly will also increase self-confidence, which in turn has an impact on physical and mental development. A win-win-win!
Sportiness vs. suitability for daily use
An important step towards creating lighter kids bikes was the switch from steel to aluminium frame materials, which already saved some weight by itself. Carbon, on the other hand, is hardly an issue for children's bikes, as the material is not robust enough to meet the requirements of children. Or, to put it another way: kids tend to throw bikes onto the ground without thinking. In addition, the former focus on safety and suitability for everyday use is increasingly opening up to leisure fun. Kids bikes of yesteryear were equipped with everything that was relevant to safety, or at least appeared to be: pannier racks, fenders, fixed lights, coaster hubs, kickstands and chain guards were standard, and in turn made the bicycles heavy. Modern kids bikes come with fewer parts, a cleaner look, some even as real sports equipment. However, due to the focus on sportiness, there is a lack of equipment options for some uses, such as daily trips to and from school by bike. Therefore, if necessary, you should also attach one or two accessories to a lightweight sports bike if you'd like to use the bike daily.
As important as weight is, it is not everything, and utility also plays a decisive role in daily life. If your child is constantly getting wet on the way to school due to a lack of fender, they will use the bike less and you will be constantly washing dirty clothes.
Accessories that make the bike suited for daily use, such as fenders or lights, can be attached in no time at all. © bc GmbH
The kids bike: Finding the right size
Even more important than weight, however, is that the bike fits your child. Important: When choosing, don't just rely on guidelines such as "20 inch bike size fits five year olds", but compare your child's height and inseam length with the bike manufacturer's recommendations. Our helpful shop filters and the descriptions on the product pages will help you narrow down your search. In general, it is best for your child to have both feet firmly on the ground when riding their first bike, as it affords them safety. If your child's riding ability increases, you should raise the saddle so that the child only touches the ground with the tips of their toes and sits ergonomically on the bike. However, this depends primarily on how well-developed your child's riding skills are. You can find out how to determine the right size here.
Tip: If your child often rides standing up, the saddle may be too low. When seated, it is then difficult to pedal and the power transfer is too poor. Also, if your child's knees hit their arms or even their chin when pedalling, the saddle is set too low. In this case, make sure you raise the saddle or buy a bigger bike if necessary.
For kids, adjusted geometry makes it easier to get on the bike, which makes riding more fun. © bc GmbH
Pay attention to child-friendly components
Note, however, that the bigger the bike, the more demanding it becomes to operate. This already starts with the introduction of gears. With a few exceptions, children's bikes up to 16 inches do not have gears, as this could overwhelm the child. Shifters and derailleurs become a factor only with larger mountain bikes, and learning how to handle them correctly requires some practice. Make sure that the gear levers are designed to be child-friendly and easy to operate. The same applies to the brakes. High-quality children's bikes use child-friendly brake handles that are specially designed for smaller hands with less strength. For example, the brake lever width can be adjusted on SUPURB kids bikes. Coaster brakes are now rare on kids bikes; your child will later switch to a bike with hand brakes anyway, and the coaster hub is heavier than hand brakes and requires greater operating strength. Whether a kids bike should have rim or disc brakes depends on its primary purpose. For many off-road rides, disc brakes should be the first choice; for inner-city rides, rim brakes are usually sufficient.
Tip: If a child's bike is too big, the child will not only feel insecure when riding, but the brake levers will also be harder to reach or are not designed for the requirements of smaller hands. Therefore, always make sure you have the right frame size.
Suspension parts are sensible, but not always necessary
Suspension forks on kids bikes look cool, but are not always useful for young children. Kids' weight is often too low, so suspension forks or shocks cannot be optimally adjusted or children do not even noticeably engage the suspension fork. A rigid fork, on the other hand, is lighter, requires no maintenance and is more robust in case of falls or rough handling. A suspension fork really makes sense from a body weight of over 20 kilograms. Your child's level of technical ability is also important. If they already ride trails with lots of gnarly roots like big kids or grown-ups, they should also have the right equipment, and that includes a suspension fork. If you are mainly riding on paved roads, a rigid fork may make more sense for the reasons mentioned above – possibly combined with wide tyres for a lot of traction, safety and comfort.
Tip: When buying, look for suspension components that can be individually adjusted. Your child grows and gets heavier, so you should also regularly check and readjust the chassis. This is much easier with air suspension parts.
The right equipment depends on the purpose. The bike has to suit your kid's skill level. © bc GmbH
Wide tyres and straps offer safety
If you are looking for more comfort off-road even on small bikes, bikes with wide tyres, such as our Early Rider bikes, are a good choice. Due to their larger volume, the tyres can be ridden with less air pressure, which already provides quite a bit of shock absorption. It also increases safety and looks cool. Another advantage with Early Rider is the belt drive fitted as standard on some bikes. It is extremely clean and prevents chain lube from smudging all over your pant legs.
A high-quality children's bike? It's an investment that pays off!
If you are now considering whether to invest in a high-quality children's bike, let me tell you: it's worth it. Your child will prefer to ride the bike, and when it gets too small, you can resell it for a good price. And, when you consider how much money you spend each month on subscriptions to streaming services, the few euros you spend per month on your child's fun could hardly be invested more wisely.