If you want to pass on your passion for biking to your children at an early age, nothing is better than taking them along on your daily routes in a kids trailer or child seat. This way, they can be exposed to the many facets of cycling and gain a sense of how to navigate safely through traffic first-hand. The foundations for your own cycling journey are laid out for them in a playful and simple way – even before your child starts pedalling on their own. Kids trailers are true versatility winners, as they can also transport shopping in addition to your offspring. They are also very practical if you sometimes enjoy going off-road. Here we'll show you why this is so, and what you should consider when selecting the right trailer.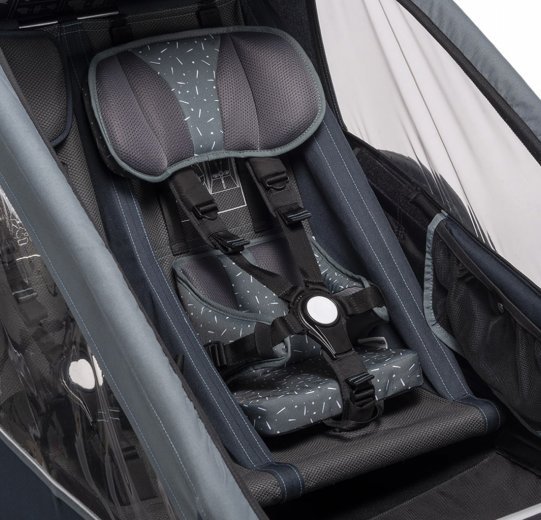 The 5-point safety system guarantees absolute safety for your child.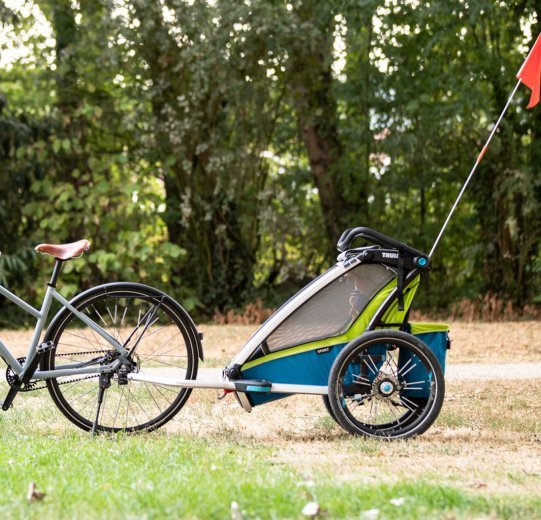 The pennant provides additional visibility, especially recommended in city traffic.
Kids trailers: Safety first!
Material quality and safety are important purchasing criteria for kids trailers. The trailers must pass various tests and inspections in accordance with European standards, such as compliance with material limits. High-quality trailers meet these specifications. Due to the compact design of the trailer and its high stability against tipping, your little ones are well-protected on the road. Even if you take a spill on your bike, the trailer will remain upright on both wheels. Children are usually strapped in with a secure five-point harness system. In addition, there is no drop height to worry about as with a child seat. We still advise that children wear a suitable helmet even while riding in a trailer. This is primarily for psychological reasons: they will get into the habit of and associate wearing a helmet while cycling from the very start. There are even special models for wearing helmets in the trailer that are flattened at the back of the head. The flattened shape allows the child to rest their head comfortably on the backrest when they get tired. For safety, it is also a good idea to leave the trailer's push bar installed even while cycling. In doing so, the bar affords additional protection in the very unlikely event that a rollover should occur. You should also always have the enclosed red safety flag displayed to give the trailer even more visibility.
All-round weather protection
In addition to excellent passenger protection, there are other advantages that make investing in a child trailer worthwhile. For example, kids are also well-protected from wind and bad weather during rides. Trailers are made of waterproof material and can withstand even heavier downpours, while the side windows offer UV protection of at least 50+. In winter, you can place your child in a special footmuff, like the ones that Croozer or Thule have to offer, or wrap them in a blanket to protect them from the cold. These benefits are the same for most child trailers. When it comes to finer details, however, there are many differences that can influence your decision on the right trailer for you and your family.
Mobile from the very beginning
You are most likely wondering about the right time to start cycling with your kids. Trailers (as well as child seats) can only be used when the child can sit up independently. This is usually the case when the child is six to nine months old. For the first few rides, it is best to use a special seat support. This gives your child even more stability and keeps their head in position – this is especially important when they are asleep. With a special baby seat, a kind of hammock, younger children can also be taken along in a Croozer trailer from the first month. Its design softens vibrations. In addition, the flat seat angle in combination with a stable back surface ensures that the baby lies still and does not have to bear the weight of the head and back. However, you should keep in mind: do not ride distances that are too long or across unpaved roads and with a maximum speed of 15 km/h. Manufacturers Hamax and Thule also offer an insert for babies from the first month. However, they point out that the insert should only be used for walking. One of the great advantages of a child trailer over a child seat is that you can save money on an extra stroller. As a rule, a buggy wheel is included in the scope of delivery. This allows you to convert the trailer into a stroller in just a few easy steps. Manufacturers also offer special jogging accessories.
Suspension is standard for kids trailers
Suspension is now standard on many child trailers. It improves road grip and helps to absorb bumps better. It is either adjustable according to the intended use and weight of the child, e.g. on the Chariot Lite from Thule, or works as in the case of the Airpad suspension from Croozer without further adjustment, e.g. on the Kid Keeke. You can achieve even better comfort by lowering the air pressure in the tyres slightly, which is particularly useful for lighter-weight children. You can also replace the tyres on most trailers with very wide models, like the Super Moto-X from Schwalbe, which with 2.4 inches width turns the trailer into a sedan chair. Also, adding weight to the trailer, such as a heavy bag or backpack, will help improve road holding and keep the trailer from "bouncing" over bumps.
Chauffeuring children in comfort
Even the most exciting ride will quickly make your eyes fall shut – especially with small children. In addition to a seat support, neck cushions or a small pillow are also practical accessories in the trailer. The Weber baby seat from Tout Terrain, for example, comes with an integrated neck cradle and is compatible with various child trailers. The Outback One from Hamax in turn has a special sleeping position. The seat will recline to a comfortable angle so that your child can fall asleep restfully. The Vaaya trailer from Croozer uses a Climatex material insert in its seats. This prevents your child from sweating excessively – a real advantage on hot days.
Single-track trailer: for the love of the trail
Most trailers are designed for road use. Due to the two-track wheels, they are safe and tilt-resistant. For sporty off-road riding, there are extra single-track trailers, as you surely know them from Danny MacAskill's Daycare video. As the name suggest, single trailers have only one wheel, which makes more demanding mountain bike tours also possible. With the Singletrailer from Tout Terrain, the child sits in a kind of chassis that is equipped with a whole 200 millimetres of suspension travel – some downhill bikes can't keep up with that. At just 45 centimetres, the trailer is much narrower than your handlebars, and at 9.5 kilograms, it's also lighter than most mountain bikes. It may even be used on dropper seatposts. However, the trailer is only available as a single seater, so when choosing a trail to ride on, you should use common sense and not try to emulate Mr. Megaskill!
One- or two-seater? Your choice!
Our tip: if trail riding is not your focus and your living situation is not extremely cramped, a two-seater is often the better choice. This is helpful for when a new sibling arrives, a kindergarten friend needs a lift or simply because you need more storage space, e.g. for shopping or a family outing. As we know, longer trips cannot do without toys, picnic blanket and lots of snacks. The cost for more space is comparatively low, but with more space comes the further complication of finding adequate parking. You should definitely factor that into your decision. There are generally different solutions for transporting cargo. With Croozer trailers, for example, the boot is directly integrated and offers enough space to transport a wheel. Thule, on the other hand, offers a solution with removable cargo compartments, such as on the Chariot Sport 2. This gives you the advantage of bags not getting in your way while jogging or walking. Above all, you must take note of the trailer's maximum weight limit when carrying cargo. This is usually around 60 kilograms, of which the trailer itself accounts for around 15 kilograms. With two larger children weighing around 20 kilos, the load capacity can be tight. The supplier will provide information on exact total weight limits in the owner's manual or in a note/sticker on the trailer itself. By the way, children up to six years of age max or up to a body height of about 1.20 m can be transported in the trailer. After that, they'll have to make their way on their own!
Excursion tandem hitch: for your first joint bike tours
For your first longer tours, where your child is riding a bike by themselves, a tandem hitch is a great way to help your kids when their motivation to ride is somewhat lacking. With the FollowMe hitch, you can easily hitch the kids bike to the back of your own. It lets your child pedal actively, even if they don't really have to. All it takes is a dedicated kids bike with a twelve inches or larger wheel size, such as those from Early Rider or Commençal. The hitch is securely attached to the rear wheel of your bike, and you can manoeuvre your offspring through tricky spots in traffic. On the open road, the kids bike can be unhitched in a few easy steps, and your child can enjoy cycling independently. If they get tired at some point, the little bike can be hitched back to your bike in no time at all.
Don't forget, though: kids get tired fast. Watch out that your child doesn't fall asleep and fall off the bike while it's attached to the back!
Attaching a kids trailer to your bike: what to keep in mind
Kids trailers or tandem hitches are attached to the rear wheel axle. If your bike has a quick release, you can in most cases simply use the supplied universal hitch. This also works with many solid axles. However, it gets a little tricky with a thru-axle. Here you need a new axle, which makes hooking up the trailer possible. To do this, you must measure the axle length and the thread pitch to order a suitable axle. If you are uncertain here, please contact our service team.
You should also check that your bike is approved for towing a kids trailer, or how much total weight your bike is allowed to tow in general. The use of kids trailers is not recommended for carbon sport bikes and E-bikes. The frames and especially the dropouts are usually not designed for the additional transverse load, and can be subsequently damaged. By the way, this also applies to carbon seatposts if you want to use a single trailer. Approval for using a kids trailer can usually be found in your bike's instruction manual.
Rear lights are compulsory in road traffic
Like bicycles, kids trailers in Germany are also subject to the requirements outlined by Road Traffic Licensing Regulations (StVZO). Trailer lighting regulations can be found in § 67a. Important to note: if the kids trailer covers the rear light of the bicycle by more than 50 percent, it needs its own rear light. This can be permanently installed in the push handle, as with the Vaaya from Croozer, or additionally attached. Likewise, StVZO-compliant equipment includes two white reflectors up front and two red ones in the back. Like reflective tyres, these are usually installed at the factory. Otherwise, you can of course retrofit them.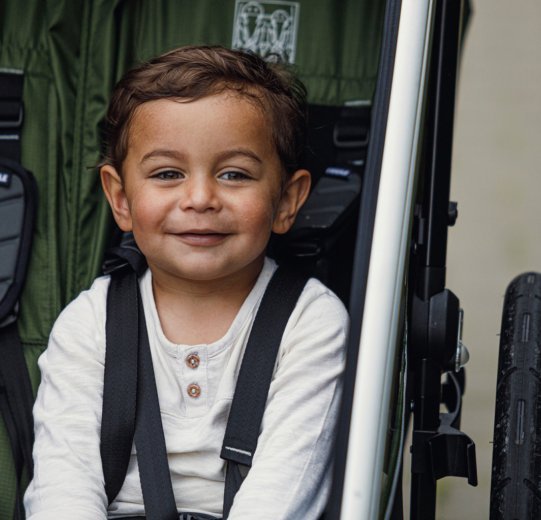 With the right equipment on the kids trailer, bicycle mobility can be fun for both children and adults.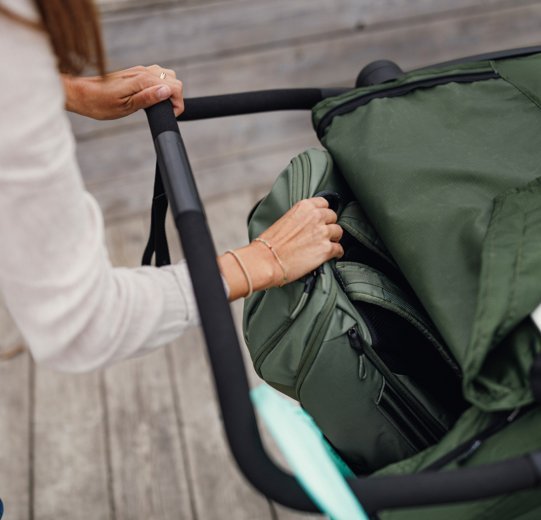 Sensible cargo transport solutions make everyday life with kids & bikes easier.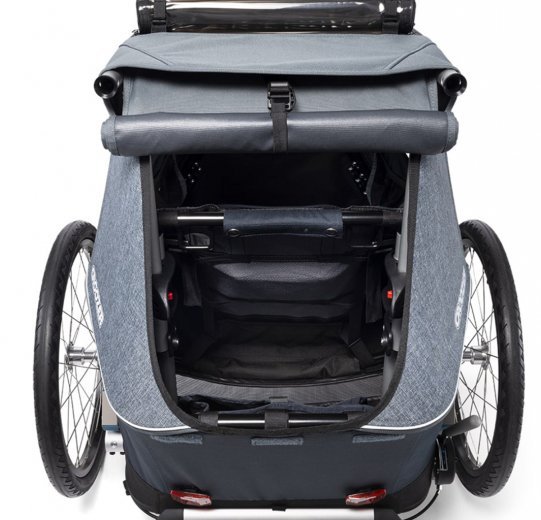 Ample space for everything you need on a family trip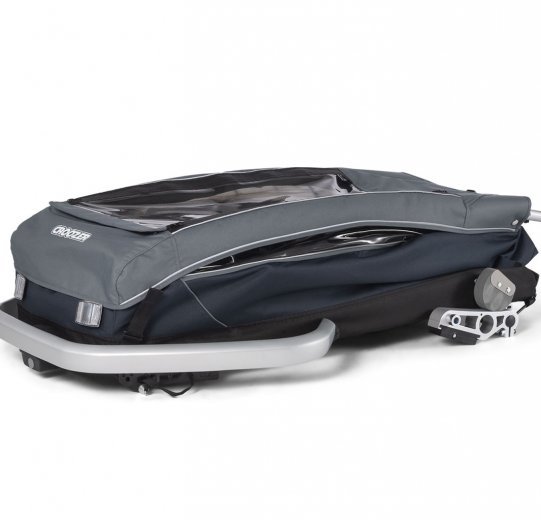 When collapsed, a kids trailer can be easily stowed even in tight spaces.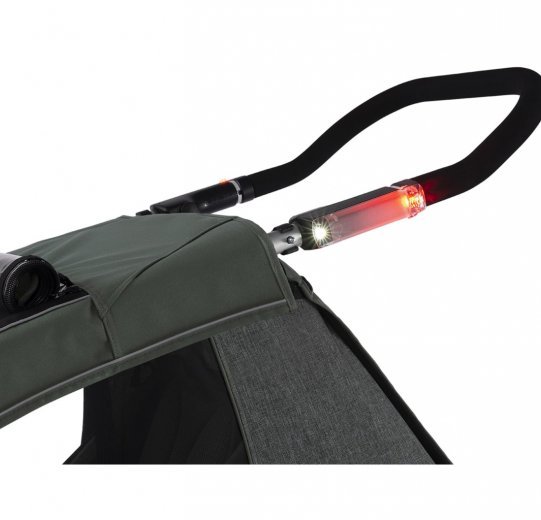 Some models come with an integrated rear light. With other models, however, an inexpensive bicycle rear light can also be retrofitted without issue.
Reflectors on kids trailers are compulsory in road traffic!
Tips for daily use
Riding with a trailer can be a little unusual at first. This is especially noticeable when the braking distance and the cornering tendency change due to the extra weight, which pushes passively from behind. Just to be on the safe side, you ought to do a few laps without a passenger before you jump into traffic or onto the trail. It is also advisable to have fenders or mudguards on your bike when it rains. They should be pulled down as far as possible in the front and back. The kids trailer lets you really see the amount of dirt you are kicking up to the rear while cycling. For city bikes, a fender extension is a good idea. Your little passengers will thank you. Also handy for retrofitting for when you're using an MTB as your towing machine: a side stand. Why? You'll notice it when you have to stop every few meters to tend to your passenger's needs, and you don't always want to put your bike on the ground.
Kids trailers can be collapsed for transport or storage
The vast majority of kids trailers can be collapsed to a compact size. This helps with storing it home or transporting it in the car, such as when you're going on holiday. However, check beforehand whether it really fits in the boot – especially if you are bringing a two-seater trailer. You can, of course, also bring the trailer along with you on the train. If you use it as a buggy, it counts as a stroller for many travel companies, so you don't have to purchase an additional ticket. In order to park the trailer so that it's sheltered from rain on holiday trips or at home, many manufacturers have special protective covers in their ranges, such as the protective cover from Thule.
Additional brakes on kids trailers can be helpful
If you often use the trailer as a buggy or jogger, a model with a handbrake is a good option. You'll have better control on downhill sections. and your calves won't start burning even on long descents. By the way, Thule also offers the jogging brake for retrofitting.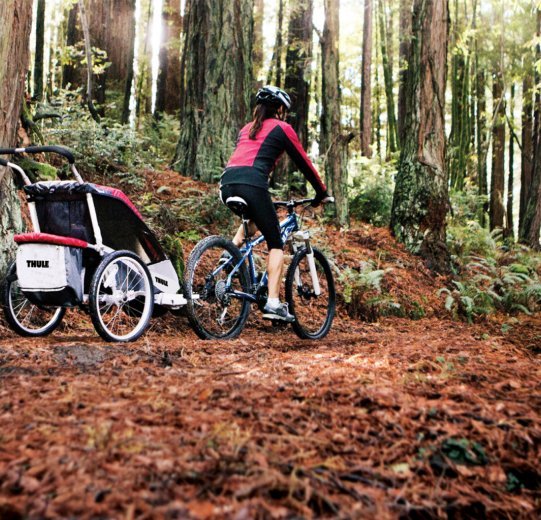 Whether you're riding a mountain bike...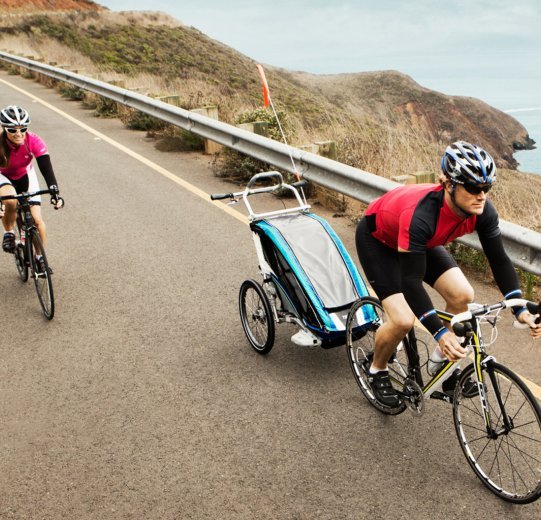 ...or a road bike, a kids trailer enables you to be active with your child while you're on-the-go.