Are you a passionate mountain biker, and want to impart that passion to your children? Then go for it! Especially at a young age, little ones are often inspired by mum and dad. This means you shouldn't hesitate to take your kids on trails. In addition to a suitable children's mountain bike, the right equipment with helmet and protectors is also important. After all, nothing spoils children's enjoyment as quickly as poor-fitting or modestly functional accessories. We show you with which equipment the kids will cut a good and above all safe figure on the bike – no matter whether it's on forest highways or downhill trails.
An important note beforehand: each child develops their skills at their own pace. The ages given here are therefore meant to serve as a rough guide.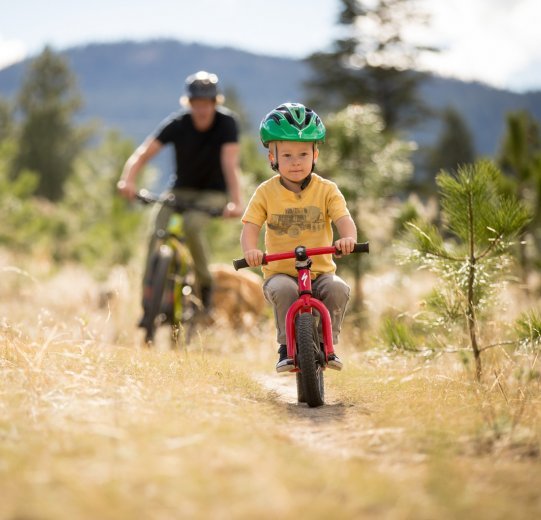 Start practising early: The first short rides on easy terrain are already a great experience for your children on a balance bike. © Specialized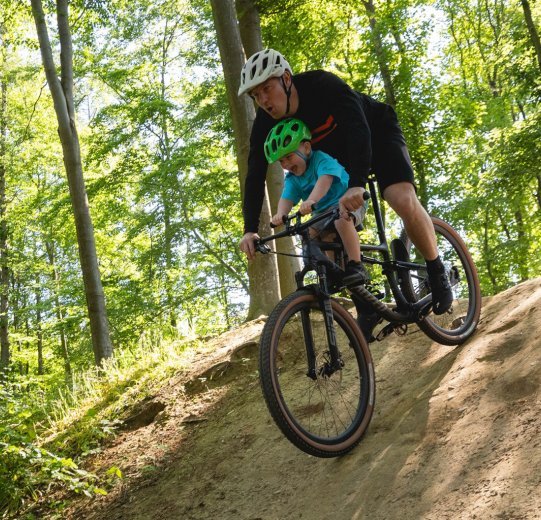 The Shotgun kids bicycle seat is also a great way to get your child interested in mountain biking at an early age. © bc GmbH & Co. KG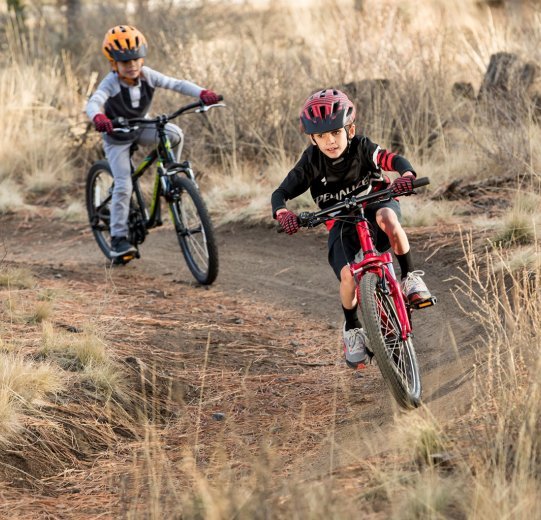 Switching over to your first mountain bike is not difficult with the right setup. © Specialized
First Experiences in a Kids Trailer
Even before riding on their own, children should have the appropriate cycling equipment. We probably don't need to explain why a bicycle helmet is also necessary for children. However, head protection also makes sense when you're towing a kids trailer – such as when you're bringing your kids along as your co-pilot on their first trail rides on a single trailer, like the one from Tout Terrain. When choosing a helmet, make sure that the helmet for toddlers has a flattened back of the head. Whether it's a unicorn or dino design is of course an important style question. Speaking of trailers: you can find an overview on the subject of transporting children on our kids trailers page.
Balance Bikes: An Introduction to Mountain Biking
Starting at about two years of age, your child is ready to explore their surroundings independently. Not quite yet with a mountain bike, but with a balance bike. You can tell when they have probably outgrown their first helmet and need a somewhat larger one when you can fit a thin cap underneath it. You can find out how to correctly determine the head circumference for both you and your child in our helmet guide. Your kids will probably gain their first mountain bike experience from the age of about three on forest roads, which is why many parents still forego protectors. However, it is also important for kids to be seen when they're exhausted on the ride home after their first practice rounds with their kids mountain bike, such as models by COMMENCAL or Early Rider, or if they're recovering on a Follow-Me hitch. A jacket lots of reflective panels ensures very good visibility even in cloudy weather.
The First MTB Protectors for Kids
Everyone looks forward to the first family MTB tours, which usually begin when your kids are about four or five years old. Before starting, you need to have the appropriate equipment. A helmet is, obviously, a no-brainer. For mountain bike beginners, there are models that are very reminiscent of MTB helmets for adults in terms of construction and shape. In-mold construction with a robust polycarbonate outer shell and an impact-absorbing EPS inner shell makes kids helmets secure and lightweight. In addition, you should also make sure that the back of the head is elongated so that the child's neck is protected. There are also kids helmets with MIPS. MIPS reduces the rotational forces acting on the brain in the event of a fall, and among other things reduces the risk of concussions. Special kids gloves help to ensure a firm grip on the handlebars. Long-fingered models are ideal for children because their lower position means that they scrape against bushes and shrubbery more often. Since clipless pedals are not yet an option for young children, their shoes should have firm, grippy soles to prevent them from slipping off the pedals. Shoes with hook & loop fasteners allow children to quickly put them on and take them off by themselves. It also minimises the risk of laces getting caught in the chain. Tip: There are children's bike-friendly drink bottles designed specifically for small frames. This way, kids can transport their drinks themselves, just like mum and dad.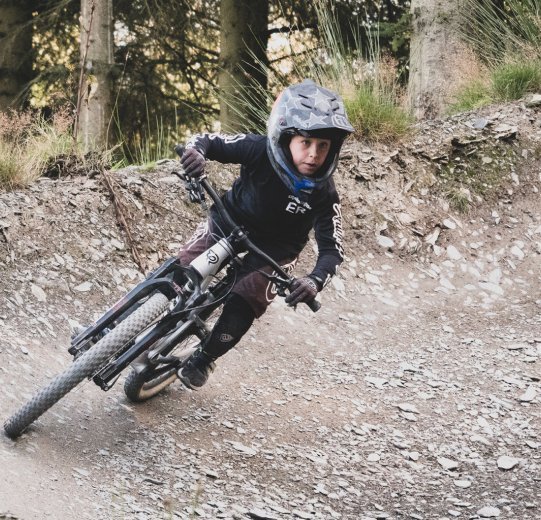 For trips to the bike park, there are full-face helmets and protectors made especially for children. © Early Rider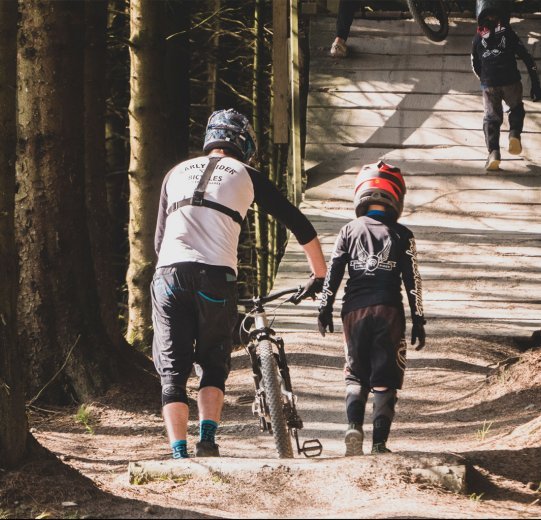 If your child enjoys mountain biking, there's nothing stopping you from family bike park excursions. © Early Rider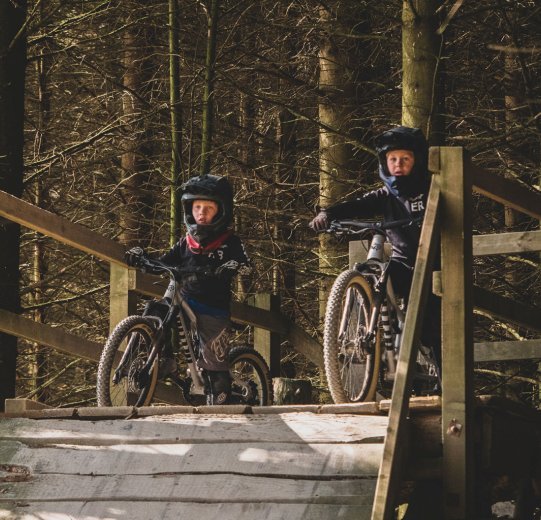 Off on an adventure! © Early Rider
Downhill Fun Thanks to Protectors
Anticipation is growing, the trails are waiting, and downhill fun is about to begin. To get your kid up the mountain without much fuss, it's best to use a tow rope like the one from TowWhee. With this kind of help, your child will reach the peak happily. So then, just don a full-face helmet and off you go. Full-face helmets provide much better protection in the event of a fall at high speeds, as they also enclose the jaw area. In addition, little bikers also want to look good and sporty like mum and dad – in which case, a full-face version helps immensely with that. Such helmets are already available starting at a 50 centimetre head circumference. Additionally you should think about pads . Modern pads for children have little in common with the hard-shelled knee pads or elbow pads of our childhood. Specialists such as iXS or Endura also rely on soft pads with visco-elastic foam for kids' products, which do without an annoying hard shell – just like the bigger versions. Pads are lighter and more comfortable to wear, and can be conveniently stowed in a backpack when riding uphill. Make sure that clothing is wide enough, or can be adjusted in width so that there is extra room! This way, you can also fit knee pads under pants. However, one problem remains: kids grow quickly, so they need to update the size of their pads more frequently. In this case, POC offers a solution: the Pocito Joint Air pad can be worn first as a knee pad and later, as your child grows, as an elbow pad.
Off to the Bike Park!
Protectors, full-face helmet – the way to the bike park is paved. After making their first jumps, kids will be eager to do more. While your child may want to do more jumps and cooler descents, for you an increased protection factor is more pressing. Protector jackets protect not only the elbows but also the back, shoulders, chest and ribs of your young rapscallions. Some models are suitable in the smallest size for children starting at a height of 120 centimetres. If your kid is a magnet for dirt, a pair of goggles or a dirtsuit in sizes meant for kids will also help.