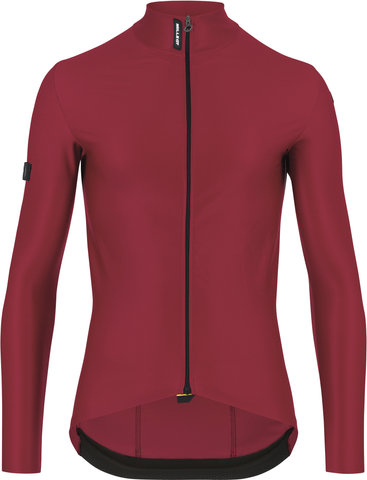 ASSOS Mille GT Spring Fall C2 Jersey
The Mille GT Spring Fall C2 jersey from ASSOS for long distances in cool weather
The long-sleeved ASSOS Mille GT Spring Fall C2 jersey regulates your body temperature on long road bike rides in spring and autumn. It offers medium insulation to keep you warm on chilly days and is breathable to keep you dry when temperatures rise. Because its fit in the chest, shoulder and abdominal area has been optimised compared to the previous model, it feels particularly comfortable in a slightly upright riding position and offers excellent freedom of movement. The soft, elastic waistband also contributes to this. The Mille GT Spring Fall C2 creates a sporty, sleek silhouette and can be perfectly combined with other layers. The sleeves have been fitted so that they are comfortable regardless of body posture. The open-edged cuffs can be easily combined with gloves. A glasses holder on the right sleeve and sturdy back pockets with fabric lids round off the jersey. In addition, reflective details on the back hem ensure better visibility in unfavourable light conditions.
Specifications:
Application:

Road

Type:

long sleeve

Cut:

regularFit

Special Fabrics:

RX, Sens Strong

Temperature Range:

2/3 (spring / autumn)

Product Line:
Features:
thermo-regulating long-sleeved jersey for endurance road cycling in cool weather
improved insulation on the sleeves compared to the previous model
breathability and quick drying for a pleasant microclimate
optimised fit in the chest, shoulder and abdominal area for increased comfort in a more upright riding position
comfortable regularFit fit, but streamlined silhouette ideal for layering
set-in sleeves for full freedom of movement in aggressive or upright riding positions
clean, open-edged cuffs with reduced volume for easy combination with gloves
zeroPressure waist: soft, highly elastic waistband for comfort and support in the abdominal area without pressure
Triple Ramp pockets with sewn-in fabric panels as " lids" to secure and protect the contents
integrated glasses holder on the right sleeve
rear hem with reflective details for riding in low light conditions
warming, abrasion-resistant RX material on the front, UV protection factor 50+
stabilising Sens Strong material on the pockets, UV protection factor 50+
ideal in combination with Mille GT Spring Fall C2 Bib Knickers or Mille GTS Spring Fall C2 Bib Shorts
Materials:
84% polyamide, 16% elastane
Technology:
AEPD
Advanced Ergonomic Pattern Design is the know-how, experience and philosophy with which ASSOS works out and designs the fit of the products in such a way that it harmonises perfectly with the sitting position on the bike. ASSOS clothing is designed to adapt perfectly to and merge with the body on the bike. High-tech materials are basically useless unless they are perfectly cut and processed.
ALS
The ASSOS collection is a sophisticated and technically advanced clothing system in which all products are coordinated and designed to complement and work together perfectly in every season. The ASSOS Layering System (ALS) divides the year into 3 different temperature ranges - from summer to spring/autumn to winter (Outfit Climarange). The goal of ALS is to keep your body warm and dry in all climatic conditions. The advantage of the ASSOS collection lies in its versatility; the products can be intelligently stacked and combined in layers.
Size Guide:
ASSOS products are manufactured specifically for cycling. The cut of the products is anatomically shaped according to the ASSOS cut design philosophy AEPD. This means that ASSOS products perfectly surround and protect the body without constricting it when riding. ASSOS products are not very comfortable in the upright position - they stretch - and this is completely normal. So go into a bent posture like on a bike and feel how it " clicks" and the clothes now fit perfectly. ASSOS technical products are made for real cycling and not for leisure activities.
If you're built more than slim or if you like your fit looser, go up a size.
Our
size guide
will help you choose the correct size.
Manufacturer Numbers:
black series:

11.24.360.18

stone blue:

11.24.360.2A

bolgheri red:

11.24.360.4M
Contents:
1 x ASSOS Mille GT Spring Fall C2 jersey
100 day return period

Online since 1998

Trusted Shop

4.89

/ 5.00