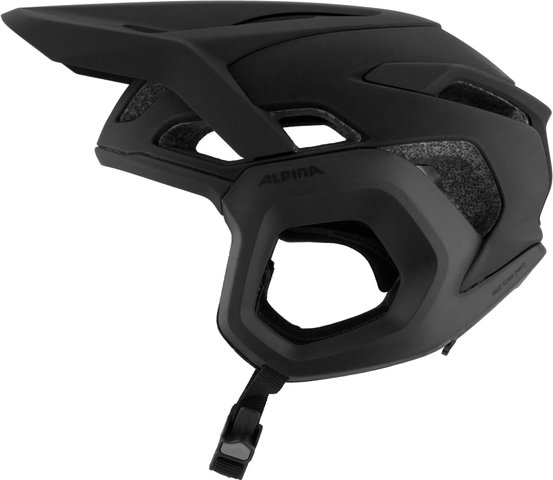 Alpina Rootage Evo Helmet
The Rootage Evo helmet from Alpina is ideal for enduro bikers who place a lot of value on protection, but do not want to give up freedom of movement.
Specifications:
Application:

Enduro, All Mountain

Air Circulation Vents:

17

Construction:

In-Mold

Closure System:

ratchet
Features:
side protection for the ears
EPP Multi Density material withstands minor impacts
can be worn with neck protectors
with space for camera attachment
Technology:
Ceramic Shell:
All Alpina In-Mold helmets are fitted with this break-resistant and scratch-resistant polycarbonate shell. The blank is stretched under strong heat onto the shape of the later helmet and pressed with high pressure onto its Hi-EPS body. The material is characterised by several qualities at the same time: It is break-resistant, scratch-resistant, UV-stable and antistatic.
Ergomatic:
Proven hundreds of thousands of times and used on all Alpina helmets: the belt buckle with the red push button and multi-stage automatic snap-in mechanism. Ergomatic can be operated with one hand - uphill the strap can be loosened, downhill it can be tightened - and in the event of a fall it is not possible for the locking mechanism to open automatically.
Hi-EPS:
The inner shell of every Alpina helmet is made of Hi-EPS (" High Expanded Polystyrene" ). It consists of microscopically small air chambers which optimally absorb the forces acting in the event of an impact. Hi-EPS ensures extra-thin wall thicknesses and narrow helmet shapes in spite of optimum protection.
In-Mold Tec:
In the In-Mold production process, the polycarbonate helmet shell is " baked" with the EPS granulate of the helmet body under great heat and pressure. This creates a large and inseparable connection between the upper and lower shell. Advantage: The helmet is very light and at the same time extremely stable.
Edge Protect:
Edge Protect is a processing technique that ensures that In-Mold helmets have no sharp edges. This reduces the risk of injury in two ways: in one way, the hands are protected when handling the helmet, and in the other, in the event of an impact, the neck and shoulder area are protected from scratches when they come into contact with the lower edge of the helmet.
3D Fit:
Individually-adjustable adjustment of the Run System.
Custom-Fit System:
Different head shapes require a flexible adjustment system. In combination with the Run System, Custom Fit ensures a non-slip fit. The neckband at the back of the head can be tilted in several stages and gently embraces the headband without creating pressure.
Shield Protect:
The removable shield protects the face both from dirt and direct sunlight.
Manufacturer Numbers:
52 - 57 cm:

A9750.1

57 - 62 cm:

A9750.3
Contents:
1 x Alpina Rootage Evo Helmet
100 day return period

Online since 1998

Trusted Shop

4.89

/ 5.00