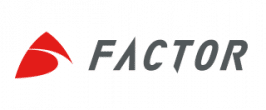 The reference for aerodynamics, integrative product design and uncompromising performance in cycling: Factor represents the absolute high-class of modern carbon Road bikes. The roots of the British engineering office in Norfolk lie in motor racing and in cooperation with brands such as Ferrari, Lamborghini and various Formula 1 teams. Their premiere in the bicycle cosmos was a hyper bike for the prestige automobile brand Aston Martin. In 2013, Factor decided to produce Road bikes in series. Factor brought in Rob Gitelis, Baden Cooke and David Millar know-how from the bike industry and professional cycling. Since then Factor has created racing machines that are unique with their integrative design and unconditional commitment to performance. Highest engineering skills and precise production in uncompromising quality are the hallmarks of Factor's frames.
Factor Dream Bikes from Our bc Colleagues
Factor's frames offer you a unique basis for putting together your perfect road bike. Whether it's an aerodynamic racing machine or a fast gravel bike, it can be built to suit your personal demands. I am more than happy to help you choose the best components for your build! Just give us a call and we can help you put together your new dream bike. From the drivetrain to the right power meter, even down to the paint job: your perfect bike is waiting for you!
Factor Bikes - Carbon Road Bikes
Perfect balance of aerodynamics and lightweight construction for first-class performance
"The O2 is a racing machine!"
The excitement and admiring glances when one of our colleagues leaves here with a Factor in their hands are guaranteed every time. The Road bikes from the British Norfolk area are a real eye-catcher. Aero, clean looks, incredibly stiff and light - Anne, triathlete and product manager at bike-components, is simply thrilled with her Factor O2. "The stiffness makes the power transmission and acceleration phenomenal," she sums up her riding experience. "No other Road bike I've ever ridden comes close to this."
Road bikes with high-speed power
Factor stands for innovation, speed and performance - united in bikes that breathe aerodynamics and crave speed. No wonder, since the makers have their roots in high-performance motorsports. They began as leading design and engineering firms for prestige brands such as Aston Martin and Ferrari and for many Formula 1 motorsport teams and the Moto GP Motorcycle World Championship to develop aerodynamic vehicles. In 2009, they landed their first spectacular coup in the bike industry with the FACTOR001, a road bike that was far ahead of its time and did not want to be pushed into the tight mantle of UCI regulations. Hydraulic disc brakes, perfect integration of all hoses, performance measurement and a cockpit with touch screen display showed the direction in which cycling would develop in the future. The Twin Vane design, which gives the Factor ONE its futuristic appearance and consistent focus on aerodynamics, was already shown here: A split down tube and seat tube that together provided impressive lateral stiffness to the frame. Advanced engineering in its most beautiful form.
Carbon Road bikes in unique quality
This was followed by the development of a 25,000 pound hyper bike for the prestige brand Aston Martin, the Factor ONE-77, and the decision in 2013 to produce Road bikes in series. Factor , Rob Gitelis, Baden Cooke and David Millar brought their know-how of the bike industry and professional cycling to the table. Their expertise in composite materials, lightweight construction and aerodynamics as well as the consistent use of only the highest quality high-end carbon fibres make the frames unique in terms of quality. Factor has its own production companies, which means that they have maximum influence on production and can guarantee the highest level of quality assurance. They not only set obvious standards in terms of aerodynamics and design, but also in terms of production quality. Perfection does not come about by chance or through happy circumstances, but through personal devotion and a love of detail that does not accept compromises.
Cycling professionals depend on Factor
No wonder, then, that Factor enjoys great popularity in professional racing and has already secured podium spots at tours such as the Tour de France, merciless spring classics such as Paris-Roubaix and various Ironman events. In the 2020 season Factor Bikes will be seen again at UCI races: Factor has signed a three-year contract with Team Israel Cycling Academy, for which the two German riders André Greipel and Rick Zabel are also competing.
The Factor Models
O2
The O2 is the all-rounder of the Factor family. It has excellent climbing properties and at the same time masters coarse cobblestones without much effort. Romain Bardet put trust in the O2 at the Tour de France, Silvan Dillier rode it over the rough cobles of Paris-Roubaix. Just a racing machine that's available for everything.
O2 VAM
The VAM is the weight-optimised lightweight version of the O2. Especially at mountain races like the Taiwan KOM Challenge, it can show its abilities to the full and prove that lightweight construction does not have to be at the expense of riding comfort and handling characteristics.
ONE
The ONE is the right vehicle for sprinters. With a split down tube - the Optimized Twin Vane Evo - and an integrated handlebar stem unit called the ONE Total Integration System , this uncompromising bike offers hardly any surface for the wind to attack. A real statement when it comes to aerodynamics.
LS
The LS frameset is aimed at gravel riders who like to take part in long, demanding competitions or want to tackle high-altitude routes. It is not designed for cycling tours with luggage, but rather for competitive use in small as well as larger groups.
Vista
The Vista is designed as an all-road bike and is optimised for a tyre width of 30 to 35 mm. This bike is the star of Gravel events and is therefore also ridden by the Panaracer Factor Gravel Team at the big Gravel festivals in the USA.
Slick
Slick is the Time Trial and Triathlon Bike of the Factor family and claims to be the fastest and most technically advanced Time Trial bike. Every element of the Slick, from the 51 Speedshop Aerobar to the Twin Vane EVO down tube, has been specifically integrated into the design and underlines the ultimate goal of the Slick: to be faster than the wind.