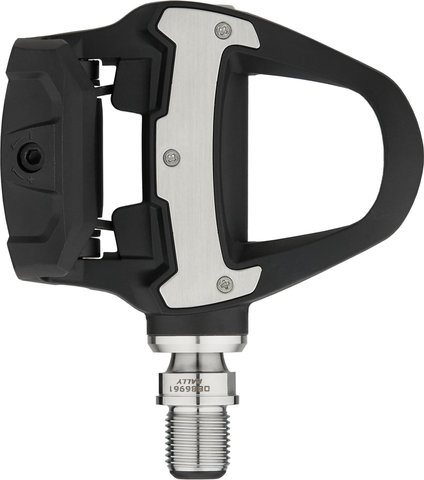 The Garmin Rally RS200 Power Meter Pedals - Double-sided power metering on road bikes for SPD-SL
Garmin's Rally RS200 Power Meter road pedals are compatible with Shimano SPD-SL cleats to measure bilateral power, cadence, right-left balance and power peak over the course of pedalling. They also analyse other aspects of performance development depending on riding position and bike set-up, otherwise known as Cycling Dynamics. The pedals are easy to mount and can therefore be transferred from one bike to another seamlessly. The pedal bodies are interchangeable, which means they can also be used with Look Kéo Cleats for MTB and gravel riding. The Rally RS helps you to train more efficiently, which in turn allows you to prepare faster to dominate future challenges.
Information regarding the return of batteries and electrical equipment:
Information on the return and disposal of used batteries and electrical equipment can be found
here
.
Specifications:
Application:

Road, Triathlon & Time Trial

Type:

clipless pedals with power meters (on both sides)
Technical Information:
Body Material:

composite, metal

Axle Material:

steel

Seals:

double

Height:

12.2 mm

Pedal Centre to Crank Arm Distance:

53 mm

Tolerance:

+/- 1%

Power Source:

Lithium battery CR1/3N (2 x) or lithium battery LR44/SR44 (4 x)

Battery Life:

max. 120 h

Data Collected:

Power (both sides), cadence, Cycling Dynamics (including right-left balance, Power Phase, Platform Center Offset)

Waterproof:

IPX7

Data Transfer:

ANT+, Bluetooth
Approved For:
Weight Limit:

105 kg total weight
Compatibility:
Rally RS Cleats (recommended)
Shimano SPD-SL Cleats from the original manufacturer
Garmin watches, Edge bike computers, Garmin Connect app for data analysis, software and settings updates
Garmin Connect app for calibration, training analysis or sharing training data with third-party platforms like Strava, TrainingPeaks or TrainerRoad
Features:
bilateral power metering with full access to Cycling Dynamics for advanced power analysis
slim pedal design with fully-integrated battery housing and low profile for better ergonomics
easy mounting lets you swap out pedals between several bikes
replaceable pedal bodies
easily replaceable batteries
on-site calibration
adjustable tension
55 mm Q-factor possible with enclosed spacer
operating temperature range -10 °C to 50 °C
Technology:
How Garmin Rally Power Meters Work
Garmin Rally pedals measure the force applied to the pedal during 360° pedalling cycles and the direction of the force. Based on this, the force that causes the propulsion (tangential vector) and the force that acts on the crank in the form of compression or elongation (radial vector) are considered equally. This results in a more realistic measurement in comparison to relying solely on the tangential vector, and gives you a better overall picture of pedalling forces.
Manufacturer Number:
010-02388-02
Contents:
1 x Garmin Rally RS200 Pedal with Power Meter axle (left)
1 x Garmin Rally RS200 Pedal with Power Meter axle (right)
1 x pair Garmin Rally RS 4.5° Cleats
6 x fixing screw for cleats
2 x 2 mm washer
2 x replacement gasket for battery compartment cover
2 x CR1/3N batteries (installed)
Order Together:
Optional accessories:
Weight:
black/universal: 320 g (Paar)