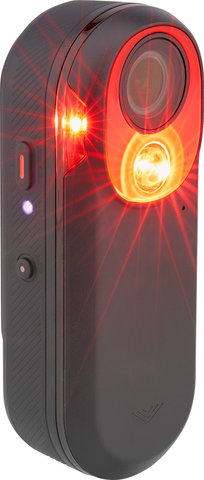 The Varia RCT716 by Garmin is an all-in-one radar, camera and StVZO-approved rear light
The Garmin Varia RCT716 is a radar with an integrated dashcam and rear light with StVZO approval, which increases your safety in road traffic. The camera records what happens behind you, and you can view and transfer saved recordings using the Varia app. Equipped with automatic accident detection, the unit automatically saves video recordings before, during and after accidents. The radar alerts you to vehicles approaching from behind. To use the radar function, a paired device is required, such as a Garmin Edge 1030 or a smartphone equipped with the Varia app. Through the device, the radar triggers visual and audible signals to let you know how close the vehicles are and if they are approaching at a dangerous speed. The bright rear light also provides you with good visibility.
Information regarding the return of batteries and electrical equipment:
Information on the return and disposal of used batteries and electrical equipment can be found
here
.
Specifications:
Type:

rear light (red)

Mount:

seatpost

Light Source:

LED

Burn Time:

Up to 5 hours with radar mode, continuous light mode and 1080p video recording; up to 8 hours in continuous light mode with camera deactivated

Power Source:

battery (Li-ion), integrated
Technical Information:
Power Indicator:

Status LED

Charge Time:

wall adapter - approx. 3 hours; USB - approx. 5 hours

Protection Rating:

IPX7

Dimensions (H x W x D):

106.5 mm x 42 mm x 31.9 mm

Material:

composite

Switch:

Device button, camera button
Approved For:
Street Use in Germany:

yes, for bicycles (according to §67 StVZO)

Check Number:

K~~2044
Compatibility:
micro SD memory card with 8 to 128 GB and at least speed class 10
Apps: Garmin Varia; third-party apps
Varia Vision radar display unit
Descent Mk1
D2: Delta; Delta S; Delta PX
Edge: 25; 130; 130 Plus; 510; 520; 520 Plus; 530; 810; 820; Explore 820; 830; 1000; Explore 1000; 1030; 1030 Plus
fenix: Chronos; 5; 5S; 5 Plus; 5X; 5X Plus; 6; 6S; 6 Pro; 6S Pro; 6X Pro
Forerunner: 645; 735XT; 745; 935; 945
MARQ Adventurer / Athlete / Aviator / Driver Performance Edition
Venu: Venu; 2; 2S; Sq
vívo: vívoactive 3; vívoactive HR; vívoactive 4; vívoactive 4S
Tactix: Charlie, Delta
Features:
with dashcam that records footage behind you
camera with two quality levels for either optimal image quality or higher battery performance
different camera modes (off, always on or active as soon as a vehicle is detected)
automatic accident detection and video storage
transfers saved recordings via the Varia app
camera control
memory card with 16 GB included (sufficient for approx. 1.5 hours of ride recordings)
radar function with visual and audible alarms when paired
radar warning of approaching vehicles up to 140 metres away
detects up to eight vehicles with a speed of 10 to 160 km/h (unless they are travelling at the same speed as you)
40° radar cone width
5 lumens rear light visible from afar
220° light diffusion
ANT+ and Bluetooth enabled
tool-free attachment with adapters for round, aero or D-shape seatposts
slim vertical design
Manufacturer Number:
010-02477-00
Contents:
1 x Garmin Varia RCT716 Radar Rear Light with StVZO approval
1 x microSD card 16 GB
1 x Garmin USB cable
1 x Garmin seatpost mount, 6 pieces