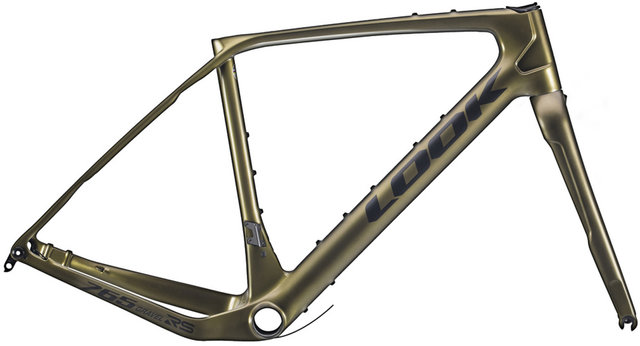 The Look 765 Gravel RS Disc Carbon Frameset for Adventure
With the Look 765 Gravel RS Disc frame and fork set you can build a versatile, comfortable and powerful gravel bike. It is made of particularly stiff carbon and gives you the opportunity to explore off-road terrain. The frame is suitable for both short and long distances and has no less than four bottle cage mounts and a top tube bag mount. It features a sporty endurance-forward geometry and its complex carbon fibre layup is precisely adapted to this purpose, for example in terms of shock absorption. Specially designed rear stays contribute to vertical flexibility. A tyre clearance of up to 40 mm and compatibility with 27.5" tyres affords all options on changing terrain.
Specifications:
Application:

Gravel, Cyclocross

Wheel Size:

28"

Sizes:

XS, S, M, L, XL

Frame Material:

Carbon (UHM)

Fork Material:

Carbon (UHM)
Technical Information - Frame:
Wheel Standard:

12 x 142 mm (standard)

Axle Type:

12 mm thru-axle

Seatpost (Ø):

27.2 mm

Seatpost Clamp(Ø):

integrated

Headset:

Look 765 1 1/8" - 1.5"

Bottom Bracket Standard:

BB386EVO

Shell Width:

86.5 mm

Brake Mount:

flat mount

Front Derailleur Mount:

braze-on

Cable Routing:

internal, mechanical / electrical

Bottle Cage Mounts:

4
Technical Information - Fork:
Steerer Tube:

1 1/8" - 1.5" tapered

Wheel Standard:

12 x 100 mm (standard)

Axle Type:

12 mm thru-axle

Brake Mount:

flat mount

Offset:

50 mm

Trail:

72 mm

Axle to Crown:

395 mm

Over Locknut Dimension:

100 mm

Steerer Tube Material:

Carbon

Crown Material:

Carbon

Blade Material:

Carbon
Approved For:
Weight Limit:

100 kg total weight

Rotor Size (max.):

160 mm

Tyre Size (max.):

700 x 40 mm, 27.5 x 2.1"

Chainrings:

1-speed, 2-speed
Features:
versatile, performance-oriented frame/fork set for gravel use
Endurance geometry
complex carbon layup with different fibre types (including ultra high modulus) for optimal balance of flexibility, shock absorption, stiffness and efficiency
generous tyre clearance up to 40 mm (28" ), can also be ridden with road bike tyres (28 mm, 32 mm) or 27.5" MTB tyres (up to 2.1" )
approved by the UCI for cyclocross races
four bottle cage mounts, mount for top tube bag
specific seat stay shape for vertical flexibility, lateral stiffness and traction
Technology:
Ultra High Modulus Carbon Fibres
UHM carbon fibres are more powerful and denser than other carbon fibres, meaning you need less of them to get the same stiffness, which saves a lot of weight. At strategically important, highly stressed points, the fibres can be selectively added up to further optimise stiffness.
3D Wave Technology
Two wave-shaped structures are incorporated into the seat stays, which flex slightly and thus support the natural compliance of the carbon. In addition, a tube shape that becomes flatter towards the bottom provides better vertical flexibility and lateral stiffness. In this way, impacts are softened even at high speeds. 3D Wave therefore provides improved vibration damping without adding weight. At the same time, traction increases because the rear wheel always remains in contact with the ground.
Geometry:
XS:
Recommended Height:

< 166 cm

Stack:

530 mm

Reach:

355 mm

Seat Tube Length:

470 mm

Effective Top Tube Length:

507 mm

Head Tube Length:

111.5 mm

Chainstay Length:

420 mm

BB Drop:

70 mm

Seat Tube Angle:

74°

Head Tube Angle:

70.3°

Standover Height:

745 mm
S:
Recommended Height:

164 - 173 cm

Stack:

554 mm

Reach:

365 mm

Seat Tube Length:

490 mm

Effective Top Tube Length:

524 mm

Head Tube Length:

137 mm

Chainstay Length:

420 mm

BB Drop:

70 mm

Seat Tube Angle:

74°

Head Tube Angle:

70.3°

Standover Height:

765 mm
M:
Recommended Height:

171 - 180 cm

Stack:

578 mm

Reach:

375 mm

Seat Tube Length:

510 mm

Effective Top Tube Length:

552 mm

Head Tube Length:

162.5 mm

Chainstay Length:

420 mm

BB Drop:

70 mm

Seat Tube Angle:

73°

Head Tube Angle:

70.3°

Standover Height:

793 mm
L:
Recommended Height:

178 - 187 cm

Stack:

602 mm

Reach:

385 mm

Seat Tube Length:

535 mm

Effective Top Tube Length:

569 mm

Head Tube Length:

188 mm

Chainstay Length:

420 mm

BB Drop:

70 mm

Seat Tube Angle:

73°

Head Tube Angle:

70.3°

Standover Height:

816 mm
XL:
Recommended Height:

> 185 cm

Stack:

626 mm

Reach:

395 mm

Seat Tube Length:

560 mm

Effective Top Tube Length:

586.5 mm

Head Tube Length:

213.5 mm

Chainstay Length:

420 mm

BB Drop:

70 mm

Seat Tube Angle:

73°

Head Tube Angle:

70.3°

Standover Height:

843 mm
Manufacturer Numbers:
metallic hope green satin:

26697 / 26698 / 26699 / 26700 / 26701

black chromatic:

25472 / 25473 / 25474 / 25475 / 25476
Contents:
1 x Look 765 Gravel RS Disc Carbon frame
1 x Look 765 Gravel RS Disc Carbon fork
1 x headset
1 x Mavic Speed Release front thru-axle
1 x Mavic Speed Release rear thru-axle
Weight:
metallic hope green satin/S: 1,7 kg (Rahmen + Gabel)
100 day return period

Online since 1998

Trusted Shop

4.89

/ 5.00