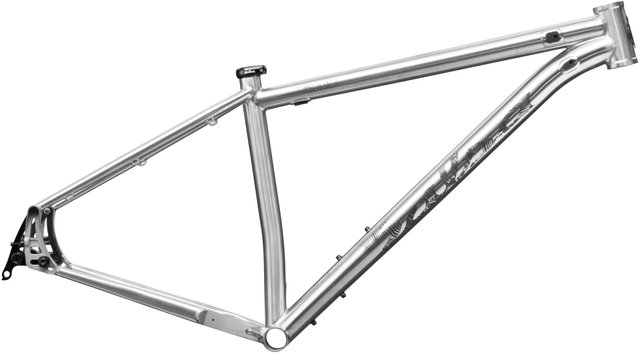 Salsa Timberjack 27.5+/29" Titanium Frameset
Durability on rough trails: with the Timberjack Titanium Frameset by Salsa
This titanium Timberjack frame gives you a companion to take you on fun cross-country adventures, and lets you discover new places time and again. This frameset offers space for a variety of different tyre widths, and the internally mounted cables give the Timberjack an overall clean look. The short chainstays create a stiff-yet-agile frame, which never fails to impress with its durability and high quality.
Specifications:
Application:

Trail, All Mountain

Wheel Size:

27.5+, 29"

Size:

XS, S, M, L, XL

Material:

titanium
Technical Information:
Rear Over Locknut Dimension:

148 mm

Axle Type:

12 mm thru-axle

Seatpost (Ø):

31.6 mm

Seatpost Clamp(Ø):

35 mm

Headset:

ZS44 - EC44 (top to bottom)

Steerer tube rec.:

1 1/8"

Recommended Fork Axle to Crown:

511 - 541 mm (rigid), 483- 502 mm (suspension fork)

Recommended Fork Travel:

100 - 130 mm

Fork Offset rec:

45 - 51 mm

Bottom Bracket Standard:

BSA

Shell Width:

73 mm

Brake Mount:

disc IS

Front Derailleur Mount:

Direct Mount (High-Direct)

Cable Routing:

internal, mechanical

Bottle Cage Mounts:

2

Accessory Mounts:

Eyelets for bottle holder, stealth and telescopic support compatible
Approved For:
Rotor Size (max.):

180 mm

Tyre Size (max.):

27.5 x 3.0" , 29 x 2.6"
Geometry:
(based on a suspension fork with an average travel of 130 mm)
XS:
Seat Tube Length:

355.6 mm

Effective Top Tube Length:

570 mm

Head Tube Length:

100 mm

Chainstay Length:

420 - 437 mm

Wheelbase:

1085 - 1101 mm

BB Drop:

57 mm

Reach:

390 mm

Stack:

608 mm

Seat Tube Angle:

73.5°

Head Tube Angle:

67.9°

Standover Height:

708 mm

Recommended Height:

157 - 168 cm
S:
Seat Tube Length:

381 mm

Effective Top Tube Length:

590 mm

Head Tube Length:

100 mm

Chainstay Length:

420 - 437 mm

Wheelbase:

1105 - 1121 mm

BB Drop:

57 mm

Reach:

410 mm

Stack:

608 mm

Seat Tube Angle:

73.5°

Head Tube Angle:

68°

Standover Height:

724 mm

Recommended Height:

160 - 175 cm
M:
Seat Tube Length:

431.8 mm

Effective Top Tube Length:

610 mm

Head Tube Length:

100 mm

Chainstay Length:

420 - 437 mm

Wheelbase:

1125 - 1141 mm

BB Drop:

57 mm

Reach:

430 mm

Stack:

608 mm

Seat Tube Angle:

73.5°

Head Tube Angle:

67.9°

Standover Height:

759 mm

Recommended Height:

173 - 183 cm
L:
Seat Tube Length:

482.6 mm

Effective Top Tube Length:

640 mm

Head Tube Length:

110 mm

Chainstay Length:

420 - 437 mm

Wheelbase:

1156 - 1172 mm

BB Drop:

57 mm

Reach:

457 mm

Stack:

617 mm

Seat Tube Angle:

73.5°

Head Tube Angle:

67.9°

Standover Height:

796 mm

Recommended Height:

180 - 191 cm
XL:
Seat Tube Length:

533.4 mm

Effective Top Tube Length:

670 mm

Head Tube Length:

125 mm

Chainstay Length:

420 - 437 mm

Wheelbase:

1187 - 1203 mm

BB Drop:

57 mm

Reach:

483 mm

Stack:

631 mm

Seat Tube Angle:

73.5°

Head Tube Angle:

67.9°

Standover Height:

834 mm

Recommended Height:

from 188 cm
Manufacturer Numbers:
XS:

FM1725

S:

FM1726

M:

FM1727

L:

FM1728

XL:

FM1729
Contents:
1 x Salsa Timberjack Titanium frame
100 day return period

Online since 1998

Trusted Shop

4.89

/ 5.00