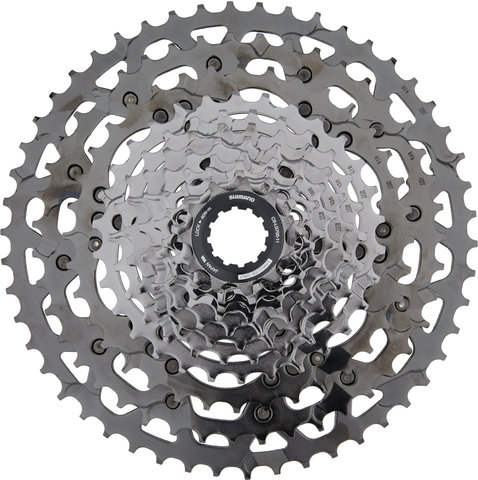 Shimano CS-LG700-11 Linkglide 11-speed Cassette
Shimano CS-LG700-11 Linkglide 11-speed cassette for smooth performance on the e-bike
CS-LG700-11 is an 11-speed cassette with Linkglide technology that Shimano has developed for MTB as well as touring e-bikes with mechanical, electronic or electronic-automatic shifting. Unlike
CS-LG400-11
, it has an aluminium sprocket carrier, which saves weight on the sprockets. The cassette is characterised by particularly long durability and very smooth gear changes. Compared to Hyperglide+ cassettes, which are designed for competition performance and fast shifting, the service life has been increased by a factor of 3. This is mainly due to the widened base of the pinion teeth and the milled chamfers, which minimise wear even under high load. The extremely smooth function is due to the optimised design of the shifting aids, which ensures that the chain is guided to a larger or smaller sprocket without pedal shock. This way you pedal more evenly and can enjoy riding for longer, especially if you ride a lot and frequently. The Linkglide cassette is also compatible with Hyperglide chains.
Guidelines for Replacing E-bike Components:
Before you replace components on your e-bike, please read through the
guidelines
for component replacement for CE-marked e-bikes/pedelecs with pedal assistance.
Specifications:
Application:

All Mountain, City & Touring

Gearing:

11-speed

Gradation:

11-45, 11-50

Sprocket Material:

steel

Freehub Compatibility:

Shimano MTB

Note:

with 1.85 mm spacer compatible with Shimano Road 11-/12-speed
Technical Information:
Spider:

1 / aluminium

Recommended Chain:

Linkglide (CN-LG500), HG 11-speed (e.g. CN-HG601-11)
Compatibility:
11-speed Linkglide / Linkglide Automatic:
Shifter:

SL-M8130-R11, SL-M8130-IR11, SW-M8150-R, SW-M8150-IR, SW-EN600-R, SW-EM800-L, SL-U8000-11R, SL-U8000-11IR, SL-U6000-11R
Rear Derailleur:
11-45 (2x11-speed): RD-U8020, RD-U6020-11
11-50 (1x11-speed): RD-U6000, RD-U8000, RD-M8130-SGS, RD-M8150-11, RD-U6070
Chain:

CN-LG500, CN-HG601-11, CN-HG701-11, CN-HG901-11, CN-E8000-11
Freehub / Over Locknut Dimension:
Shimano MTB: 141 mm, 148 mm
Shimano Road: 135 mm, 142 mm
E-bike Drivetrain:

EP8 EP801 for MTB / Trekking electronic / mechanical / Automatic Shift, EP6 for MTB / Trekking electronic / mechanical / Automatic Shift
Features:
Linkglide cassette (LG) for long-lasting, smooth shifting performance
smooth shifting inwards and outwards
less shift jerk
3x more durable than Hyperglide+, especially under high load and chain tension
lacquered sprocket carrier
plated sprocket
anodised aluminium lockring
Technology:
Linkglide
The sprockets of Linkglide cassettes have an optimised tooth shape and special tooth tips with large, deep cutouts on the hidden side and narrow cutouts on the drive side. Together with the widened tooth base, this not only results in optimal chain connection, but also makes these cassettes three times more durable than Hyperglide+ cassettes and reduces deformation. Revised shift aids in terms of profile and position ensure smooth shifting in both directions and reduce the shift jerk that tends to occur due to the high chain tension on e-bikes, especially when shifting to a smaller sprocket. Linkglide cassettes are made for everyday use and resist the wear that would be expected from high torque and months or years of riding in the same gear. It also extends the life of the chain and delays the point in time at which it starts to slap due to wear and tear.
Models:
11-45:
Gradation:

11-13-15-17-20-23-26-30-34-39-45 T

Manufacturer Number:

ICSLG70011145
11-50:
Gradation:

11-13-15-17-20-23-26-30-36-43-50 T

Manufacturer Number:

ICSLG70011150
Contents:
1 x Shimano CS-LG700-11 cassette
1 x Shimano lockring
100 day return period

Online since 1998

Trusted Shop

4.89

/ 5.00