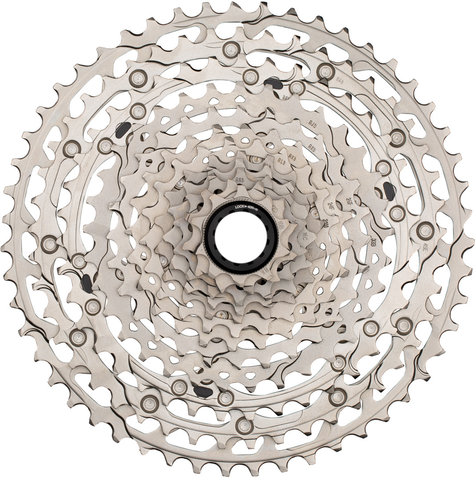 Shimano Deore cassette CS-M6100-12 - 12 sprockets with Hyperglide+ technology
With the Deore cassette CS-M6100, Shimano introduces the 12th sprocket for the inexpensive Deore beginner groupset. As with the top component series, the Hyperglide+ shifting aid construction ensures particularly smooth and quiet gear changes, even under load. The largest sprocket has 51 teeth, the smallest only 10, so this cassette is only compatible with Shimano Micro-Spline freehubs.
Specifications:
Application:

All Mountain, Cross Country, Enduro

Gearing:

12-speed

Gradation:

10-51

Sprocket Material:

steel

Freehub Compatibility:

Shimano Micro Spline
Technical Information:
Series:

Deore M6100

Spider:

1 (aluminium)

Recommended Chain:

HG 12-speed (e.g. CN-M6100)
Compatibility:
12-speed Micro Spline:
Shifter:

SL-M9100, SL-M8100, SL-M7100, SL-M6100, SW-M8150, ST-RX820, ST-RX610

Rear Derailleur:

RD-M9100-SGS, RD-M8100-SGS, RD-M7100-SGS, RD-M6100-SGS, RD-M8150-12, RD-RX822-SGS (all 1x12-speed)

Chain:

CN-M9100, CN-M8100, CN-M7100, CN-M6100
Features:
12-speed Hyperglide+ cassette for fast, smooth gear changes, even under heavy load
for 1x12-speed
10 T sprocket as smallest sprocket, possible due to new freehub construction (Micro Spline)
light, stiff Beam-Spider construction
plated sprocket and lockring, painted spider
Technology:
Hyperglide+ / HG+
Hyperglide+ is the efficient further development of the Hyperglide system by Shimano. These are shifting aids and specially shaped sprocket teeth that make shifting to larger or smaller sprockets suppler, smoother and quieter. The system of small rivets attached to the side of the sprocket and milled or pressed-in ramps ensures that the chain is already carried along by the next sprocket during the shifting process before it leaves the previous sprocket. Hyperglide+ is optimised for faster shifting and shifting under load and has a more efficient chain connection, holding power and power transfer when combined with a compatible HG chain. Compared to Hyperglide, the shifting time is reduced by one third and the pedal stroke is noticeably reduced. HG+ enables a completely new chain stability and thus offers a safe riding experience.
Micro Spline
Micro Spline is an innovative tooth profile on MTB freehub bodies from Shimano. All Shimano 12-speed MTB cassettes with a 10-tooth sprocket are equipped with Micro Spline freehub toothing. The significantly higher and finer toothing enables a stiffer connection between the cassette and the hub body. The resulting increased contact area ensures reliable power transmission, minimises wear and prevents deformation of the freehub and sprocket.
Models:
10-51:
Gradation:

10-12-14-16-18-21-24-28-33-39-45-51 t

Manufacturer Number:

I-CSM610012051
Contents:
1 x Shimano Deore CS-M6100-12 cassette
1 x Shimano steel lockring
100 day return period

Online since 1998

Trusted Shop

4.89

/ 5.00