100 day return period

Online since 1998

Trusted Shop

4.91

/ 5.00
Tackle every trail: the Shimano XT CS-M8100-12 Cassette
The Shimano XT CS-M8100 12-speed cassette is available in 10-45 t and 10-51 t versions. If you are looking for the lowest possible amount of gear steps, then the 10-45 tooth version is a good pick. If you want to cover as much bandwidth as possible, then opt for the 10-51 tooth version. Of course, all CS-M8100-12 cassettes feature Shimano Hyperglide+ technology for high shifting speed, precision and ease in up-/down-shifting. This has the added benefit of minimising noise. The spider as well as the two largest sprockets are made of aluminium, which contributes to weight reduction, robustness and durability.
Guidelines for Replacing E-bike Components:
Before you replace components on your e-bike, please read through the
guidelines
for component replacement for CE-marked E-bikes/pedelecs with pedal assistance.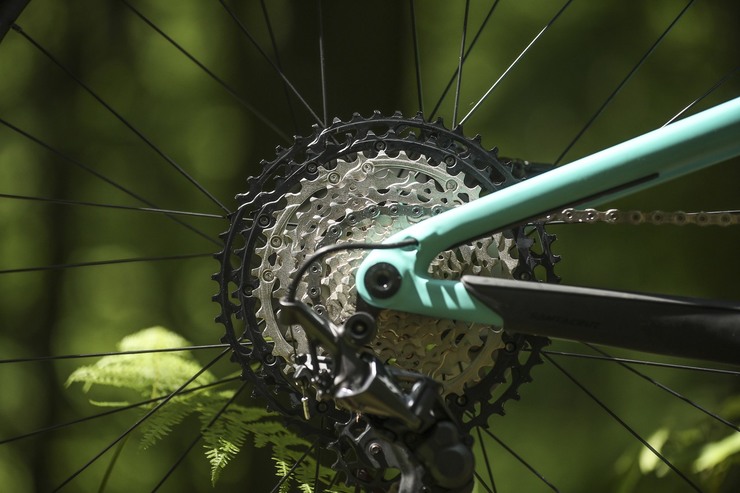 Specifications:
Application:
Enduro, All Mountain, Cross Country
Gearing:
12-speed
Gradation:
10-45, 10-51
Sprocket Material:
steel, aluminium
Freehub Compatibility:
Shimano Micro Spline
Technical Information:
Series:
Deore XT M8100
Spider:
1 (aluminium)
Recommended Chain:
HG 12-speed (e.g.
CN-M8100
)
Compatibility:
12-speed Micro Spline:
Shifter:
SL-M9100-R, SL-M9100-IR, SL-M8100-R, SL-M8100-IR, SL-M7100-R, SL-M7100-IR, SL-M6100-R, SL-M6100-IR
Rear Derailleur:
- 1x12-speed with 10-51 T: RD-M9100-SGS, RD-M8100-SGS, RD-M7100-SGS, RD-M6100-SGS
- 1x12-speed with 10-45 T: RD-M9100-GS, RD-M9120-SGS, RD-M8100-GS, RD-M8120-SGS, RD-M7120-SGS
- 2x12-speed with 10-45 T: RD-M9120-SGS, RD-M8120-SGS, RD-M7120-SGS
Chain:
CN-M9100, CN-M8100, CN-M7100, CN-M6100
E-bike Drivetrain:
EP8 EP800 for MTB / City & Touring, STEPS E8080
Features:
- 12-speed Hyperglide+ cassette
- 10-51: Wide range version, 10-45: Rhythm step version
- fast and precise shifting performance optimised for any type of trail
- pedal during the shifting process
- lighter and stiffer construction reduces inertia and improves acceleration (Beam Spider)
- 10 t sprocket as smallest sprocket, possible due to new freehub construction (Micro Spline)
- sprockets 1 to 10 made of steel (plated), 11 and 12 made of aluminium (anodised)
- sprocket carrier made of painted aluminium, anodised lock ring
Technology:
Hyperglide+ / HG+
Hyperglide+ is the efficient further development of the Hyperglide system by Shimano. These are shifting aids and specially shaped sprocket teeth that make shifting to larger or smaller sprockets suppler, smoother and quieter. The system of small rivets and ramps machined or pressed into the side of the sprocket ensures that the chain is taken along by the next sprocket before it leaves the previous sprocket. Hyperglide+ is optimised for faster shifting and shifting under load and, in combination with an HG+ chain, has more efficient chain connection, retention force and power transmission. Compared to Hyperglide, the shifting time is reduced by one third and the pedal stroke is noticeably reduced. It enables completely new chain stability and thus offers a safe riding experience even on the roughest terrain.
Micro Spline
Micro Spline is the name of the latest tooth profile on Shimano freehub bodies. All Shimano 12-speed cassettes with a 10-speed sprocket are equipped with Micro Spline freehub toothing. The significantly higher and finer toothing enables a stiffer connection between the cassette and the hub body. The resulting increased contact area ensures reliable power transmission, minimises wear and prevents deformation of the freehub and sprocket.
Models:
10-45:
Gradation:
10-12-14-16-18-21-24-28-32-36-40-45 T
Manufacturer Number:
I-CSM8100045
10-51:
Gradation:
10-12-14-16-18-21-24-28-33-39-45-51 T
Manufacturer Number:
I-CSM8100051
Contents:
- 1 x Shimano XT CS-M8100-12 cassette
- 1 x Shimano aluminium lockring
Gewicht:
silver/10-45: 461 g
silver/10-51: 470 g