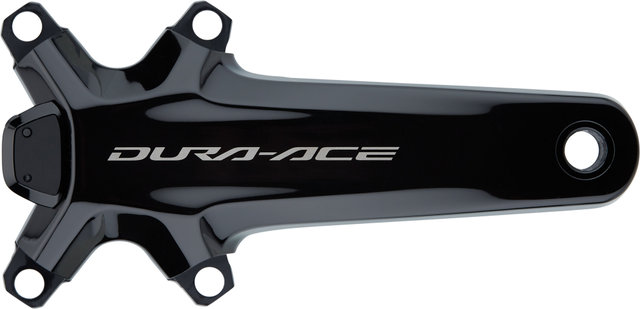 Shimano Dura-Ace FC-R9200-P Hollowtech II Power Meter Crank w/o Chainrings
The Dura-Ace FC-R9200-P Crank by Shimano - Power meter with high accuracy
Thanks to the Shimano FC-R9200-P crank, here in the version without chainrings, you can equip your Dura-Ace 2x12-speed road bike groupset with a power meter on both sides. This gives you access to information about your overall performance, cadence, torque efficiency, left-right balance and round pedalling. The accuracy of the total of 24 strain gauges is even higher than the previous model, with a deviation of only 1.5%. Thanks to Bluetooth and ANT+ radio protocol, there is broad compatibility with bike computers and similar devices.
The lithium-ion battery is located in control unit on the crank spider, which you can easily recharge yourself. If it is completely full again after about 2.5 hours, it will last for at least 300 hours. By the way, the charging cable is the same as for your Dura-Ace Di2 shifter. You can also carry out firmware updates via the E-Tube Project. On the housing of the control unit, you will find an LED that signals the battery charge level and a button for easy zero calibration. Of course, the entire construction is waterproof and there is active temperature compensation, so you don't have to worry about the weather. You can attach the magnet for cadence measurement to the chainstay, seat tube or down tube using the included positioning tool.
Apart from these special features, the FC-R9200-P is technically identical to the " normal" Dura-Ace crank. It converts your power into propulsion in a highly efficient manner, is characterised by an optimal stability/weight ratio thanks to the Hollowtech II design and inspires with precise, fast shifting processes. The crank arms are hollow-formed, which results in a significant weight saving. Except for the axle, all essential parts were made of lightweight metal. FC-R9200-P has an asymmetrical 4-arm bolt circle diameter of 110 mm. It produces a chainline of 44.5 mm and has a Q-factor of 148 mm.
Information regarding the return of batteries and electrical equipment:
Information on the return and disposal of used batteries and electrical equipment can be found
here
.
Specifications:
Application:

Road, Triathlon & Time Trial

Type:

power meter cranks (on both sides)

Compatibility:

2x

Chainring Mount:

110 mm bolt circle diameter, 4-arm asymmetrical
Technical Information:
Series:

Dura-Ace R9200

Crank Arm Material:

aluminium

Axle Material:

steel

Gradation:

34-50, 36-52, 40-54

Crank Arm Length:

160.0 mm, 165.0 mm, 177.5 mm

Chainline:

44.5 mm

Q-Factor:

148 mm

Axle Diameter:

24 mm

Compatible BSA Shell Width:

68 mm

Recommended Bottom Bracket:

BB-R9100 or SM-BB92-41B Press Fit Hollowtech II (not included)

Recommended Chain:

Tolerance:

+/- 1.5%

Point of Measurement:

crank arm

Power Source:

lithium-ion battery, integrated

Battery Life:

300+ h

Data Collected:

power, power balance left / right, pedal smoothness*, cadence, torque effectiveness*

Data Transfer:

ANT+, Bluetooth
*not transmitted via Bluetooth connections
Compatibility:
2x12-speed:
Shift/Brake Lever:

ST-R9250, ST-R9270, ST-R9160, ST-R9180, ST-R8150, ST-R8170, ST-R8060, ST-R7170, ST-R7120, ST-RX820, ST-RX610

Front Derailleur:

FD-R9250, FD-R8150, FD-R7150, FD-R7100

Bottom Bracket:

BB-R9100, SM-BB9000, SM-BBR60, SM-BB6700, SM-BB5700, BB-RS501, BB-RS500, SM-BB4600, SM-BB92-41B, SM-BB72-41B, SM-BB71-41B, BB-RS500-PB

Chain:

CN-M9100, CN-M8100, CN-M7100, CN-M6100

Chainrings:

Y-0MZ34000, Y-0MZ34000, Y-0MZ40000, Y-0MZ98010, Y-0MZ98020, Y-0MZ98030
Features:
power measurement on both sides via 24 strain gauges
more accurate measurement than previous model
integrated, rechargeable lithium-ion battery with long service life
charging time approx. 2.5 hours, same charging cable as Di2
waterproof construction
active temperature compensation (operating temperature range -10 °C to +50 °C)
simple zero-point calibration via button on the control unit or bicycle computer
control unit with LED display for battery charge level (green, red, flashing red)
firmware updates via E-Tube Project
perfect balance between stiffness, stability, weight and rotational efficiency
optimised power transfer
fast, high-precision shifting at the front
hollow crank arms (Hollowtech)
anodised crank arms
aluminium chainring bolts
Technology:
Hollowtech II
Shimano Hollowtech II is a crank bottom bracket system designed to achieve an ideal ratio of stiffness, weight and rotational efficiency. It is based on an integration of the bottom bracket and the right crank arm and works with a 24 mm axle or bearing diameter, which has proven to be optimal in terms of stability. In many cases, the bearing cups are on the outside so that the load is better distributed. High-quality precision seals ensure a long service life.
Second-Generation Power Meters
Shimano second-generation power meters use an improved force vector analysis and are therefore more accurate than their predecessors. Both crank arms have 12 sensors each, which are mounted in such a way that the crank deformation can be compensated for and the acting forces can be identified. The right and left sides are connected via the battery located in the axle, ensuring accurate measurement on both sides. The built-in temperature compensation contributes to the precision. You can easily recharge the battery with the Di2 charging cable EW-EC300. The power meters have Bluetooth and ANT+ compatibility to communicate with bike computers and smartphones. For firmware updates and data display, Shimano provides the E-Tube Project Cyclist App or the E-Tube Ride App. A more detailed performance analysis is possible via Shimano Connect Lab software.
Manufacturer Numbers:
160.0 mm:

IFCR9200PMXXA

165.0 mm:

IFCR9200PAXXA

170.0 mm:

IFCR9200PCXXD

177.5 mm:

IFCR9200PFXXA
Contents:
1 x Shimano Dura-Ace FC-R9200-P power meter crank
1 x Shimano crank bolt
1 x Shimano EW-EC300 charging cable, 1.5 m
1 x installation ring for left crank arm
1 x magnets
1 x magnet cover, black
1 x magnet cover, white
2 x double-sided adhesive tape rolls
1 x Shimano TL-FC40 crank tool for left crank arm
1 x cover cap for left crank arm
1 x positioning tool for magnet
4 x chainring bolts
Order Together:
100 day return period

Online since 1998

Trusted Shop

4.89

/ 5.00