100 day return period

Online since 1998

Trusted Shop

4.9

/ 5.00
Shimano GRX FC-RX810-1 crankset - 1x11-speed for mixed terrain
The Shimano GRX FC-RX810-1 crank offers you optimal performance on mixed surfaces and riding styles. Narrower gear increments allow you to keep the pedal rhythm on any terrain. A 2.5 mm outer chainline ensures compatibility with wider tyres. The single chainring features Shimano's Dynamic Chain Engagement technology so you don't have to worry about the chain dropping. Of course, the FC-RX810-1 crankset is also based on the Hollowtech II system, which has been tried and tested for years.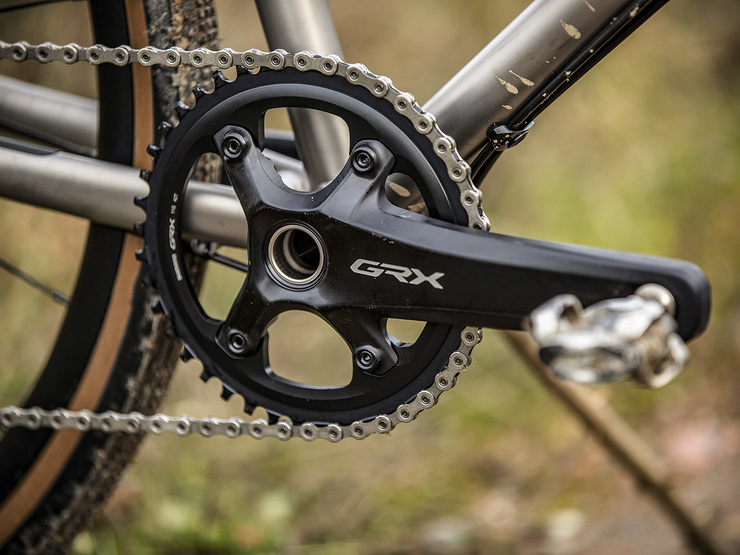 Are you interested in the GRX series? Then come have a look at our
Shimano Gravel theme world
. You will find many more products there.
Specifications:
Application:
Gravel, Cyclocross, City & Touring
Compatibility:
Shimano 1x11-speed
Chainring Mount:
110 mm pitch circle, 4-arm asymmetrical
Technical Information:
Series:
GRX RX810
Crankarm Material:
aluminium
Chainring Material:
aluminium
Axle Material:
Steel
Gradation:
40 tooth, 42 tooth
Crankarm Length:
170.0 mm, 172.5 mm, 175.0 mm
Chainline:
46.9 mm
Q-Factor:
151 mm
Axle Diameter:
24 mm
Compatible BSA Shell Width:
68 mm
Recommended Bottom Bracket:
SM-BBR60
or
SM-BB72-41B Pressfit
Hollowtech II (not incl.)
Recommended Chain:
HG-EV 11-speed, HG-X11 (e.g.
CN-HG701-11
)
Features:
- tighter shifts ensure a constant rhythm on known routes
- optimal gear change for mixed terrain and different riding styles
- larger front range
- anodised crankarms, painted chainring
- aluminium chainring bolts
Technology:
Hollowtech
Lightweight cranks reduce the total weight of the bike and above all the rotating mass which is decisive for acceleration. The challenge is to reduce the weight of the cranks without compromising stability and load capacity. Shimano's state-of-the-art forging technology offers an ideal solution with the Hollowtech cranks. Just like a high-quality frame tube, the hollow crankarm is extremely stable and resilient at a very low weight.
Hollowtech II
What matters is the overall balance of the crankset. With regard to the entire crankset, an optimum balance between the strength of the crankarms, the rigidity of the axle, the bearing position and other features is very important. When developing the crankset, the overall balance of all individual elements was carefully considered to ensure maximum stability.
Outer bearing:
On most 68 mm bottom bracket housings, the Hollowtech II 24 mm axle can be mounted outside the frame for better weight distribution and stability.
High-quality precision seals:
The Hollowtech II set also features high quality precision seals in the bearing area to extend durability and maintain excellent rotation efficiency over time.
The axle and the 24 mm diameter bearings ensure optimum balance of the crankset and optimum transmission of power to the bicycle.
Manufacturer Part Numbers:
170.0 mm 40 tooth:
I-FCRX8101CXB0
170.0 mm 42 tooth:
I-FCRX8101CXB2
172.5 mm 40 tooth:
I-FCRX8101DXB0
172.5 mm 42 tooth:
I-FCRX8101DXB2
175.0 mm 40 tooth:
I-FCRX8101EXB0
175.0 mm 42 tooth:
I-FCRX8101EXB2
Contents:
- 1 x Shimano GRX FC-RX810-1 crankset (40
or
42-tooth)
- 1 x Shimano crank bolt
- bottom bracket not incl.