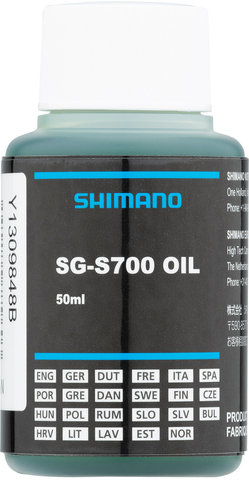 Shimano Special Oil for Alfine 11-speed Internally Geared Hubs
The Shimano Alfine 11-speed internally geared hub oil - for the correct oil change
This special oil by Shimano is intended for oil changes on Alfine 11-speed internally geared hubs SG-S700, SG-S705, SG-S7001 and SG-S7051. It is available in a 50 ml bottle or 1 litre canister. Hose and bleed nozzle, syringe and collecting container are not supplied. The oil cannot be used on 3- to 8-speed internally geared hubs.
Specifications:
Designation:

SG-S700 OIL

Application:

Oil change
Compatibility:
Alfine 11-Speed Internally Geared Hubs:
SG-S700
SG-S705
SG-S7001
SG-S7051
Hazardous Substance:
No marking required.
Manufacturer:
SHIMANO EUROPE B.V.
High Tech Campus 92
5656 AG Eindhoven
Netherlands
Phone +31-402-612222
shimano.eu.sds@shimano-eu.com
Models:
Bottle, 50 ml:
Nominal Amount:

50 ml

Packaging Type:

bottle

Manufacturer Number:

Y-13098481
Canister, 1 litres:
Nominal Amount:

1 litres

Packaging Type:

canister

Manufacturer Number:

Y-13098480
Contents:
Order Together:
100 day return period

Online since 1998

Trusted Shop

4.89

/ 5.00