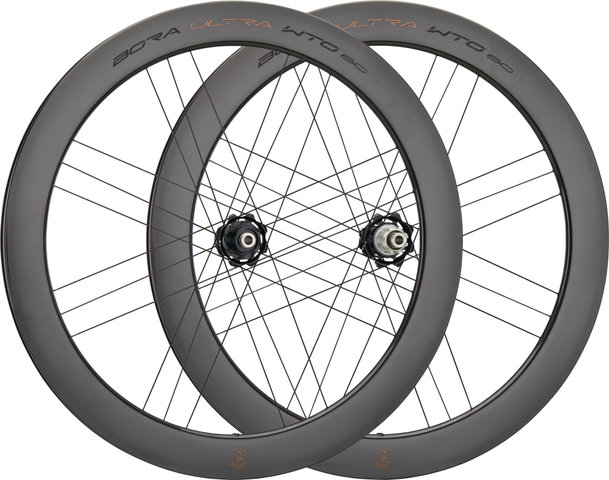 The Campagnolo Bora Ultra WTO is a 28" wheelset with 60 mm rim depth made of carbon. It was designed for high-performance road bikes with disc brakes.
Specifications:
Application:

Road

Wheel Size:

28"

Tyre Type:

clincher tyre

Number of Spokes:

24

Brake Type:

Center Lock Disc

Tubeless System:

Tubeless Ready
Technical Information - Rim:
Rim Flange:

with hook

Dimensions (ETRTO):

19-622

Inner Width:

19 mm

Outer Width:

26.1 mm

Depth:

60 mm

Valve Hole Diameter:

SV / Presta (6.5 mm)

Rim Material:

Carbon (H.U.L.C.)
Technical Information - Front Hub:
Over Locknut Dimension:

12 x 100 mm thru-axle

Bearings:

ceramic bearings (CULT™)

Body Material:

Carbon
Technical Information - Rear Hub:
Over Locknut Dimension:

12 x 142 mm thru-axle

Bearings:

Ceramic bearings (CULT)

Body Material:

aluminium

Freehub Body Material:

aluminium

Freehub Body:

ratchet (36 t)
Technical Information - Lacing:
Front Lacing Pattern:

G3™

Rear Lacing Pattern:

G3

Spoke Type:

elliptical aero spokes / straight pull

Spoke Material:

stainless steel

Nipple Type:

Aero Mo-Mag™

Nipple Material:

aluminium
Approved For:
Weight Limit:

120 kg (system weight)

Recommended Tyre Width:

25 mm
Technology:
Aero Mo-Mag™
As with the Mo-Mag system, nipples are placed inside the rim with the help of a magnet without creating additional holes in the rim bed. Aero Mo-Mag goes one step further. It is a completely internal system that improves aerodynamics and keeps rim weight to a minimum.
C-Lux Surface
The high-gloss Campagnolo Luxury (C-Lux) surface is so smooth that it does not need to be painted. This saves additional weight.
CULT™
CULT stands for Ceramic Ultimate Level Technology. This project is based on the exclusive Cronitect® steel according to Schaeffler Group's " Advanced by FAG" technology, which is used for the ball running surfaces of the bearings. Steel that does not require grease for lubrication, but only a small layer of oil. The high quality ceramic balls, since they do not require grease and the processing of the bearings is extremely precise, allow a drastic reduction in friction and consequently increase the smoothness of the wheel by a factor of nine compared to the standard versions. An extraordinary result achieved thanks to the application of the most advanced material processing technologies. The test performed consists of accelerating the wheel to 500 rpm and then stopping the drive. The test results are amazing: wheels equipped with CULT™ bearings continue to move for 45 minutes, i.e. 9 times longer than a wheel with standard bearings.
G3™
In G3 geometry, the right side of the rear wheel has twice the number of spokes compared to the left side. This enables an improved energy transfer. It also reduces the stress on the spokes on the right side and increases lateral stiffness. The advantages of the G3 system are astonishing: better transmission of power, greater lateral rigidity and reduction of spoke tension on the rear wheel. Thanks to the G3 system, which compensates for the forces acting on 2 sides of the wheel, vibrations are eliminated, even for people with heavier weights.
H.U.L.C. Construction:
H.U.L.C. stands for
H
(andmade)
U
ltra-
L
ight
C
arbon. It refers to a further development of the carbon compression moulding process for Campagnolo rims. The ratio of carbon fibres to resin has been optimised. The improvement of the manufacturing process leads to a consistently precise shaping of rim flanks and details. H.U.L.C. constructions are extremely lightweight, but have excellent mechanical properties and are outstandingly stiff.
2-Way Fit™
2-Way Fit stands for the innovative rim profile on which both tubeless tyres and classic clincher tyres can be mounted. With 2-Way Fit you can try out for yourself which of the two solutions suits you best. You can also use the clincher solution for daily training and the tubeless solution for competition.
The tubeless tyre is without doubt the tyre of the future for Road cycling. In addition to greater comfort, there are numerous other important advantages: When using a tubeless tyre, you benefit from the better rolling characteristics, as the friction between tyre and tube is completely eliminated. A tubeless tyre cannot lose air abruptly through a hole and suddenly become flat. This therefore means a clear advantage in terms of safety. What to do in case of a tubeless flat tyre? Campagnolo's 2-Way Fit system allows you to fit a normal tube by simply removing the sealing valve, so you can go home without issue.
Colour info:
black:
Rims: black with bronze decals
Hubs: black with bronze decals
Spokes: black
Nipples: black
Models:
28" set (front 12x100 + rear 12x142) Campa N3W:
Freehub:

Campagnolo N3W

Gearing:

11-/12-/13-speed

Note:

An adapter is necessary for mounting 11/12-speed Campagnolo cassettes on a Campagnolo N3W rotor.

Manufacturer Number:

WH21-BUWP60DCSN3W
Contents:
1 x Campagnolo Bora Ultra WTO 60 Carbon Center Lock Disc wheelset (front and rear wheel)
2 x Campagnolo wheel bags
1 x Campagnolo Aero Mo-Mag maintenance kit
2 x Center Lock lockrings
1 x N3W adapter set for 11-12 teeth
2 x tubeless valves
2 x tyre lever
1 x accessory bag
100 day return period

Online since 1998

Trusted Shop

4.89

/ 5.00