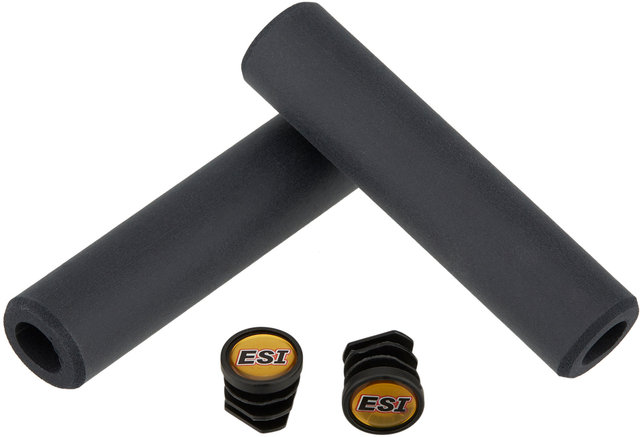 ESI Chunky Silicone Handlebar Grips
Ultralight, comfortable and colourful: the Chunky Grips by ESI
Thanks to their good shock and vibration absorption, these handlebar grips are also very comfortable during longer rides, and offer necessary grip at all times, even in the rain. The light and flexible silicone material adapts perfectly to your hand every time. In addition, the handle is easy to assemble and can be shortened to the desired length.
Specifications:
Application:

All Mountain, Enduro

Clamp:

none
Technical Information:
Material:

silicone

Length:

130 mm

Diameter:

32 mm
Features:
very comfortable even on longer rides
absorbs vibrations and shocks for even greater comfort
very good grip even in the rain
asymmetrical handle design for more comfort
latex-free
easily cut down to preferred size
Note:
Mount:
Clean your handlebars, then press the handlebar plugs into the grip ends. Moisten the cleaned inside of the grip and the handlebara with window cleaner or rubbing alcohol, pull the grips onto the handlebars and turn them so that the thicker side is facing the palm of your hand. Allow them to dry for 24 hours.
Removal:
Loosen the grips with a blunt screwdriver or similar pushed underneath, then spray window cleaner or water underneath and pull them off the handlebars. Otherwise, they can also be removed with the aid of compressed air.
Technology:
Silicone:
Grip: Wet or dry, your hands won't budge! Non-slip without being sticky.
Comfort: Reduces numbness in the hands, fatigue and the so-called " arm pump" .
Wear: UV-resistant, non-porous, does not harden and fade.
Adhesion: Does not require glue, hairspray or lock-ons! These grips do not slip.
Elements: Withstands extreme temperatures and climates.
Maintenance: Washable, installation/removal by means of window spray, compressed air or cleaning alcohol.
Manufacturer Numbers:
black:

GBK02

pink:

GCKP9

aqua:

GCKAQ

blue:

GIC03

gray:

GCKGY

green:

GCKG8

orange:

GCK08

red:

GLV04

white:

GCKW9

yellow:

GCKY0

purple:

GCKPR
Contents:
1 x pair ESI Chunky grips
1 x pair ESI handlebar plugs
100 day return period

Online since 1998

Trusted Shop

4.89

/ 5.00