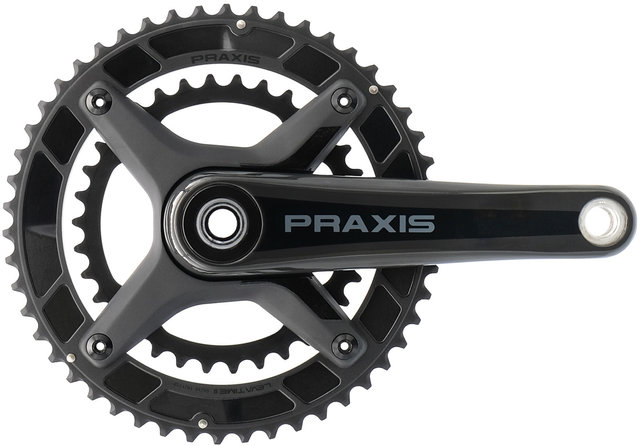 Praxis Works Zayante Carbon M30 DM Road 2x Crankset
Praxis Works Zayante Carbon M30 crankset with LevaTime II chainrings
The Praxis Works Zayante Carbon M30 DM Road crankset with two chainrings combines low weight, high stiffness and versatility. Its name is derived from a famous road lined with sequoia trees near Santa Cruz, California. Zayante is equipped with the innovative LevaTime II chainrings, which are attached via the sturdy 4-arm X-Spider. LevaTime II means a stiffer, 5 mm thick large chainring, even more forged shifting ramps and reworked pins that help to achieve faster shifting. You've never changed gears like this before. Thanks to the direct mount, the crank can of course also be used 1x. Note, however, that you absolutely must combine them with a Praxis Works M30 bottom bracket.
Specifications:
Application:

Road

Compatibility:

2x10-speed, 2x11-speed, 2x12-speed

Chainring Mount:

160/104 mm bolt circle diameter, 4-arm
Technical Information:
Series:

M30

Crank Arm Material:

Carbon

Chainring Material:

aluminium (7075-T6)

Gradation:

32-48, 34-50, 36-52, 39-53

Crank Arm Length:

170.0 mm, 172.5 mm, 175.0 mm

Chainline:

44.5 mm

Q-Factor:

147 mm

Axle Diameter:

30 / 28 mm

Compatible BSA Shell Width:

68 mm

Recommended Bottom Bracket:

Praxis Works M30 (among others BSA, BB86, BB30, PF30, 386EVO, T47)

Recommended Chain:

Shimano, KMC, Campagnolo, SRAM
Compatibility:
braze-on or clamp front derailleurs
Shimano, Campagnolo and SRAM drivetrains (also Di2, EPS, eTap)
can also be ridden 1x with Praxis Works Wave Tech Direct Mount Road Chainring
Features:
carbon crank arms
M30 axle/bottom bracket system
cold forged chainrings
8 mm aluminium crank bolt with puller
Technology:
Cold Forged Chainrings
The primary reason why Praxis Works chainrings are cold forged is because it allows you to produce unique tooth shapes and shifting ramps. In addition, the one-shot process makes the surface harder and more resistant, which is not possible with CNC chainrings. In practice, the process delivers high shifting precision and long service life. The individual angles of the teeth as well as the additional shifting ramps for the drivetrain make these chainrings unique.
LevaTime™ II
The LevaTime II X-Ring chainrings are an ambitious further development of the first LevaTime chainrings. The large chainring is now stiffer and 5 mm thick, allowing Praxis Works engineers to increase the number of shifting ramps forged into it and improve the type of shifting features. This also made it possible to fit new forged, fast-acting shifting pins, which increase the speed of shifting. All this is held together, now even more stable, by the redesigned forged LT2 X-Spider. As soon as you get to know these new chainrings, you will find them clearly superior to ordinary chainrings. LevaTime II takes shifting to a new level.
M30
Praxis Works M30 bottom brackets are only suitable for use with Praxis Works M30 cranks. The M30 axle corresponds to a kind of " oversize GXP" . It is 30 mm thick and reduced to 28 mm on the left end to fit the non-drive side bearings. A shaft washer is used at the drive side to provide preload and a 30 mm bearing, which is opposed by a 28 mm bearing at the non-drive side. M30 combines the advantages of wide bearings with the benefits of a sturdy 30 mm axle. This enables a secure fit and better power transmission.
Manufacturer Numbers:
170.0 mm 32-48 tooth:

DM-ZC170-X4832 2020

172.5 mm 32-48 tooth:

DM-ZC1725-X4832 2020

175.0 mm 32-48 tooth:

DM-ZC175-X4832 2020

170.0 mm 34-50 tooth:

DM-ZC170-X5034 2020

172.5 mm 34-50 tooth:

DM-ZC1725-X5034 2020

175.0 mm 34-50 tooth:

DM-ZC175-X5034 2020

170.0 mm 36-52 tooth:

DM-ZC170-X5236 2020

172.5 mm 36-52 tooth:

DM-ZC1725-X5236 2020

175.0 mm 36-52 tooth:

DM-ZC175-X5236 2020

170.0 mm 39-53 tooth:

DM-ZC170-X5339 2020

172.5 mm 39-53 tooth:

DM-ZC1725-X5339 2020

175.0 mm 39-53 tooth:

DM-ZC175-X5339 2020
Contents:
1 x Praxis Works Zayante Carbon crankset (32-48, 34-50, 36-52 or 39-53 tooth)
Order Together:
Optional Accessories:
100 day return period

Online since 1998

Trusted Shop

4.89

/ 5.00