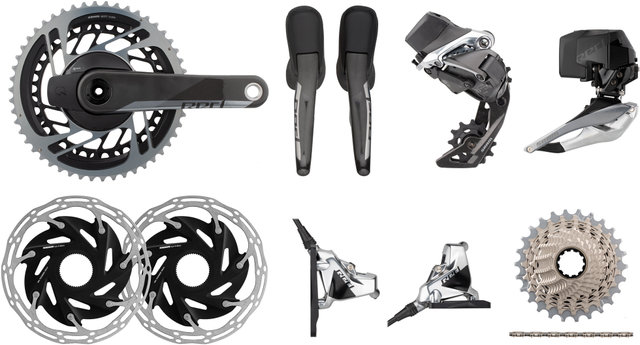 SRAM Red eTap AXS HRD FM 2x12 37-50 CL Disc Brake Power Meter Groupset
The Red eTap AXS HRD FM 2x12-speed 37-50 power meter groupset with centre lock disc brakes by SRAM - an all-inclusive package for performance-oriented riders
The SRAM Red eTap AXS™ HRD FM 2x12x 37-50 power meter groupset with centre lock disc brakes is customisable at high performance. With a wide range of gears and a narrow gradation you will always find the right gear and enjoy a smooth, safe and gentle ride. You can adjust the shift/brake levers to suit your hand size and reach. Shifting is wireless and the shift levers are mounted on the inside of the brake levers, which creates a totally streamlined cockpit. The eTap shifting logic, where you use one lever to shift up and the other to shift down, is intuitive. With AXS, you can easily customise the groupset from your smartphone and make adjustments while riding. The Orbit™ technology also ensures silent, fast shifting. The cassette contributes its part to the weight reduction through its elaborate, one-piece design. The link shape of the chain is unique, making it narrow, light and yet stable. It runs extremely quietly and delivers fast, precise shifts. In terms of brakes, SRAM's award-winning HRD platform enables flat mount disc brakes to deliver exceptional performance. Reach the next level and concentrate on the most important thing: your ride.
The QUARQ Red AXS power meter crankset will help you do just that, because it features fully integrated, original QUARQ power measurement technology that records power, cadence, torque and pedal stroke for you. The chainring difference of 13 teeth ensures precise shifting.
Information regarding the return of batteries and electrical equipment:
Information on the return and disposal of used batteries and electrical equipment can be found
here
.
Specifications:
Series:

Red eTap AXS

Application:

Road

Shifters & Derailleurs:

2x, 12-speed (wireless)

Brakes:

disc, hydraulic (flat mount)
Components:
Crank:

170.0 mm, 172.5 mm, 175.0 mm (gradation 37-50)

Cassette:

10-26, 10-28, 10-33

Front Derailleur:

braze-on

Rear Derailleur:

short cage (10-26, 10-28, 10-33)
Additional Components Needed:
The bottom bracket is not included. SRAM recommends the
SRAM Road DUB
bottom bracket.
Features:
all electronic components for your bike
wireless control of rear derailleur and front derailleur
compatible with current eTap batteries
simple and intuitive eTap shifting logic
AXS for easy personalisation
XDR compatible cassette
chain has Flattop Powerlock master link
chain with inner and outer plates made of Hard Chrome™ for faster and more precise shifting
chain with HollowPin™ construction for more strength and efficiency
cranks with X-Range™ technology for more range and smoother gear gradation
cranks with integrated power measurement in the chainring to save weight
performance measurement unaffected by temperature fluctuations
separate power measurements for the left and right leg
unique chainring design for less weight and stiffer, more durable cranks
Technology:
QUARQ Operating Principle:
The crankset forms the heart of your bike. Their only task is to convert the force of both legs into forward motion - the perfect place to measure performance.
Power meters calculate power by measuring torque (pedal force) and angular velocity (cadence). Power = torque x cadence. When you pedal, all parts of the bicycle drivetrain shift (bend) slightly under the load. Power meters are designed using FE analysis so that these displacements take place in a very controlled manner and at specific locations in relation to the applied load. Strain gauges are used to measure this displacement and thus calculate the applied torque. Reed switches are used to calculate the cadence.
DZero:
DZero is QUARQ's next generation power meter, named after the DZero Experiment, one of the most accurate and innovative scientific projects to discover subatomic particles. With a revised measurement loop, an optimised strain gauge design, increased accuracy and modern software, DZero represents the " state of the art" for power meter technology. You can choose between Bluetooth® LE and ANT+ technology for data transfer.
eTap:
SRAM's eTap is a simple, unambiguous and intuitive shifting logic. With the shift lever on the left-hand side you move the rear derailleur inwards to a larger sprocket, with the shift lever on the right-hand side you move the derailleur outwards to a smaller sprocket. With the shift lever pressed down, you can directly shift several gears. Pressing both shift levers at the same time causes a front derailleur movement in 2x shifting systems.
AXS™:
AXS is the new electronic integration platform by SRAM, which combines electronic bicycle components and software. The SRAM AXS app allows you to view battery status, change component behaviour, adjust controls, receive maintenance reminders and update firmware.
Orbit™:
Orbit technology is an innovative new form of rear derailleur movement control. It uses silicone fluid as part of an elegant and ultralight damper system. Compared to a conventional friction clutch system, the Orbit technology generates no additional resistance at the rear derailleur spring during slow or light movement. This results in easier shifting and removal of the rear wheel. During the ride, the liquid damper holds the chain back in a sophisticated and elegant way. With the highest reliability and chain tension, for 2x and 1x systems.
Yaw™:
The cage of the SRAM Yaw front derailleur pivots synchronously with the chain. This ensures an optimum shifting process in every gear.
Deep Range™:
Not only does it offer more gearing, but also better gearing. It has " depth" : a smoother, more useful gear gradation. Intelligent shifting settings, made possible by AXS, bring the simplicity of a 1x drivetrain to a 2x drivetrain. This way you always have the right gear and the range does not get in your way. Ride faster, more efficiently and more pleasantly with Deep Range technology.
Flattop:
In order to offer Deep Range technology, SRAM had to develop a narrower chain. The unique articulation of the Flattop technology not only made this narrower chain possible, but also resulted in quieter operation, increased strength and durability.
Contents:
1 x QUARQ Red AXS 2x power meter crankset
1 x SRAM XG-1290 cassette
1 x SRAM Red 12-speed chain
1 x SRAM PowerLock master link
1 x pair SRAM Red eTap AXS HRD FM shift/brake levers
1 x pair SRAM Red AXS (flat mount) disc brakes, ready for assembly (filled & bled)
2 x SRAM disc brake adapters for 160 mm
1 x SRAM Red eTap AXS rear derailleur with battery
1 x SRAM Red eTap AXS front derailleur with battery
2 x SRAM Centerline XR center lock brake rotors, 2-part, 160 mm
1 x SRAM battery charger
1 x SRAM cable
2 x SRAM olive
2 x SRAM insert pins
6 x SRAM titanium mounting bolts for brake calipers
4 x SRAM washers
1 x SRAM mounting bolt for the front derailleur
1 x SRAM washer for the front derailleur
1 x SRAM front derailleur bolt
3 x SRAM adapter wedges
1 x SRAM T8 Torx key
1 x SRAM bleed block
1 x SRAM adjustment tool
1 x SRAM brake rotor truing tool
Order Together:
100 day return period

Online since 1998

Trusted Shop

4.89

/ 5.00