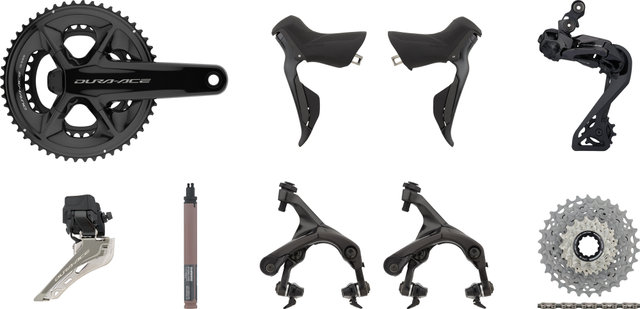 Shimano Dura-Ace Di2 R9250 2x12 36-52 Power Meter Groupset
The Shimano Dura-Ace Di2 R9250 2x12-speed Groupset with 36-52 Power Meter Crank and Rim Brake - Speed and efficiency
This Dura-Ace Di2 R9250 road groupset from Shimano consists of a 2x12-speed power meter crank with a 36-52 tooth gradation, a rim brake set and an electronic rear derailleur and front derailleur. Of course, a rechargeable battery, a Quick-Link chain and a cassette with 11-30 or 11-34 teeth are also included.
Shimano has uncompromisingly designed the Dura-Ace R9250 for speed and performance. User-friendliness, efficiency and safety also played a major role in development. If you prefer to ride with rim brakes rather than disc brakes, you still have the option of reverting to the tried-and-tested double-pivot side-pull design. In this case, the STIs are connected to each other via a cable and to the battery via another cable coming from the right shift/brake lever, which in turn is wired to the front derailleur on the one hand and to the rear derailleur on the other. Shifting gears is undertaken with the usual precision and speed. A twelfth sprocket on the cassette in combination with a very clever gradation means that you have a wider gear selection at your disposal, and are optimally prepared for any terrain. In addition, Hyperglide+ technology familiar in MTB sport ensures smooth gliding of the chain even under loads. Conveniently, the Dura-Ace 12-speed cassettes are also compatible with older Shimano road freehubs. The crank comes with integrated power measurement on both sides, which boasts an even higher accuracy than before, with a deviation of only 1.5%. The power meter functions with a built-in battery that is charged via the same cable as the derailleur battery.
Information regarding the return of batteries and electrical equipment:
Information on the return and disposal of batteries and electrical equipment can be found
here
.
Specifications:
Series:

Dura-Ace Di2 R9250

Application:

Road

Shifters & Derailleurs:

2x, 12-speed (electronic)

Brakes:

rim, mechanical
Components:
Crank:

170.0 mm, 172.5 mm, 175.0 mm (gradation 36-52)

Cassette:

11-30, 11-34

Front Derailleur:

braze-on

Rear Derailleur:

long cage
Features:
performance measurement cranks (power meter)
battery mounting internally in the seatpost (adapter required), running time approx. 1000 km
STIs for wired electronic shifting
front derailleur with more compact design than previous model, connected to battery via cable
rear derailleur with wireless chip, LED display, charging socket and function button, connected to battery via cable
Additional Components Needed:
The following components are required to use the Dura-Ace Di2 R9250 groupset:
Bottom Bracket: Shimano recommends BB-R9100 or SM-BB92-41B Pressfit Hollowtech II.
4 x EW-SD300-I power cables: 1 x from battery to front derailleur (max. 1500 mm), 1 x from battery to rear derailleur (max. 1700 mm), 1 x from battery to right STI and 1 x from right to left STI*
recommended: rubber grommets for internal cable routing
*
To determine the correct cable lengths, the bike must be measured as follows:
Distance between battery and front derailleur
Distance between battery and rear derailleur = distance between battery and bottom bracket + distance between bottom bracket and rear derailleur
Distance between battery and right STI = distance between battery and bottom bracket + distance between bottom bracket and right STI
Distance between left and right STI = handlebar width centre-to-centre + 2 x handlebar reach
There is also the option of wiring via the
EW-JC304
junction box. You can find more information on assembly in the
Shimano manual
or contact our service staff.
Contents:
Shimano Dura-Ace R9250 Di2 2x12 Power Meter 36-52 groupset, consisting of:
1 x Shimano Dura-Ace Power Meter crankset (FC-R9200-P)
1 x Shimano Dura-Ace Di2 rear derailleur (RD-R9250)
1 x Shimano Dura-Ace Di2 front derailleur (FD-R9250)
1 x pair Shimano Dura-Ace Di2 (ST-R9250) shift/brake levers
1 x Shimano Di2 battery (BT-DN300)
2 x Shimano Di2 charging cables (EW-EC300)
1 x Shimano Dura-Ace cassette (CS-R9200)
1 x Shimano XTR Quick-Link chain (CN-M9100)
1 x pair Shimano Dura-Ace rim brakes (BR-R9200), front and rear
1 x Shimano aluminium cassette lockring
1 x Shimano master link
1 x Shimano TL-EW300 cable tool
1 x Shimano crank bolt
1 x Shimano TL-FC40 crank tool
1 x 10.5 mm caliper bolt for rear rim brake
1 x 18 mm caliper bolt for front rim brake
1 x 27 mm caliper bolt for front rim brake
2 x pair R55C4 brake pads
100 day return period

Online since 1998

Trusted Shop

4.89

/ 5.00